Bond Measure Project: Colorado Dam Safe Passage
The Bend Whitewater Park is now open. Please visit the park's webpages to learn more about the park.
Location: Colorado Dam on the Deschutes River, by McKay and Miller's Landing Parks
Note: Artist's rendering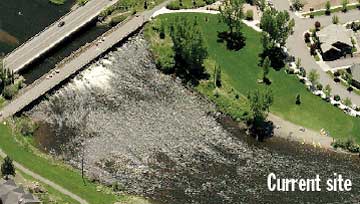 The Colorado Dam project has been described as two projects in one: a safe passage for boaters and tubers, and a constructed whitewater feature for kayakers. The district is studying development alternatives, and working on a partnership with the Bend Paddle Trail Alliance who will raise funds from private sources for the whitewater portion of the project. Changes to the dam and the addition of the whitewater area will necessitate improvements to the pedestrian bridge and to McKay Park, the funding for which is included in this bond proposal. River floating began in earnest in Bend when Farewell Bend Park opened access to the calm moving portion of the Deschutes River above the Colorado Street Dam in 2005. Since then, there have been several accidents and one death at the dam. The proposed safe passage channel will allow river users to travel through the dam without having to portage, as is now required.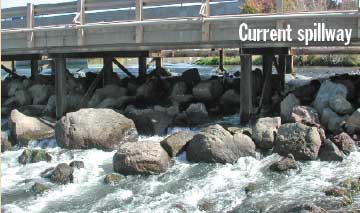 Bend Paddle Trail Alliance has developed a fundraising plan to gain the $900,000 they have committed toward the project. To learn more, go to BendPaddleTrailAlliance.org
Timeline:  2015, no construction work before July 2014
Visit other project pages: