Please visit the Mirror Pond Project page to learn about current updates, the history of this project or sign up for e-mail updates.
How will this project change Mirror Pond?
This project is intended to improve safety, accessibility, and habitat along river right along Mirror Pond (Galveston Bridge) through Drake Park to Pacific Park. The project also includes extending the Deschutes River Trail through this area.  This work does not currently include any work on river left of this reach.  The project is not intended to change significant aspects of Mirror Pond.
Why is this project needed?
The District has deferred much needed maintenance and repair work necessary along the edges of the Deschutes River throughout Drake Park caused by deteriorating rock walls and failing trail surfaces.  The District has been making temporary repairs (e.g. filling sink holes, installing fencing, repairing erosion and installing signage) to address some of these issues, but these measures are no longer sufficient. On-going wear from heavy public use, weather and general deterioration of the river bank edges have taken their toll.  Maintenance and repair of these conditions requires further design and financial investment to properly rehabilitate the river bank and trails.
Will this project involve sediment removal?
Sediment removal is not part of the District's project scope.  Designs for bank and riparian habitat improvements will accommodate changing water levels and the possibility of the PacifiCorp dam being removed at some point in the future. This project is only one step in the broader community vision adopted by the District's Board of Directors and Bend City Council.
How are the broader interests of the community involved in the project?
There has been significant community interest and input through the Mirror Pond Vision process to date.  The District will continue to work closely with private and public land owners throughout the project area during the course of this project.  These landowners, the environmental community and other stakeholders will be involved as more detailed design plans are developed. In addition to public outreach, participants from organizations such as the Mirror Pond Solutions, LLC, the Upper Deschutes Watershed Council, Deschutes River Conservancy, Oregon League of Conservation Voters, Central Oregon Conservation Network, Environmental Center, and applicable permitting and regulatory entities for the state and City of Bend will be invited to participate in and review designs as they are developed.
How can members of the community learn more and/or ask questions?
The project will include opportunities for public updates throughout the project. As dates for public meetings are scheduled, meeting details will be communicated on this project webpage and via the District's social media, local newspapers and  email to community members who have signed up to receive updates. Sign up for direct email notices or contact Julie Brown, Communications and Community Relations Manager, julie@bendparksandrec.org or (541) 706-6119.
How long will this project take?
The initial design phase is expected to take eight months. Following design, additional planning will be needed to determine a funding strategy and timeline for development.
Will the project's bank plantings obstruct views to Mirror Pond?
The majority of Drake Park is at a higher elevation than Mirror Pond; therefore, the repair work designed along the pond's edge and the establishment of riparian habitat will not significantly impact the view or enjoyment of walking along the pedestrian path.
Artist representations of how segments of pond's edge may be re-vegetated: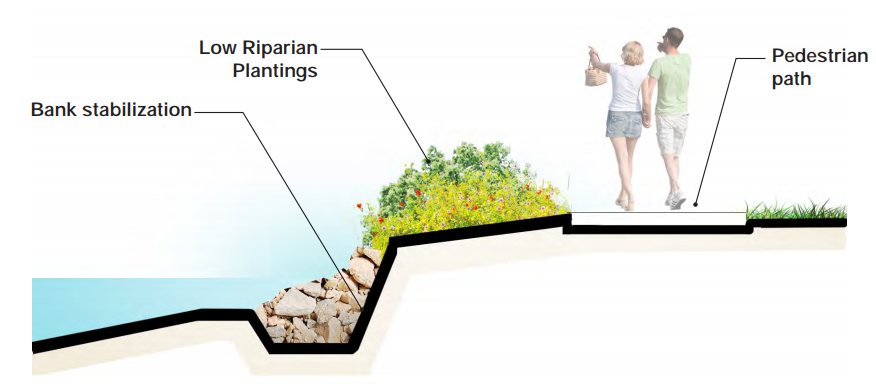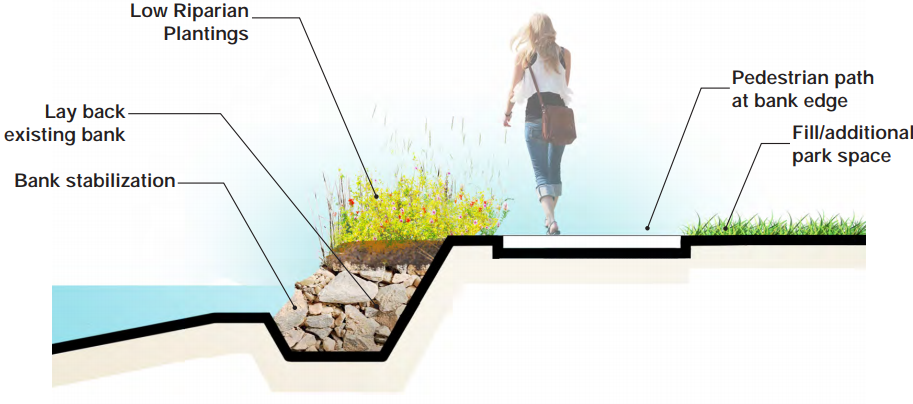 What are the benefits of riparian edge over a concrete edge like there is now?
Riparian areas provide critical components for wildlife – water, shelter and food. Insect life supports birds, mammals, amphibians, reptiles and fish. Waterfowl and other birds depend on riparian areas for nesting, cover and wintering.  Lawn does not provide this level of benefit and the existing seawall needs to be replaced with a more environmentally sensitive means to hold back the bank.
Will the size of the Drake Park lawn area change as a result of this project?
Drake Park will continue to be an important space for iconic events in Bend and the lawn area will remain central to the design. The amount of lawn space in the park for events will be virtually unchanged when the project is complete. Removing the concrete walls in some areas will be a reduction of lawn along the edge of the pond.