Planning for Play
Be a part of the future of Bend's park, recreation and trail system!
The Park and Recreation District is getting started on an important project. The end result will be the community's plan for the next 10 years of new parks, extended trails and new places to workout, play and socialize. The new plan will ultimately help the District prioritize future facility and program investments.
We want to hear from you! This year, you will see surveys, presentations, pop-up activities and workshops offered around Bend as the planning team gathers information and analyzes the community's needs. District residents are a great resource for ideas and knowledge about the community and your input is essential to help guide this planning effort.
Take our Interactive Community Survey!
The Park and Recreation District needs your input. Take an interactive community survey to share your vision for our parks, trails and recreation opportunities in Bend.
Click on this link or the map icon to the right to get started.
For more information about the Comprehensive Plan, please contact Quinn Keever, Park Planner, at (541) 706-6130 or quinn@bendparksandrec.org
We are just getting started with the process so if you have any initial ideas, submit them in the comment form provided below.
To get updates by email please fill out the form below to sign up for the project mailing list.
Join Our Project Mailing List
Take the Interactive Community Survey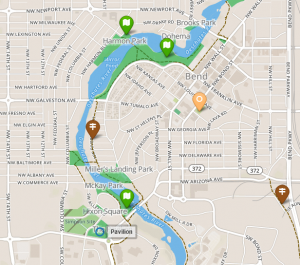 Planning for Play
What does the future of our trails, parks and recreation look like? We were hoping you could tell us! The District is planning the next 10 years of parks and trails in Bend, and we need your help.
Tell us how you play and share your vision for our future. All survey participants will be entered into a drawing to win a $200 gift card for any BPRD activity or program.
Please share this survey with your friends and family in the community.
OUTREACH EVENTS:
First Friday
March 3rd at 5:30 pm
Foot Zone, 842 NW Wall St, Bend.
Your Future, Your Parks, Your Play
Held March 1st at 5:30 pm
District Office, 799 SW Columbia.