Overview: This project seeks to provide a better trail linkage between Drake Park, Galveston Avenue, Columbia Park and Miller's Landing Park. Design work created several conceptual improvement alternatives for Riverfront Street that address bike/pedestrian safety, ADA compliance and wayfinding signage. The Deschutes River Trail currently uses the streets and sidewalks on both Riverfront Street and Riverside Boulevard.
Location: Riverfront St. near downtown Bend
Background: As part of the approved 2012 Bend Park and Recreation District (BPRD) Bond measure, conceptual design work has been completed to improve the Deschutes River Trail connection between Drake and Miller's Landing Parks. The project started with a neighborhood questionnaire that was mailed to approximately 450 owners and residents on May 20, 2014.
Click here for questionarire results (PDF).
BPRD's consultant has completed conceptual designs for improvements that are focused on Riverfront St.  The project intent is to provide a more obvious, convenient and safer connection for cyclists and pedestrians between Drake Park and Miller's Landing Park. The "trail" currently follows sidewalks that are in various states of disrepair on Riverfront St. which also lacks full ADA accessibility and route signage. Traffic and pedestrian counts were completed last summer as part of the analysis process. The results of those counts, questionnaire feedback, the lack of street intersections and proximity to the Gilchrist Bridge led to the decision to focus the design improvements on Riverfront St. rather than Riverside Blvd.
Since this project segment lies completely within public street right-of-way, the consultant's work on this segment has not resulted in construction drawings. Based on public and city staff input, BPRD wanted to explore the design and funding potential of various improvement options. The analysis identified several design options that were considered viable for the reasons identified in the presentation linked below. Simple improvements such as sidewalk repairs and ADA-related upgrades could be Bond-funded while other more involved street design choices would exceed allocated Bond-funding and could qualify for other funding sources.
Based on analysis and input to date, staff is recommending that a modified Option B – Shared Use Street (Hybrid) version be selected as the desired project to move forward with final design.  Staff will be notifying property owners along Riverfront St. and directing them to this webpage to gather input on the recommended design.  Based on feedback received, should it be necessary, staff may schedule another neighborhood drop-in open house event to further share ideas and concepts.
Please click the following link for a detailed description of the project alternatives: Street Options Summary (11-23-15)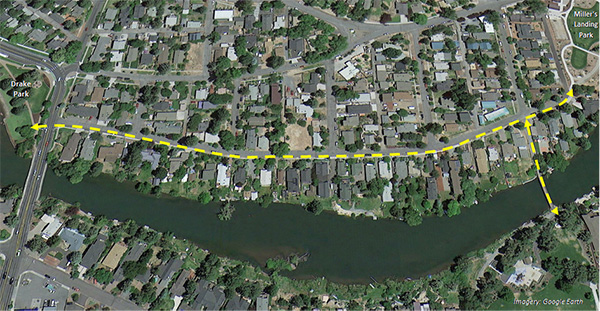 Location: Riverfront St. near downtown Bend
BPRD encourages your comments via letters, e-mail and by visiting with us at public meetings.  For additional questions or comments regarding the Galveston to Miller's Landing segment of the Deschutes River Trail, please contact:  Brian Hudspeth, Development Manager, (541) 706-6137 or brian@bendparksandrec.org.