We offer over 1000 different recreation programs annually for ages ranging from 18 months to senior adult.
Here is a sampling of the programs we are offering this season:
Sports – Soccer,  Wrestling,  Basketball, Volleyball, All-sport camps, Pickleball, Lacrosse, Golf
Outdoor – Hiking, Archery, Rafting, Horseback Riding, Kayaking and Paddleboarding
Youth Activities / Childcare – Day Camps, Spanish, Cooking, Tae Kwon Do, Art, Pottery, Martial Arts,  Music, Theatre and much more!
Adult Activities –  Art, Self-Defense, Computers, Cooking, Parenting, Photography and Music
Therapeutic Recreation – Saturday Club, Cooking, Get Fit, Hang Time, Outdoor Adventures
Juniper Swim & Fitness Center – Swimming, Water Fitness, Weight Training, Yoga, Pilates, Indoor Cycling, Conditioning Classes
Bend Senior Center – Dancing, Tai Chi, Walking, Yoga, Cardio, Line Dancing, Computers, Weight Training
Inclusive Programs – All of our recreation programs are inclusive as long as the participant meets the eligibility requirements.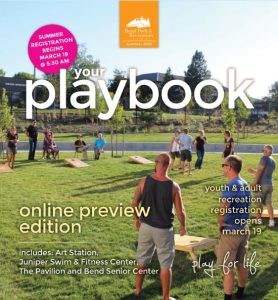 Preview Summer 2018!

View the
Summer 2018 Playbook
(Note: 7 MB pdf file)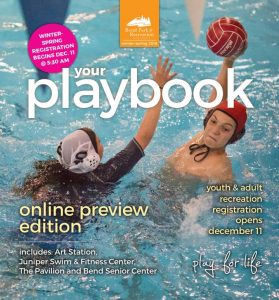 Winter-Spring 2018
is now open!

View the
Winter-Spring 2018 Playbook
(Note: 5 MB pdf file)
Review all programs
and register online.