If outdoor adventures and exploration interest you, chances are we've got just what you're looking for!
YOUTH OUTDOOR PROGRAMS:
Check current offerings in:    Youth Outdoor
Check current fishing events: Youth Fishing Events
Check current offering in:      Youth Outdoor Camps
Talk about adventure! BPRD offers a great way to learn archery, snow sports, water sports such as paddle boarding, kayaking and rafting, biking, hiking or about the natural world around us.
ADULT OUTDOOR & WILDERNESS TRAINING PROGRAMS:
Check current offerings in:   Adult Outdoor & Wilderness Training
Our adult outdoor activities include snowshoeing, cross-country (XC) skiing, hiking, biking, and multi-day trips around the state. All programs are a great way to make new friends, stay in shape, and explore and enjoy Central Oregon's fantastic landscapes and history.
In addition, BPRD offers several wilderness and outdoor safety training classes including Wilderness First Aid, Wilderness First Responder and WFR Recertification.
Registration: Please try to match your experience and ability level to the course description rating level before signing up for a program. District staff will contact you if your class is full, cancelled, or rescheduled. Activities that do not meet minimum registrations levels will be cancelled, and refunds provided. Please do not wait until the last minute to register, or activities may be full or cancelled.
Drop-Ins: Drop-ins are accepted when space is available on many outdoor programs. Please make sure the course description and your fitness level are compatible. Drop-in fees vary by program.
Program Info & Destinations:  Clothing and equipment recommendations, destination calendars, and other information are available at the front desk of the BPRD district office (799 SW Columbia), and at the Bend Senior Center (1600 SE Reed Market Rd).  Please keep in mind that proposed destinations may change due to weather or other circumstances.
Meeting Location: Lobby of the District Office, 799 SW Columbia (541) 389-7275, unless a different location is noted.  Please try to arrive at least 10 minutes before the program start time.  Programs typically conclude before the scheduled ending time.  However, we do occasionally arrive back a little later than planned, so make your appointments accordingly.
Message Phone: In the event of inclement weather, call the District Office number, (541) 389-7275, after 8:00 am (M-F) on the morning of your program to find out if your program has been cancelled. You may also leave a message for your trip leader on the morning of your program.
Leadership: BPRD outdoor leaders are trained in Wilderness First Aid and CPR skills, and have gone through BPRD van driver training.  Trip leaders carry a First Aid Kit and cell phone.
Transportation: Roundtrip transportation is provided from the District Office (occasionally from other locations) to the day's destination in the district's 15-passenger vans. For your comfort, we carry a maximum of 12 adults in each van.  All of our drivers have completed van safety training.
What To Bring… At a minimum, bring a daypack, a hearty sack lunch and snacks, 1-2 quarts of water, and proper footwear and clothing appropriate for the expected weather to each program.  You will also need rent or bring your own bike, kayak, snowshoes, skis or other gear unless indicated.
Inherent Risks: Outdoor activities involve known and unanticipated risks and dangers that potentially could lead to personal injury, disability or death from adverse weather, trail conditions, fast moving cold water, animal bites or stings, inability to communicate with emergency services, long time-delays in reaching advanced emergency care, or other situations. Such risks cannot be completely eliminated without jeopardizing the essential qualities of these activities. Participants who have known allergies or medical conditions should carry their own medication for such conditions. If you have any health concerns or other issues that might affect your wellness or ability in the field, please let trip leaders know at the start of the program. If you have questions or concerns about the potential risks of participating in an outdoor activity, please call the Outdoor Programs Coordinator at (541) 706-6116 prior to the start of the program.
Contact the Outdoor Programs Coordinator EricD@bendparksandrec.org at (541) 706-6116 if you have questions or concerns.
Volunteers… If you are interested in being a volunteer leader with our outdoor programs, click here for more details.
The Bend Park & Recreation District is an equal opportunity recreation provider under Special Use Permit with the Deschutes National Forest and the Prineville District of the BLM.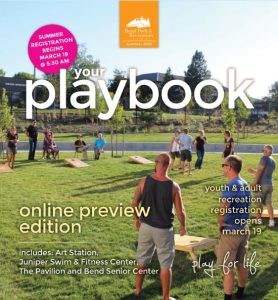 Preview Summer 2018!

View the
Summer 2018 Playbook
(Note: 7 MB pdf file)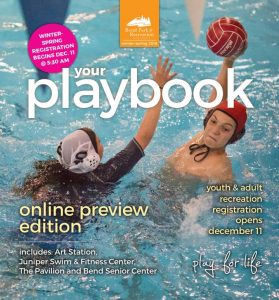 Winter-Spring 2018
is now open!

View the
Winter-Spring 2018 Playbook
(Note: 5 MB pdf file)
Review all programs
and register online.