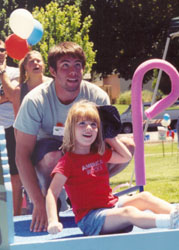 Volunteer with BPRD
Share your time and talents and be part of the team that provides exceptional park & recreation services for the Bend community. More than 2200 volunteers a year lend a hand to recreation programs, assist with caring for parks and trails and help out with community events.
Recreation Programs:
Bend Park & Recreation District offers recreation and enrichment programs for people of all ages and abilities. Volunteers truly make a difference as coaches, mentors, role models and friends.
Youth Sports – volunteer coaches needed! Volunteers are an essential part of the majority of the youth sports programs.
Youth Recreation & Enrichment – after school care programs; science, arts & crafts, nature, day camps and outdoor adventures, activities on no-school and early release days and much more!
Therapeutic Recreation – assisting with programs for children and adults with disabilities. Programs include fitness, family events, social activities, and life skills. Also adaptive sports, swimming and day camp activities.
Outdoor Programs – help with programs for adults or children. Share your love of the outdoors by volunteering with hiking, skiing, snowshoeing, archery and adventure opportunities.
Fitness & Aquatics Programs:
Help with fitness & water exercise programs of all types for people of all ages! Share your passion for fitness, expand your skills and connect with some fabulous people. Programs offered at Juniper Swim & Fitness Center and at the Bend Senior Center.
Adaptive Aquatics – Be a pool buddy! Assist staff and support school age children with disabilities in the pool with learning swim skills and water safety.
Fitness Classes – volunteers aid instructors in all types of fitness classes. Lots of opportunity to develop your own fitness skills while helping create a great experience for others.
Therapeutic Recreation – Help with fitness programs designed for adults and children with disabilities.
Bend Senior Center:
Volunteers assist staff with programs and activities for older adults, including fitness programs, lunchtime and evening activities, dances, community events and special projects.
Events & Activities:
Volunteers lend a hand to create great activities and experiences for the community! Including:
Pet Parade & Old-Fashioned July 4th Festival (July 4th)
Days of Play (July – August)
Plus dances, neighborhood park activities, health fairs, holiday bazaars and more fun all year long!
Teen Volunteers:
Teens welcome! We have opportunities to volunteer year-round with recreation programs, fitness and community events. And some special volunteer programs in the summer. Great way to gain experience, get involved and have some fun!
Important information about volunteering with BPRD:
BPRD conducts a criminal history background check for volunteers age 18 and over.
Age requirements for volunteers vary by opportunity. Volunteers under age 12 may volunteer for some activities and events if accompanied by a parent or guardian.
Volunteers assisting with outdoor recreation programs such as hiking may be asked to complete a driving background check form and drug test, as well as a van training session with our staff, prior to volunteering.
Apply today!
Click here for the online volunteer application.
Questions?
Contact BPRD Volunteer Coordinator, Kim Johnson kim@bendparksandrec.org or 541-706-6127.