Adventure for All
April 18, 2019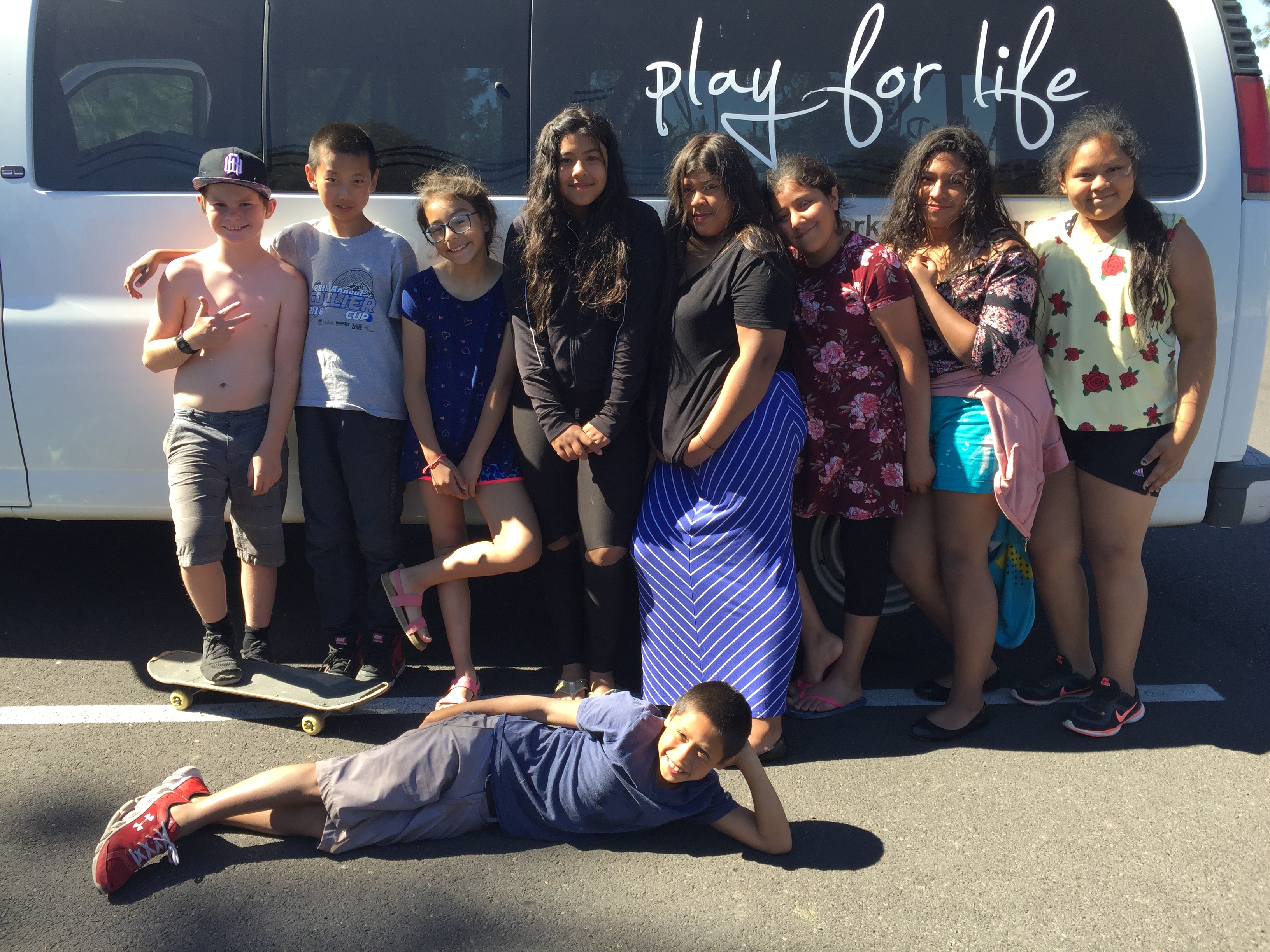 Bend residents enjoy easy outdoor access. You can ski in the morning and hike in the desert in the afternoon. The outdoors surround us, but there are unseen barriers for some people.
Bend Park & Recreation District is trying to reduce barriers and develop appreciation of the outdoors for more residents. A core District value is inclusiveness and an increasing focus is on new ways to reach potentially underserved groups and individuals in our community.
Recreation scholarships as needs-based assistance is a key way to remove financial barriers for community members with limited financial resources. The District also has bilingual staff to overcome language barriers and to develop relationships with potentially underserved community members.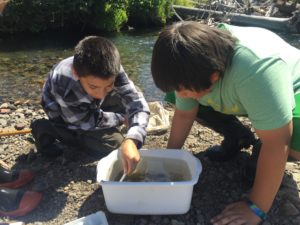 With grant help from a Children's Forest of Central Oregon sub-award through a Youth Engagement Strategy, a special regional initiative fund of the Pacific Northwest Region of the U.S. Forest Service, a new program was offered in summer 2018 for middle schoolers from underserved and low-income families. The Discover the Outdoors day camp was designed with as few barriers as possible for participants.
BPRD's Latino Community Specialist helped recruit and register participants to remove any language barriers, and we provided transportation for campers who needed it to be able to participate in the program.
The four-day per week program featured a variety of programs each day.  One of the participants, Marlen, a Bend resident, was surprised at the vastness of Central Oregon. The camp went into the Ochocos to look for fossils and to Newberry Crater to see the Big Obsidian Flow. Other field trips were closer to home. Camp participants gained new experiences, new friendships, nature education and a deeper connection to Central Oregon's public lands.
"I've never gone to the Deschutes River," said Marlen. "I am really happy I got to do it. That was something new."
The majority of Discover the Outdoors campers had never floated the river before, something that more than 250,000 people enjoy doing each summer on the Deschutes.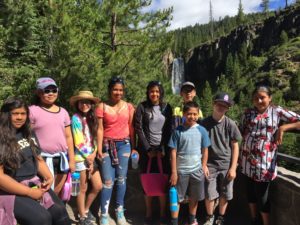 "This grant program has given us the opportunity to provide a program to bring youth out to explore the surrounding public lands that are unfamiliar to them," said Sue Boettner, recreation services manager.  "This in turn will provide their parents with some outdoor familiarity to explore more of the area as a family!"
In 2019, Discover the Outdoors is expanding. The program is doubling the number of sessions offered – from four weeks to eight weeks. This means more teenagers get to have more adventures on Central Oregon public lands.
The program is open to participants ages 11 to 15 whose family qualifies for a recreation scholarship.  There is a $25 fee per session. A session is Monday through Thursday from 10 a.m. to 4 p.m.
To learn more and to register, contact Sue Boettner (541) 706‐6105.  For Spanish services, call Kathya Avila (541) 706‐6190.
Aventuras Para Todos
Los residentes de Bend disfrutan el acceso a actividades de recreación al aire libre de manera asequible. Usted puede esquiar por las mañanas e ir de caminata por el desierto en las tardes. Existen muchas opciones alrededor de nosotros, pero ante la realidad de algunas personas existen algunas barreras.
Bend Park & Recreation District está tratando de reducir estas barreras y desarrollar el gusto por las actividades al aire libre para más residentes. Un valor fundamental del distrito es la inclusión y un enfoque creciente en nuevas maneras de llegar a grupos e individuos potencialmente vulnerables en nuestra comunidad.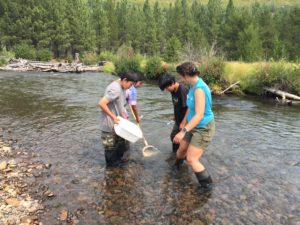 El programa de becas de recreación es un medio de ayuda para las personas que lo necesiten y es la manera clave de remover las barreras financieras de los miembros de la comunidad, cuyos recursos financieros son limitados. El distrito también tiene personal bilingüe para afrontar las barreras de idioma y tener una mejor relación con los miembros de la comunidad potencialmente desatendidos.
En el verano 2018, se ofreció un nuevo programa para estudiantes de 6to a 8vo grado, específicamente para familias con recursos económicos limitados. Children's Forest of Central Oregon nos otorgó un subsidio a través de una estrategia de participación de jóvenes, un fondo de iniciativa regional especial de la Región Noroeste del Pacífico del Servicio Forestal de los Estados Unidos. Este programa, Aventuras al Aire Libre, está diseñado para superar la mayoría de los obstáculos que puedan tener los participantes.
La Especialista al Servicio de la Comunidad Latina se encarga de promocionar el programa y también de las inscripciones para eliminar cualquier obstáculo de comunicación; además, proporcionamos transporte a los participantes que lo necesiten.
El programa tiene una duración de cuatro días a la semana y una gran variedad de actividades cada día. Marlen, una de las participantes y residentes de Bend se sorprendió al ver cuán grande es Central Oregon. Los participantes fueron a las Montanas de Ochocos en busca de fósiles y también fueron a el Cráter Newberry para ver el Gran Flujo de Obsidiana.  Hubo otras excursiones cuyos lugares fueron más cercanos a casa. Los participantes obtuvieron nuevas experiencias, nuevas amistades y una conexión más significativa con las áreas de naturaleza públicas de Central Oregon.
"Nunca había ido al Río Deschutes", "Estoy muy contenta de haber ido,  fue una experiencia nueva," comentó Marlen.
La mayoría de los participantes del Programa Aventuras al Aire Libre no habían flotado en el río, algo que muchas personas hacen cada verano en el río Deschutes, aproximadamente más de 250,000 personas.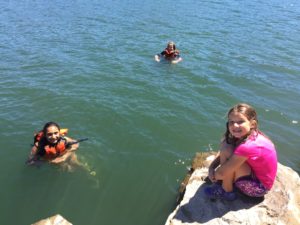 "Este programa subsidiado nos dio la oportunidad de ofrecer un programa dedicado a llevar a los jóvenes participantes a explorar áreas naturales públicas y cercanas, los cuales son desconocidas para ellos", comentó Sue Beottner, Gerente de Actividades Recreativas. "¡Esto a su vez, proporcionará a sus padres cierta familiaridad con los ambientes naturales para que puedan explorar estas áreas en familia!"
Este año 2019, el programa de Aventuras al Aire Libre se ha expandido. El programa ha duplicado la cantidad de sesiones, de cuatro semanas a ocho. Esto significa que más adolescentes tendrán la oportunidad de disfrutar de más aventuras en áreas naturales públicas en Central Oregon.
Este programa está diseñado para participantes de 11 a 15 años. El costo por sesión es de $25. Una sesión comprende de lunes a jueves desde las 10 am a 4 pm.
Para saber más sobre el programa e inscripciones, comuníquese con Sue Boettner al (541) 706-6105. Para servicios en español por favor llame a Kathya Avila al (541) 706-6190.