Bend Park and Recreation District earns national accreditation
January 26, 2021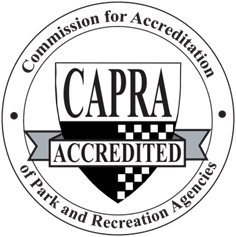 The Bend Park and Recreation District has reaffirmed its place among elite park and recreation agencies across the country by renewing its accreditation through the Commission for Accreditation of Park and Recreation Agencies (CAPRA) and the National Recreation and Park Association (NRPA). This accomplishment was awarded during the 2020 NRPA Annual Conference held virtually in late October.
CAPRA accreditation is the only national accreditation for park and recreation agencies, and is a measure of an agency's overall quality of operation, management and service to the community.  As part of the accreditation process, BPRD demonstrated compliance with 151 best practice standards and documented all policies and procedures.
"Every employee at BPRD is committed to the highest quality service to the community and earning accreditation underscores this hard work," said Don Horton, executive director. "The thorough examination of all practices and policies is rigorous, challenges us to be our best, and provides motivation to continue improving service to the community."
The process for accreditation involves a formal application, self-assessments, a site visit by a team of trained visitors that results in a written report, and a hearing with the commission to grant accreditation. The visitors commented on BPRD's efforts and success with reaching underserved populations.
In recent years, BPRD hired a Latino Outreach Specialist, additional staff time was directed toward outreach efforts, and more community members were served with scholarship funds and needs-based assistance services and programs. The amount of financial assistance provided by the district increased 35% from 2018 to 2019.  Currently, the Team Up program that provides full-time childcare to school-age children at 15 elementary schools in Bend has more than 50% participation by families receiving financial assistance, providing help to dozens of working families during distance learning.
BPRD was first accredited in 2015 and applied for reaccreditation this year. BPRD is one of only 4 accredited park and recreation organizations in Oregon.
"The community benefits most by the excellence of BPRD and accreditation is the process used to confirm our commitment to serving at the highest level," said Deb Schoen, BPRD board member. "I have led a CAPRA accreditation team, so I know first-hand the work that goes into the process, as well as the pride in the accomplishment. This is something each community member shares because we all are part of the parks, trails and recreation services in Bend."
For more information about CAPRA accreditation, visit www.nrpa.org/CAPRA.