Board of Directors approve design contract for Northpointe Park; discuss COVID-19 and urban renewal
April 22, 2020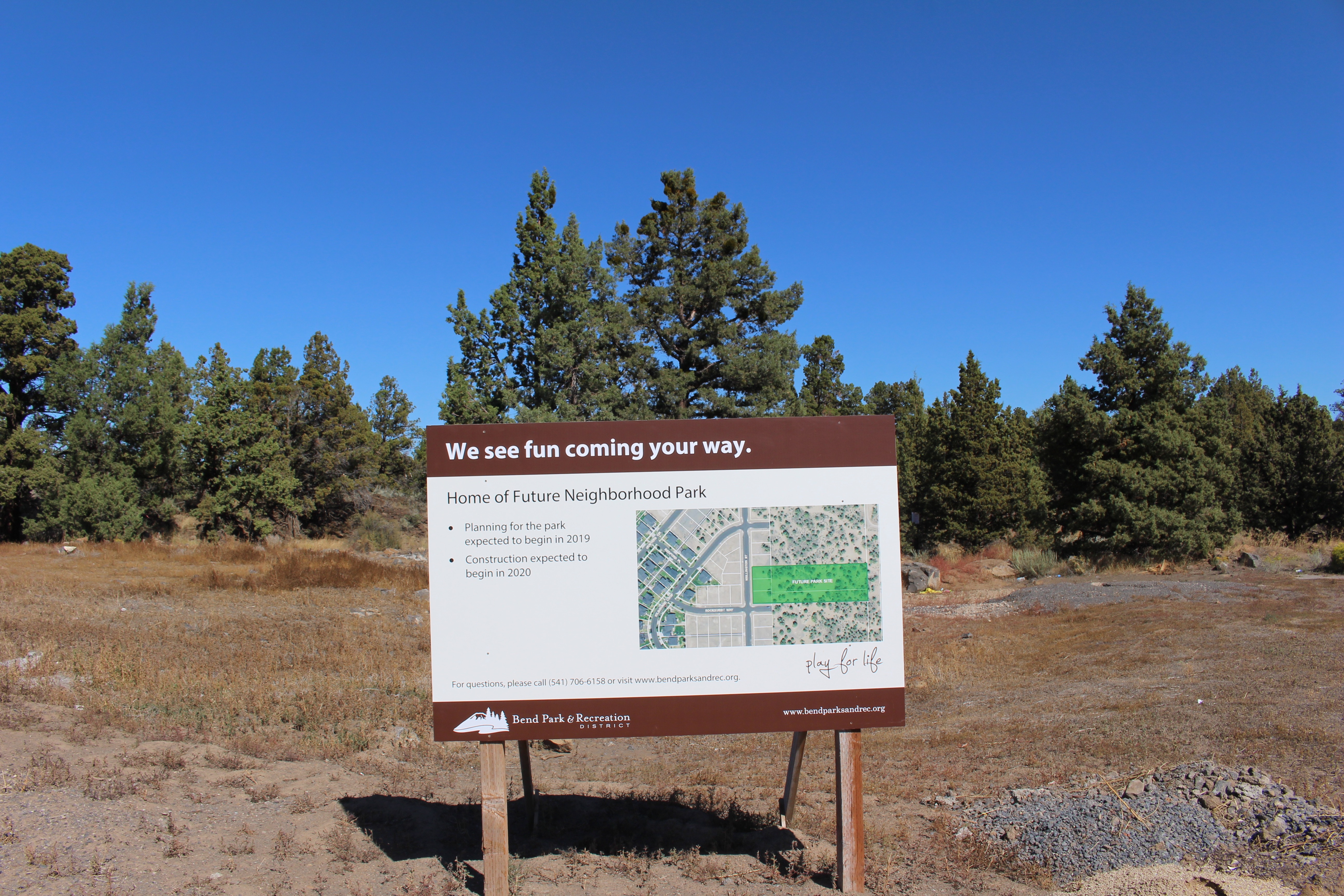 At the April 21 Bend Park and Recreation District Board of Directors meeting, a professional design services contract was approved for a new neighborhood park.
Northpointe Park is located north of Cooley Road, east of the Burlington Northern Railroad Line and west of the city-owned Juniper Ridge property. The design contract was awarded to Szabo Landscape Architecture. The project will begin with public outreach and concept design, which will inform design development and construction documents before construction in 2021. The project is funded with system development charges already collected in a fast-growing area of Northeast Bend.
In the executive director's report, the COVID-19 pandemic situation was discussed. Open spaces of parks and trails remain open and most community members are following guidance for distancing. However, there continue to be incidents of vandalism and damage to signs and markers repeatedly removed at amenities such as skateparks, sport courts and playgrounds. The district is doubling park steward staff with 14 full-time recreation employees to spend a portion of their work week informing about park rules and encouraging distancing. Decisions about reopening closed amenities and resuming programs will be in alignment with state and local officials.
In work session, the board members discussed a request from a developer for a 20-year property tax exemption on an affordable housing project. The project, Stillwater Crossing, includes 240 rental units located on 8.5 acres in southwest Bend, near the intersection of Hwy 97 and Ponderosa Street, serving households earning 60% or less of the area median income. The City of Bend adopted a real estate tax exemption program in 2003 to incentivize affordable housing development. The local statute requires approval of the exemption by the agencies that make up 51% or more of the total tax rate. The developer is also submitting requests to Bend-La Pine School District, Deschutes County and the City of Bend. In addition, the developer also hopes to take advantage of waived park system development charges (SDCs) for affordable housing and will be applying through the city's affordable housing committee for approval from the district.
To date, the district (through the affordable housing committee) has approved 88 of the total 400 SDC waivers allotted by the board.
Next, Matt Stuart, City of Bend Urban Renewal Manager, provided an update on the formation of an urban renewal/tax increment finance (TIF) area. District staff participate on the urban renewal advisory board, and will formally review and comment on the Core Area TIF Plan and Report plan in May. The estimated foregone property tax revenues from the Core Area TIF for BPRD is $26,718,204 over 30 years. The plan includes allocating approximately 10% of the tax increment revenue generated from the Area to go toward open space, facilities, amenities and wayfinding.
The next board meeting is May 5. Meetings are broadcast live on the district's Facebook page.