Board of Directors meeting summary for Sept. 15
September 17, 2020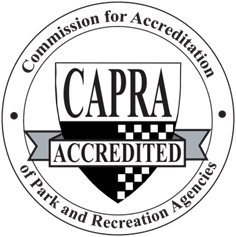 At the Sept. 15 virtual meeting, the BPRD board of directors discussed the future of fish passage in the Deschutes River at Mirror Pond. The board also received information about BPRD's just-completed efforts to be reaccredited by its national professional standards organization, and learned about the Team Up child care program. A recorded stream of the meeting is available here.
Fish Passage
Last year in a resolution that was adopted by the Bend city council and the BPRD board of directors, the elected bodies agreed to conduct a public, independently facilitated process to update the 2015 Mirror Pond Community Vision by developing an alternative to allow for fish passage.
The adopted resolution authorizes the Bend city manager and district executive director to execute the memorandum of understanding (MOU) detailing agency roles and process without further action; however, with new members on the board the district executive director chose to take the MOU to the board for further consideration in late 2019. The MOU has undergone several revisions to further clarify the purpose of the roles of the city and district. Following the board's discussion, further revisions will be made to the MOU draft and the topic will be revisited at the next meeting on Oct. 6.
Accreditation
Bend Park and Recreation District is nationally accredited through The Commission for Accreditation of Park and Recreation Agencies (CAPRA). The CAPRA Commission is made up of members from seven national park and recreation agencies, including sponsorship by the National Recreation and Park Association (NRPA). There are currently only 171 accredited park and recreation agencies in the Unites States, including four in Oregon. BPRD was first accredited in 2015 and submitted for re-accreditation in 2020. A panel of three evaluators completed their assessment in late August. They reviewed the 196-page Self-Assessment Narrative and more than 800 documents showing evidence of compliance. Final notice of completion is expected this fall.
Operation Recreation "Team Up"
BPRD's Operation Recreation "Team Up" all-day child care program began this week at 15 elementary schools in Bend. Almost 400 children are enrolled, including approximately 10% who speak Spanish as their first language. Additional staff were hired for the program and they will be joined by the school district's education assistants to facilitate connections to teachers during comprehensive distance learning.
According to Matt Mercer, recreation services director, the goal is to continue the Team Up program as schools transition to the balanced hybrid learning model beginning Oct. 5.
"We are currently working with Bend La Pine Schools to confirm available space once students begin returning to school," said Mercer. "During the balanced hybrid period, students would attend the "Team Up" program on the days that they were not attending schools. We will have more information soon."
BPRD will not be able to provide Kids INC afterschool program until schools return to full schedule.
The next board meeting is Oct. 6.