Board OKs contract for pool renovation, sand courts at Pine Nursery
November 5, 2019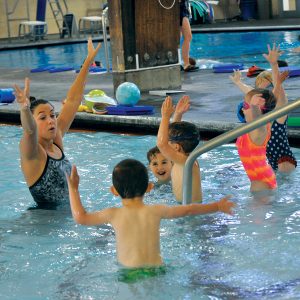 The board of directors took steps toward a major renovation at Juniper Swim & Fitness Center and a new home for sand volleyball at the Nov. 5 meeting.
The indoor pool tank at Juniper Swim & Fitness Center, built in 1978, is due for a replacement including the pool tank, equipment, pool decks and other updates and repairs. The 5-year capital improvement plan includes $2.5 million for the project with the first step being a design-build contract for pre-construction services. At Tuesday's meeting, the board voted to award the pre-construction services contract to Pence Construction. Timing for the project is tentatively scheduled to begin following the opening of Larkspur Community Center in September 2020.
In other business, the board approved a ground lease at Pine Nursery Park for the North Pacific Juniors (NPJ) Volleyball Club to fund and maintain six sand volleyball courts for club and public use. Four courts were previously used with permission of the Old Mill District. With the closure of the courts at the Old Mill District, several community members contacted the district requesting development of public courts. Pine Nursery Park has the best space to accommodate new courts with infrastructure and parking to accommodate potential tournament play. The ground lease arrangement is modeled on existing agreements with the Bend FC Timbers.
The directors also heard from two City of Bend staff and a City Councilor. Cassie Lacy, City of Bend Senior Policy Analyst, shared information about the Community Climate Action Plan (C-CAP) and requested a letter of support to the city council. The board of directors support the community wide effort and asked for regular updates on progress and contributions to the emissions reduction goals.
In addition, Matt Stuart, City of Bend Urban Renewal Manager and Justin Livingston, City Councilor and Chair of the Urban Renewal Advisory Board, presented information and answered questions about the current project to determine if the core area of Bend should become an urban renewal district. BPRD staff members participate on the urban renewal advisory board and will formally review and comment on the urban renewal plan when available in 2020. The board of directors also expressed interest in a role for the elected officials in the process.
In work session, staff shared a report about the record-setting fall youth sports leagues and celebrated the 2019 Asset Management Award from the Oregon Recreation and Parks Association.
The next board meeting is Nov. 19.