Cross Country Skiing in Bend Parks
February 23, 2021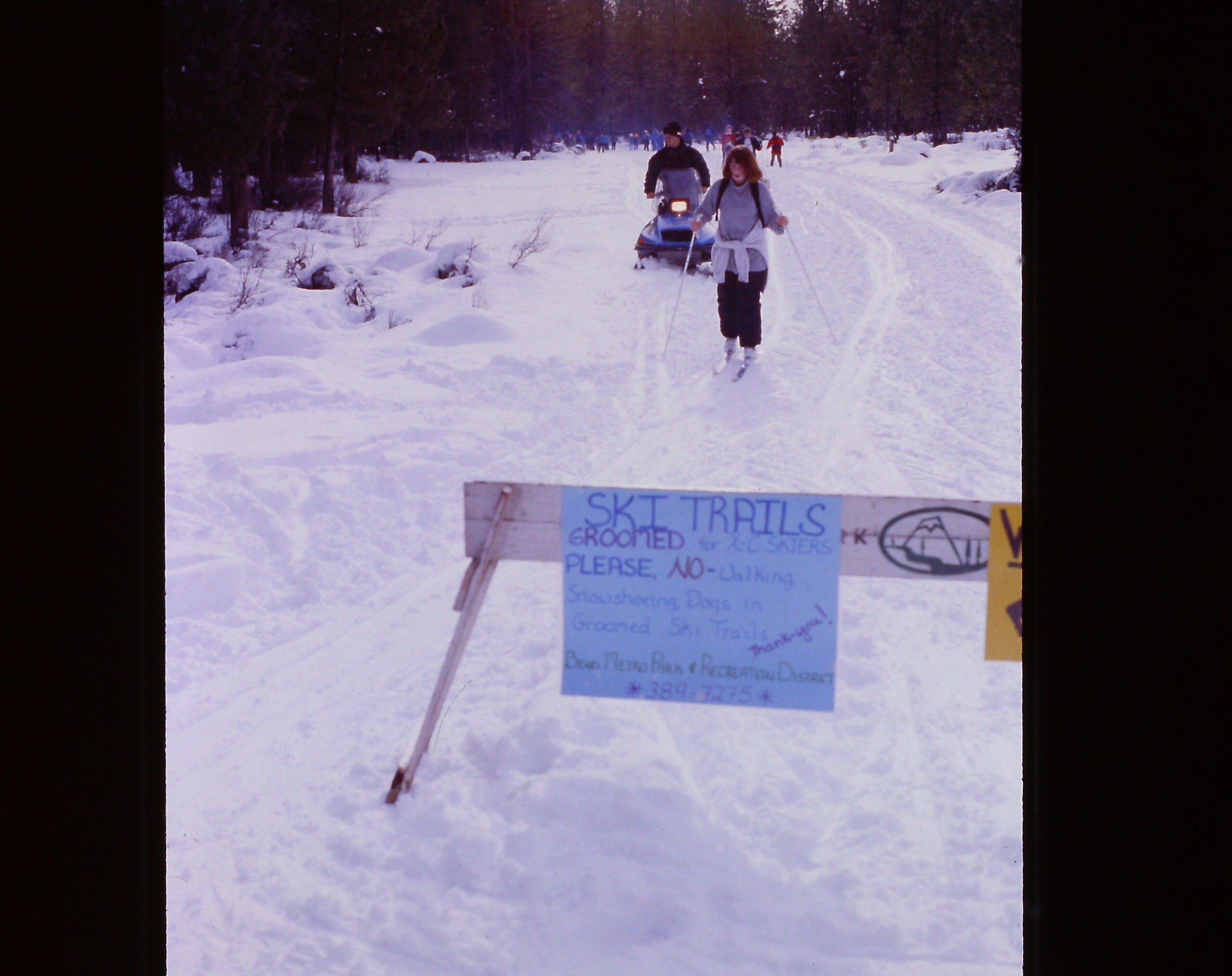 By: Bruce Ronning
Bruce is a retired BPRD director for planning and development.
The recent snowfall in Bend has reminded me of winters when we had snow in town for days and even weeks at a time and cross country skiing in the parks was a popular activity.  Back in the day, locals would set "skied-in" tracks in Shevlin and Drake Parks and it was common for groups to meet up and ski together both during the day and in the evenings.  One of my first memories of visiting Bend is skiing under the lights in Drake Park with friends during Thanksgiving week, 1978.
"Back in the day"
There have been weddings, birthdays and other events celebrated in Shevlin Park that have included skiing and a gathering around a bonfire for an apres-ski toast and warm up.  Bob Woodward, former Bend mayor and BPRD board member tells the story of a group from Vermont coming to Bend seeking snow at Mt Bachelor one winter and ending up skiing at Shevlin nearly every afternoon of their visit.  Former district Outdoor Program leader, Dick Spray, recalls there being so much snow in Shevlin one winter that he unwittingly skied over a dead deer.  It's a reminder that big snow years are good for skiers, but hard on wildlife and that we should take care not to harass the deer and other critters that winter in our parks.
In the winter of 1989-90, Central Oregon Nordic Club (CONC) acquired a surplus ODOT snowmobile and borrowed track sled for its initial grooming effort at the Meissner Sno-Park. I was the BPRD Outdoor Programs Coordinator at the time and also serving on the CONC board.  That winter I began experimenting with setting classic tracks at what is now Skyline Sports Complex using the CONC equipment.  The following year, with the support of Sunnyside Sports and local XC skiers, CONC raised funds to purchase a used snowmobile and a track sled for grooming at Meissner. BPRD provided a trailer and in-town storage of the CONC equipment. This made it available when there was snow in the parks and for several winters I was able to groom for classic skiing at Shevlin and for skate skiing at Skyline.
During the winter of 1992-93, Bend had a cumulative snowfall of over 80 inches and snow on the ground for 100 consecutive days. We set classic tracks at both Skyline and Shevlin Parks and Skyline was also groomed for skating.  The field lights at Skyline made for very popular evening skiing. The heavy snowfall that winter often made travel up Century Drive difficult, particularly for the less prepared.  Fortunately we were able to conduct sessions of the district's Bend Kids Ski League program on groomed trails at both Shevlin and Skyline, thus saving families the harrowing trip to our usual venues at Meissner or Mt Bachelor.
"Changes over time"
Subsequent winters saw less snow in town and grooming in the parks was more sporadic.  In the late 1990s the grooming fell under the auspices of the newly formed Tumalo Langlauf Club which later morphed into Meissner Nordic. By then the operation had moved almost entirely to Meissner Sno-Park, but the Park and Recreation District continued to support the effort by storing and helping maintain the equipment and the parks were occasionally groomed when there was adequate snow.
"Skiing today and tomorrow"
Recently local skiers and organizations including MBSEF, XC-Oregon and Meissner Nordic have initiated a discussion with BPRD about renewing the grooming effort in Bend's parks.  A plan has been agreed to and there will be grooming for skate skiing under the lights at Skyliner this winter when it is determined there is enough snow.  If that goes well there is the potential for groomed classic tracks to return to Shevlin in future years.
Our winters are usually milder now, but Bend experienced 64 inches of snowfall as recently as the winter of 2016-17 and 24 inches in February 2019 *.  Six to eight inches of snow is generally adequate for skiing at Shevlin and in other Bend parks.  Be aware though that snow in the park can hide underlying hazards. To my lasting consternation, I once badly gouged a new pair of skis in Drake Park when I dropped over a low rock wall.  This shouldn't prevent you though from a satisfying, close-to-home ski in a local park, particularly if you have a pair of "rock skis" that you won't mind scratching up a bit.  Be prepared to take advantage of snow in town when the opportunity arises, as it often doesn't last long.  Start your snow dance now!
* For a discussion of heavy snowfall years in Bend see: Snowfall Breaks More Records.