El 10 de julio empieza el horario de Recreación Familiar en las piscinas Juniper Swim & Fitness Center
July 7, 2020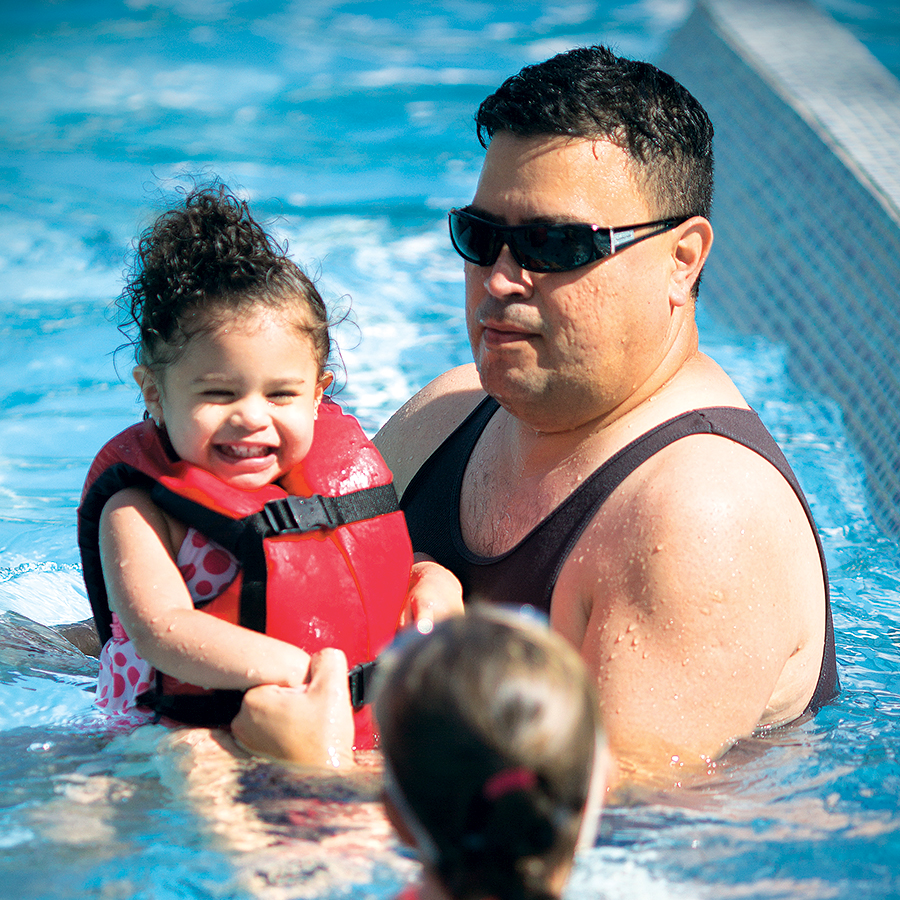 Bend, Ore. – 6 de julio 2020: No hemos tenido muchas actividades en las piscinas de Juniper por mucho tiempo. Si bien es cierto, los carriles y clases de ejercicio en el agua están disponibles desde hace ya un par de semanas, esperamos que la diversión regrese a las familias este viernes 10 de julio. Para el horario de Recreación Familiar, el ingreso será mediante reservación previa, por motivos de capacidad reducida y las normas de distanciamiento físico.
El horario de recreación familiar se ofrecerá en la piscina de actividades exterior y en las piscinas interiores por un lapso de 80 minutos cada sesión, desde media mañana hasta el atardecer, de lunes a sábados. La admisión será hasta 50 personas por piscina para permitir el distanciamiento físico seguro.
Todos los niños deben estar acompañados de sus padres, tutor legal o persona de 16 años o mayor durante este horario familiar. Los adultos de cada familia son responsables de supervisar y mantener el distanciamiento físico con otras familias. Para ayudarlo con este tema, hemos asignado espacios para seguir las normas de distanciamiento.
Las reservaciones empiezan el martes 7 de julio. Las reservas se hacen en línea en bendparksandrec.org/juniperreservations; para ello, usted debe tener una cuenta en BPRD o llamar por teléfono al 541-389-7665. Para servicios en español llamar al 541-706-1212. Puede hacer las reservaciones con 7 días de anticipación y estas permanecerán abiertas 15 minutos antes que empiece su horario reservado, basado en la disponibilidad.
Establecer su cuenta en BPRD le tomará 5 minutos cuando lo hace con el equipo servicio de atención al cliente dentro de 48 horas de haber haberlo solicitado.
"Los miembros de la comunidad pueden elegir un horario que vaya de acuerdo a sus necesidades. La piscina de actividades exteriores ofrece agua temperada, baldes que chorrean agua y un área con piletas para niños. La piscina interior de 25 metros ofrece trampolines e incluyen acceso a la piscina pequeña con una resbaladora pequeña" nos cuenta Sue Glenn, Administradora de Servicios de Recreación. "Desafortunadamente, no será como los veranos pasados, trasladarnos de la piscina interior al exterior no será posible durante un periodo de reserva; por favor, elija cuidadosamente para que su familia tenga una linda experiencia."
El costo es de $5 por persona, adulto o adulto mayor. Se aplicarán tarifas para residentes fuera del distrito.
Algunos detalles adicionales que lo ayudará a usted y a su familia:
Vengan listo para nadar: Tome una ducha antes de venir y vengan listos con sus trajes de baños puestos. No están disponibles los vestuarios o duchas, solo podrá hacer uso de los baños y lavaderos para para lavarse las manos.
Los participantes y visitantes de la piscina de actividades en el exterior y alrededores no necesitan usar máscaras. Si alguna persona va a ingresar a nuestros ambientes interiores, necesitará una máscara o protector facial, este es un requisito para cualquier persona mayor de 12 años; a menos que tengan alguna condición médica o discapacidad que lo impida. Los protectores faciales no son requisito cuando realice ejercicios físico exigentes. (por ejemplo: nadar, clase de ejercicios, uso de pesas, etc)
Limiten sus pertenencias y no traiga juguetes de casa. Solo se permite artículos aprobados por la Guardia Costera como (chaleco salvavidas).
No traer comida o bebidas, a excepción de botellas de agua. Tenemos estaciones donde pueda llenar sus botellas de agua, pero tenemos disponibles los bebederos y venta de bebidas.
Esté preparado para salir sin cambiarse el traje de baño.
Alquiler de piscinas disponibles:
Para los miembros de la comunidad que busquen una reservación, tienen la oportunidad de reservar la piscina interior para un máximo de 25 personas entre familia y amigos. Podrán mantener el distanciamiento físico, aire de circulación, un espacio adyacente a la piscina, Juniper está listo para ayudarlo a planear su fiesta de verano. Para mayor información llame al (541) 389-7665. Información en español (541) 706-1212
Extendemos nuestro horario de atención
Horario empezando el 10 de julio:
• De lunes a jueves: 5:30 am to 6:30 pm
• Viernes; 6:00 am to 4:00 pm
• Sábados: 7:30 am to 4:00 pm
• Domingo: Cerrado
Para mayor información visite: www.bendparksandrec.org/juniperreservations.
###