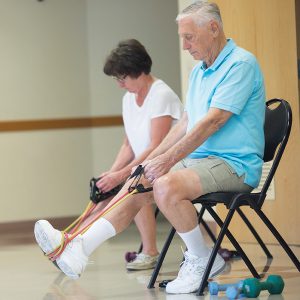 Get moving and feel great! We have specific, Specialized Fitness classes for older adults that are designed for those with limited mobility and centered on staying active and independent. Seated and standing exercises that work all major muscles and joints are specifically selected to enhance independent living skills, aimed to ease performing activities of daily living. We also offer a wide-range of Fit4U classes, which are low-impact classes that work well for those just getting started in fitness and older adults.
Are you recovering from an injury or working through long-term mobility issues? See the Therapeutic tab below for our Therapeutic Next Step Program..
Locations: Bend Senior Center and Juniper Swim & Fitness Center
Fees & Passes: Use your Drop-In or Full-Access Fitness Pass. No registration required. Get unlimited classes with a Full-Access Pass for just $10 more a month than the Basic Pass. Fitness passes through health plans? Ask us how.
Looking for a personal trainer? Learn more about Private Classes or Personal Training.
Looking for Childcare? Learn more about Childcare at Juniper Swim & Fitness Center at Kid's Corner.
Note: During inclement weather, be sure to check schedules regularly for possible cancellations or changes.