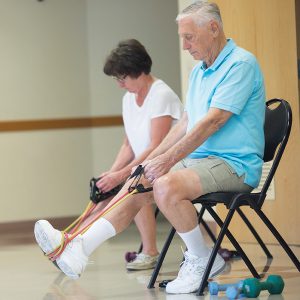 Get moving and feel great! We have specific, Therapeutic Fitness classes for older adults that are designed for those with limited mobility and centered on staying active and independent. Seated and standing exercises that work all major muscles and joints are specifically selected to enhance independent living skills, aimed to ease performing activities of daily living. We also offer a wide-range of Fit4U classes, which are low-impact classes that work well for those just getting started in fitness and older adults.
Locations: Juniper Swim & Fitness Center
Fees & Passes: A per-visit fee will be charged at the time of registration to reserve your spot. These fees are lower than our regular drop-in rates and similar to the 10-visit pass rate. Payment is non-refundable. A credit will be provided if a reservation is cancelled in advance due to a health condition. Learn more about reservations and pricing.
What you need to know before attending:
Note: During inclement weather or heavy smoke days, be sure to check schedules regularly for possible cancellations or location changes.