Newly elected board members begin; park projects move ahead
July 17, 2019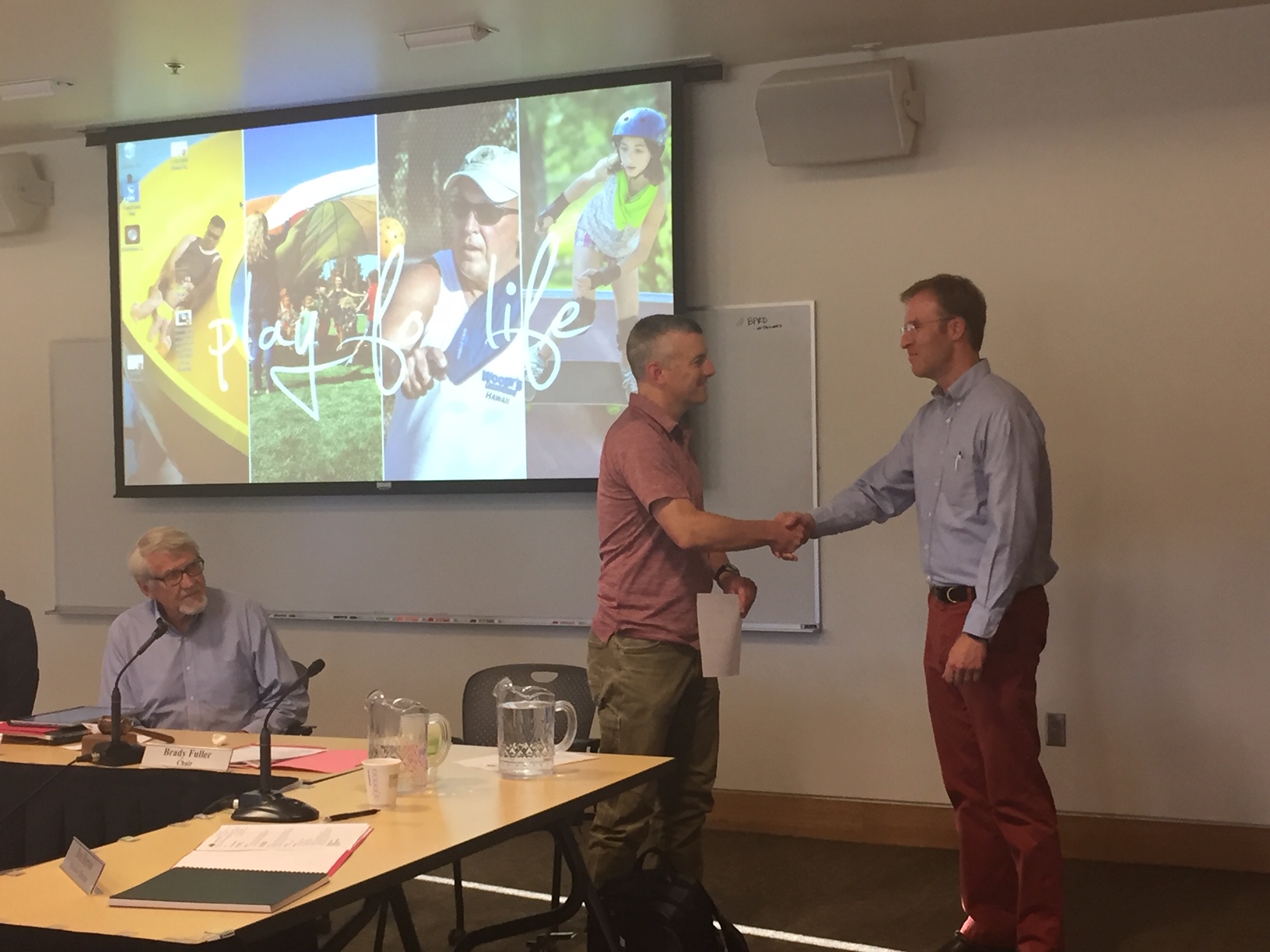 At the first Bend Park and Recreation District Board of Directors meeting of the 2019-20 fiscal year, new directors were welcomed, departing directors were thanked, and park project contracts and processes were approved. 
Ariel Méndez and Jason Kropf officially joined the board of directors following their May 2019 elections. Brady Fuller and Ellen Grover depart after four-year terms where both were instrumental in many efforts including updated comprehensive plan, strategic plan, system development charges (SDC) methodology update, expansion of Shevlin Park and groundbreaking of the Larkspur Community Center. 
The 2019-20 officers are: 
Board Chair: Ted Schoenborn

 

Vice Chair: Nathan Hovekamp

 

Legislative Liaison: 

Ted Schoenborn

 

Executive Secretary to the board of directors: Don Horton

 
The board approved the meeting schedule to continue as the first and third Tuesday of each month with a work session at 5:30 p.m. and a business session at 7 p.m. 
In other business, the board approved the next phase of planning development for Alpenglow Park, the 37-acre park in southeast Bend that will be adjacent to the new high school. The project is ready to move into construction documents development and permitting. The park is scheduled to be completed in 2022. 
The board also conducted a public hearing to discuss the use of a design build contracting method for the Juniper Swim & Fitness Center indoor pool renovation project. The board of directors serves as the Local Contract Review Board for the park district. The use of design build alternative contracting method is expected to result in substantial cost savings and other benefits for the renovation project.  
In work session, the directors were updated about volunteer and community engagement efforts, including a report on volunteer involvement and impact, sponsor relationships and support offered by Bend Park and Recreation Foundation. In 2018, volunteers contributed more than 52,954 hours of service, which is the full time equivalent of 25.46 staff. 
Jeff Amaral, natural resources manager, shared plans for prescribed fire in Shevlin Park in fall 2019 and spring 2020. These fires follow successful burns in May 2017 and April 2018 as part of the efforts to improve forest health, increase resistance to insects and to decrease the chance of a severe wildfire.  
Finally, BPRD and Upper Deschutes Watershed Council discussed the Riverbend Park South project that includes improvements to water access, fencing and riparian habitat enhancements to the area on the west side of the Deschutes River between the Bill Healy vehicle bridge and the Farewell Bend pedestrian bridge. This project will serve as an example for future projects that follow as part of the collaboration. 
The Aug. 6 meeting is cancelled. The next meeting will be Aug. 20.