Summary for Jan. 4 Board of Directors meeting
January 5, 2022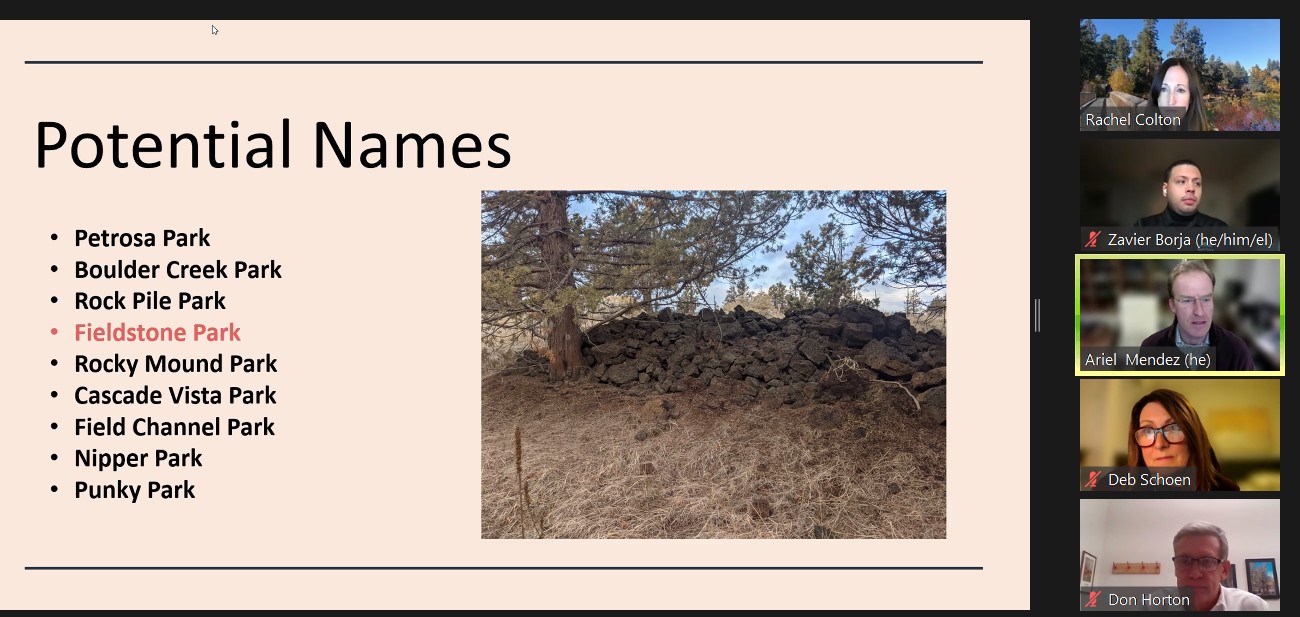 The Bend Park and Recreation District Board of Directors kicked off 2022 by approving a purchase agreement for an expanded home for the park services operations in the coming years. They also approved a name for a future park and accepted the annual comprehensive financial report. A video recording is available.
Future maintenance facility
The board authorized the executive director to enter into a purchase and sale agreement with the city of Bend to acquire the utility maintenance facility off Boyd Acres Road. The city property is 5 acres in size, rectangular shaped, with an office building and several shop buildings that will accommodate all divisions of the park services department. There is also adequate building space to accommodate storage needs and future growth.
The Park Services Department has operated out of the shop located off Simpson Avenue since prior to the formation of the district in 1974. Since 1974, the district's population has grown from about 14,000 to nearly 104,000 people, and district park, trails and facilities have expanded accordingly.
This purchase and sale agreement is non-traditional because it considers the sale of the property four years before the district will take ownership. BPRD plans to retain the current park services office on Simpson Avenue.
New park named
Staff recommended and the board approved "Fieldstone Park" as the name for the Petrosa neighborhood park property. The 5-community member Naming Committee met on Dec. 7, to discuss potential names for the "Petrosa" neighborhood park property. After discussing the potential names, the majority of the Naming Committee members recommended Fieldstone Park as the name for the property. BPRD and Pahlisch Homes are coordinating to build a park and multiple trails in the UGB northeast edge expansion area. The subdivision includes a 5-acre neighborhood park, and a section of the NUID Canal Trail, which will both be managed by the district. Construction is anticipated to start this winter, with completion in the fall of 2022.
Financial report
The board accepted the audited Annual Comprehensive Financial Report for the fiscal year 2020-21. The annual report is required to be independently audited by CPAs licensed by the Oregon State Board of Accountancy to perform audits of municipal corporations. A clean unmodified audit opinion on the District's financial statements is viewed favorably by investment analysts and strengthens the District's ability to issue bonds or other debt at a lower interest cost.
In work session, the board was introduced to three new staff members, and received updates about the asset management program and the staffing situation. They also reappointed Daryl Parrish to serve on the budget committee for a 3-fiscal year term.
The next board meeting is Jan. 18.