Summary of Aug. 17 Board of Directors meeting
August 18, 2021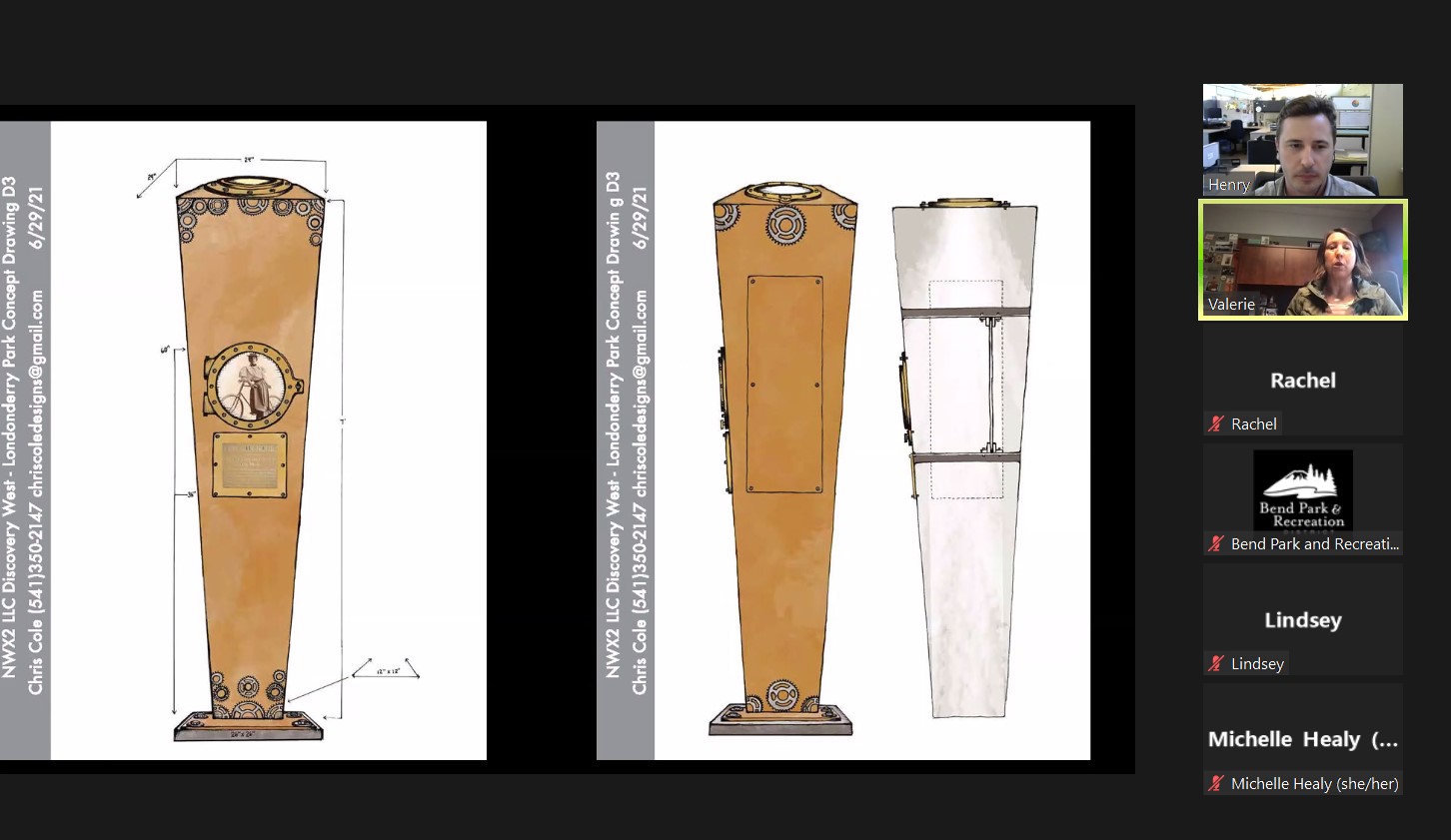 At the Aug. 17 Board of Directors meeting, a new art piece was accepted for a future Discovery West park site and strategies were discussed for how to improve current staffing challenges in recreation and park services. The board of directors met via zoom. A recording of the meeting is available here.
In early 2021, the district acquired a 0.81-acre parcel located in phase 1 of Discovery West development. BPRD Planner Henry Stroud was joined by Valerie Yost, Director of Marketing, Brooks Resources Corporation, to share plans to install and donate an art piece that honors Annie Londonderry, a female explorer and the namesake of the adjacent street. This piece is intended to complement the "Women of Discovery" mural installed nearby on the Outback Trail. The approved piece is valued at $10,000. The district has an agreement with Art in Public Places (AIPP) for the placement and acceptance of public art on district properties, however, this gift is a public art donation directly from NWX2, and is not part of the AIPP agreement.
Like most organizations, BPRD is currently experiencing staffing shortages and has dozens of open positions. Delta variant concerns, childcare constraints, extended unemployment benefits all likely contribute in some ways to the current situation. In order to avoid further impacts on services and existing staff workload, district staff has been working urgently on additional strategies to improve both recruitment and retention of critical front-line positions. These strategies include increasing salary ranges for many part-time recreation positions, and converting some part-time hours/positions to full-time positions.
After discussion, the board of directors approved the conversion of up to 20 FTE of currently budgeted part-time and seasonal hours to create 20 new full-time positions. The combined cost of implementing the increase in part-time salary ranges and the part-time to full-time conversion proposal is estimated at $398,000 for fiscal year 2021-22.
If the district is not able to fill positions within the next few weeks, there will be reduced levels of service. Reducing hours, reducing footprint of facilities, reducing capacities in some programs, and reducing maintenance including some custodial functions are all possible outcomes. A recruitment and retention bonus program may be considered in the future if the initial strategies are not successful in meeting staffing needs.
In work session, the board received an update on the application process for the new Park, Facility and Trail Naming committee to be made up of 5 community member volunteers. Advertisement to fill these committee positions was initiated on Aug. 17, with the application period spanning until Sept. 13. Staff anticipates providing the applications to the board for review on Sept. 14, with the board acting to appoint committee members at the Oct. 5 board meeting. More information, the adopted naming policy and the application questionnaire are here.
The next meeting is Sept. 7.