Summary of Jan. 19 Board of Directors meeting
January 20, 2021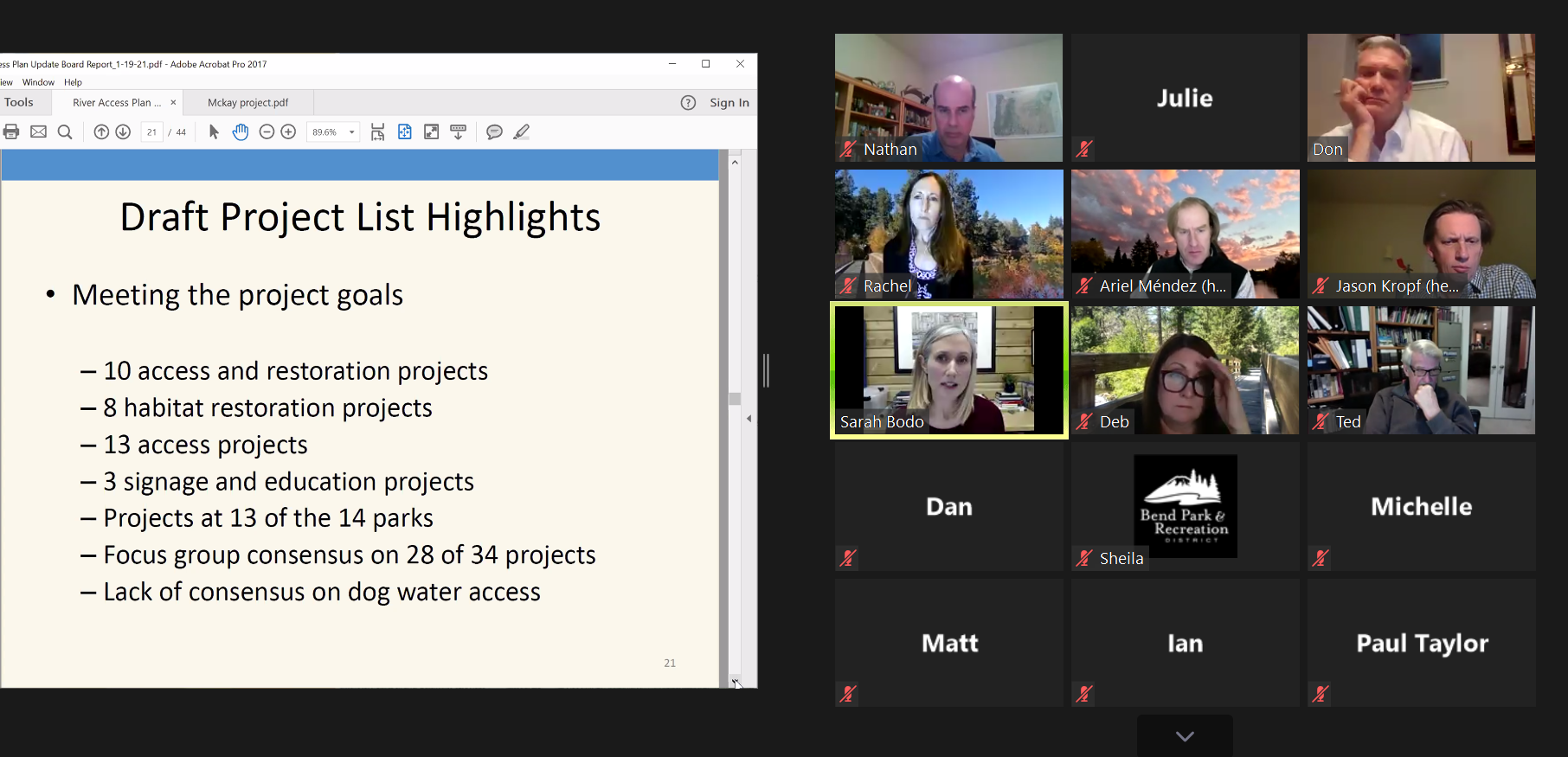 At the Jan. 19 BPRD board of directors meeting, a new park development agreement and related master plan were approved, and the annual financial report was received from the independent auditor. A recording of the meeting is here.
The board of directors authorized the executive director to execute the park development and
purchase agreement with Pahlisch Homes for parkland acquisition and development within a large future subdivision in Northeast Bend.  The Petrosa subdivision will include residential and commercial lands, including 1,145 residential units, an elementary school, homeowner's association-managed community recreation facility and small park, and a network of multi-use paths beyond the future district canal trail.
Petrosa will be phased over the next decade or so with development of the 5.2-acre park in late 2021. Features proposed for the park include open lawn, picnic and gathering space, play area, bike skills trail, paved loop path, and natural soft surface trails.
To facilitate development of a roundabout at Deschutes Market Road and Yeoman Road, staff recommended and the board approved the northeast corner of Pine Nursery Park to be purchased by Pahlisch for the roundabout, as part of the developer agreement.
As staff indicated, the benefits of long-range planning for these larger subdivisions is that it allows the developer and district to assure connectivity of the trail system, set long-term expectations allowing both entities time to plan for infrastructure costs, and assure that recreation improvements are broadly considered and are of benefit to the neighborhood and the quality of life necessary for well-planned neighborhoods.
In other business, the board of directors received the Comprehensive Annual Financial Report
(CAFR). The annual audit process contributes to the integrity of Oregon local governments by requiring an independent review of fiscal affairs and assuring that local taxpayers are provided a reliable and complete financial report that can be used to evaluate their local governments' performance. The district received a clean audit opinion for fiscal year 2019-20 (and for all years prior since
the district's first audit for fiscal year 1976-77).
In work session, staff provided a status update about the Deschutes River Access and Habitat Restoration Plan and the next steps for public engagement for additional input in February. Tentative plans include recommendations for 10 access and restoration projects, 8 habitat restoration projects, 13 access projects, and 3 signage and education projects. A public survey will be open in February to seek public input on proposed projects. A bilingual survey will be available broadly to members of the public here beginning Monday, Feb. 8.
Finally, staff provided an update on child care plans with schools beginning in-person and hybrid instruction. Approximately 700 school-age children will participate in aftercare and hybrid all-day care programs, continuing this much-needed program for families.
The board will meet for annual workshop meetings on Feb. 2 and Feb. 5.