Summary of July 6 Board of Directors meeting
July 8, 2021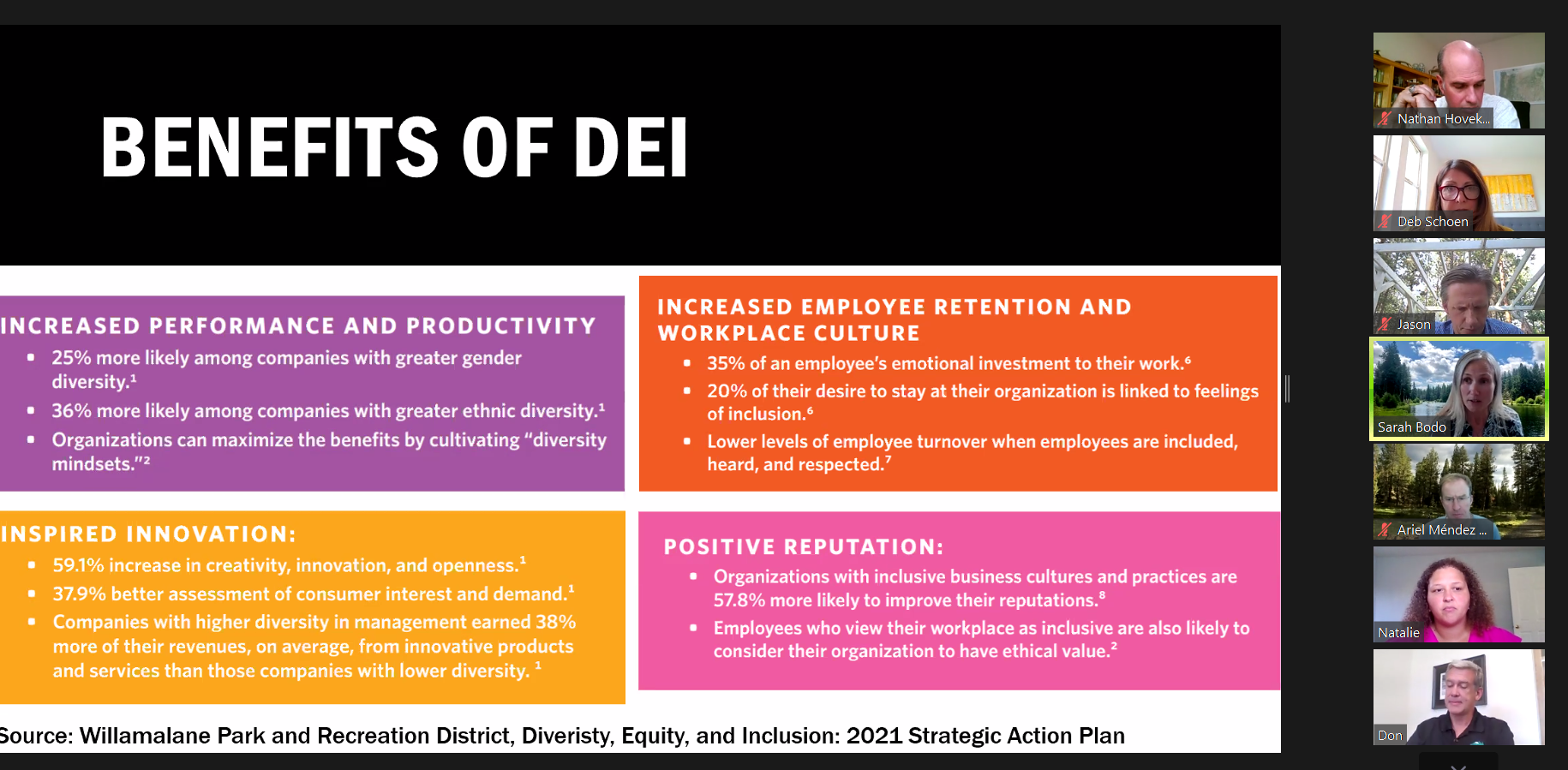 At the July 6 Board of Directors meeting, the forthcoming year's roles were established, and the park naming policy was updated and adopted. A video recording of the meeting is here.
New board member Zavier Borja was sworn onto the board and Deb Schoen and Nathan Hovekamp were officially reappointed following the May election results. Outgoing board member Ted Schoenborn was celebrated after 18 years of service to BPRD's board.
For the 2021-22 year, Ariel Méndez will serve as chair of the board and Deb Schoen will be vice chair. The legislative liaison will be Nathan Hovekamp. Meetings will continue to take place on the 1st and 3rd Tuesdays of each month at 5:30 pm, beginning with visitor comments each meeting. Beginning in August, meetings will occur in person with a hybrid ability for members of the public to participate in person or by zoom digital meeting. Details for public participation are here.
In business session, the board approved updates to the Park, Facility and Trail Naming Policy. The district first adopted a Naming Policy in January 2003 and updated it in April 2013. The intent of the policy is to formalize a process for naming district assets with involvement from an appointed committee of community members to be established in the coming months.
In work session, the board received a staff update on the Diversity, Equity and Inclusion project currently in process. The district has hired Talitha Consults to lead a DEI project, which includes the survey, an organizational assessment and action plan. The district will share the survey results, organizational assessment and DEI action plan this fall, and begin implementing the actions immediately following.
Matt Mercer also provided a brief update about recreation programs and facilities following the lifting of state risk-framework guidelines. Recreation facilities are back to normal operations, fees and passes have returned, and summer youth programs will continue to require mask use only when indoors and during transportation. The first 2 weeks of summer have gone well and attendance is strong.
The July 20 meeting is cancelled; therefore, the next meeting is Aug. 3.