Summary of Sept. 7 Board of Directors meeting
September 8, 2021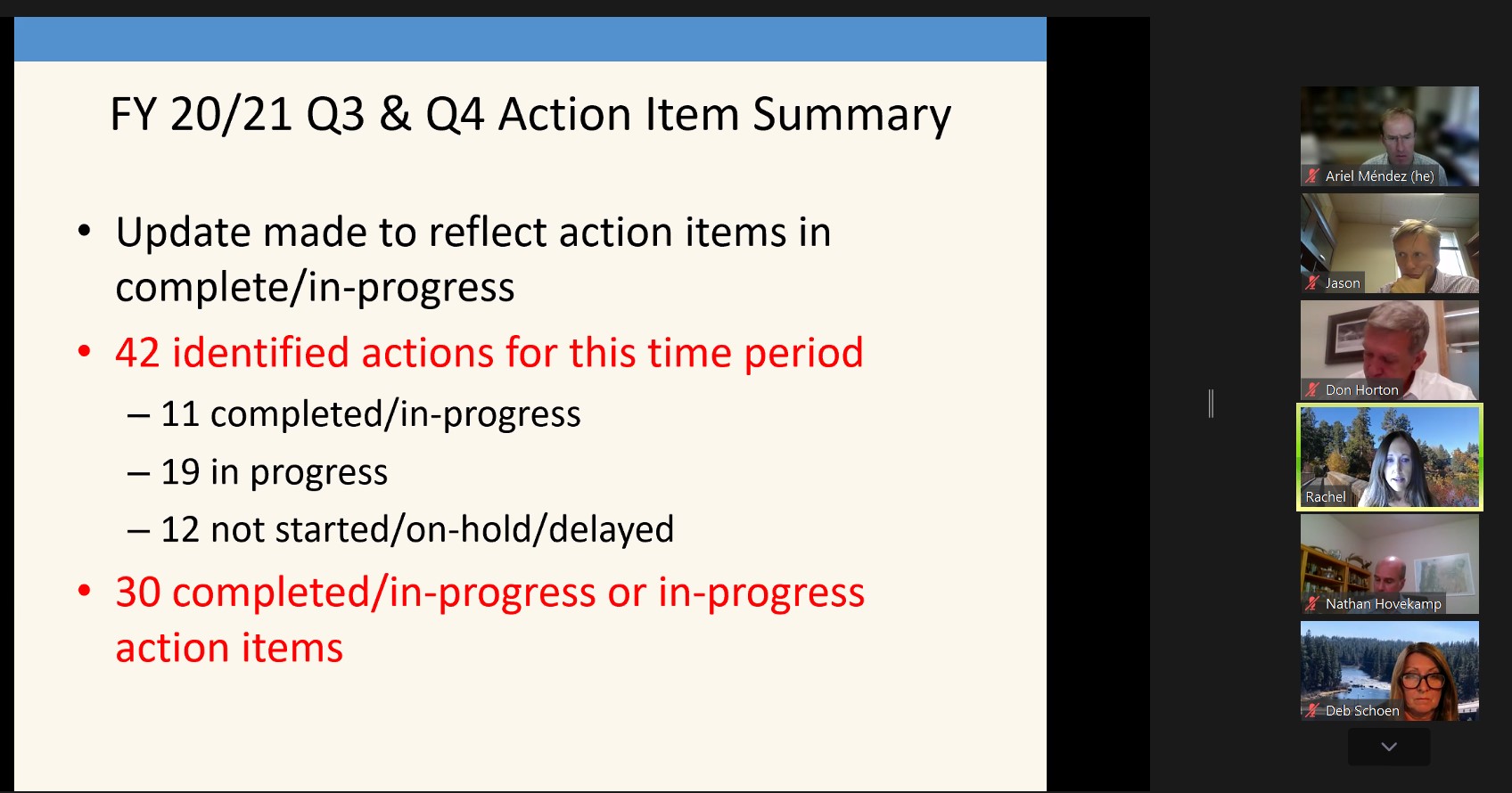 At the Sept. 7 meeting, the BPRD Board of Directors voted to re-submit for an expired permit for a Drake Park bank and trail extension project after a packed agenda of updates in the work session. A video recording of the meeting is here.
Drake Park project
The board approved additional funds be added to the contract with GreenWorks, PC in an amount of $15,000 to complete the city re-permitting for the project that will extend the Deschutes River Trail through and adjacent to Drake Park.
A building permit issued for the project has expired and must be re-submitted with new plans that include two phases. Phase 1 consists of work wholly within the district's ownership and does not require easements. Phase 2 consists of the work along the river that does require an adjacent landowner easement.
Trail action plan draft
Staff was asked by the board to create an action plan listing priority tasks to advance the trail system, which was presented at the meeting by Henry Stroud, trail planner. The purpose of the draft Trail Action Plan is to provide additional guidance to the district on how to prioritize development of its trail system. The action plan serves two primary functions:
Reprioritizes trail projects identified in the district's Comprehensive Plan using updated criteria that include an analysis of population density and other important demographic indicators.
Identifies important planning focus areas, outreach focus areas, and asset management projects designed to enhance the quality and usability of the district's trail system.
Strategic plan update, request
The 2019-2022 Strategic Plan was adopted in June 2019 and a regular update was presented by Rachel Colton, planner. The development of the plan spanned 9 months and included input from over 100 staff members and all board members.  Staff recommended and the board agreed to extend the 2019-2022 Strategic Plan through fiscal year 2023/2024 to allow sufficient time for plan implementation to be completed.
Over the course of the strategic plan implementation, 19 additional action items have been added, for a total of 80 action items. These additional action items were necessitated by the COVID-19 pandemic, which significantly strained staff resources and required that priorities be shifted to address more immediate needs.
Recreation updates
Matt Mercer, recreation services director, provided updates on COVID, air quality and staffing challenges. Mask mandates have been met with compliance as well as some softening of participation, particularly with indoor fitness opportunities. Air quality has at least partially impacted recreation programs for 11 days of the past month or so, including significant changes to facility operations over the long holiday weekend.
Finally, staffing challenges continue with no significant improvement since the last board update. Custodial and customer service staffing is at a sustainable level; however, lifeguards and youth recreation staff for afterschool program continue to be critical. Lifeguard shortage will result in operational changes and reduced amenities at Larkspur Community Center and Juniper Swim & Fitness Center beginning this week.
The next board meeting is canceled for Sept. 21; therefore, the next meeting will occur on Oct. 5.