It's time for Bend's Old Fashioned July 4th Festivities
June 22, 2017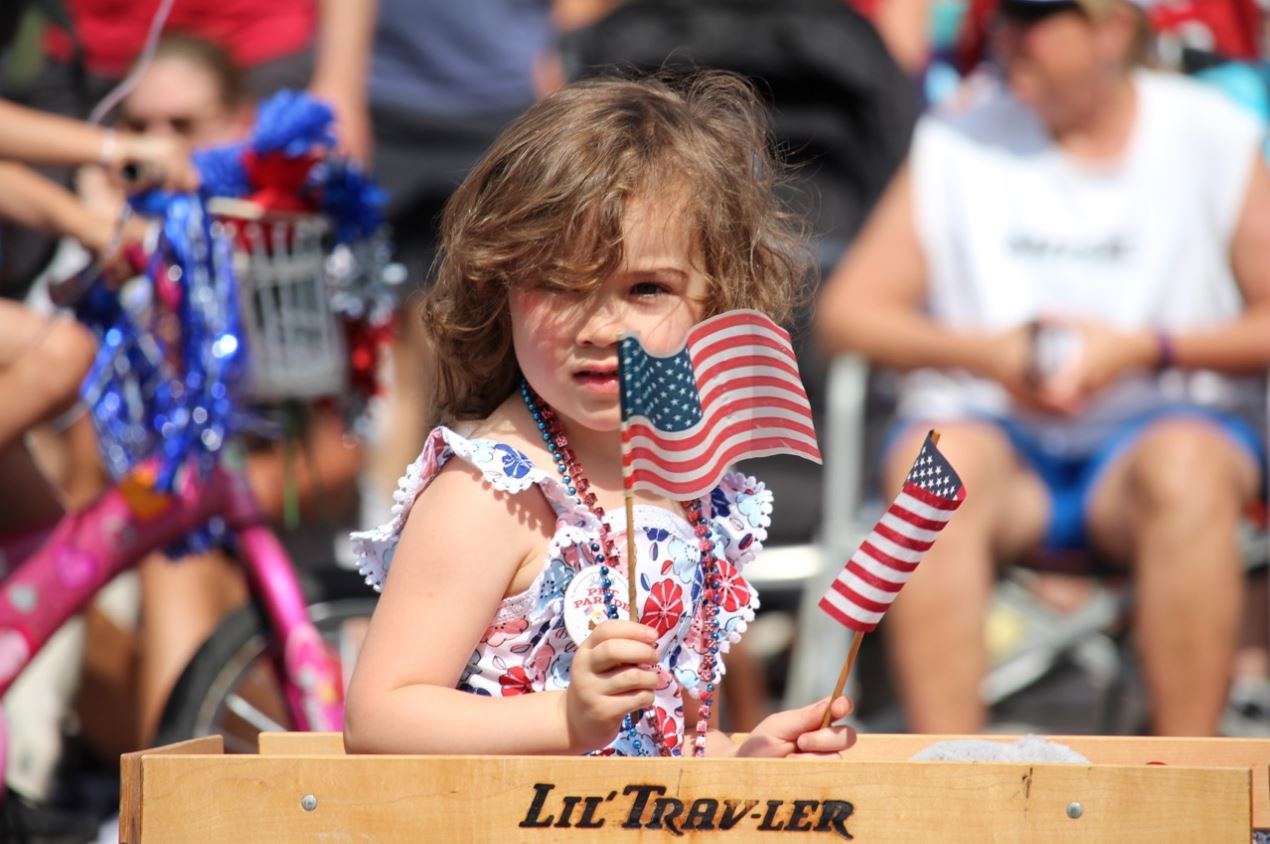 Come celebrate our country's independence at the July 4th Pet Parade and Old Fashioned Festival – both signature Bend Park & Recreation District events.
As Bend's largest parade, the Pet Parade is sponsored by Bend Pet Express. The parade has been held since 1932 and kicks off another fun-filled July 4th at 10 a.m., downtown. Everyone is welcome to participate and no registration is necessary. The decorating party and lineup begin at 9 a.m. on Wall Street in front of the Bend-La Pine School Education Center at 520 NW Wall St.
Bring your leashed pet (sorry, no rabbits, cats or aggressive dogs) or favorite stuffed animal, plenty of water, pet clean-up bags and your bike, trike or wagon. Bend Park & Recreation will provide decorations, keepsake buttons and popsicles for the kids. Commercial signage, floats, solicitation, motorized vehicles and distribution of anything to spectators are prohibited.
After the parade, the fun continues at Drake Park with the Old Fashioned July 4th Festival sponsored by Zolo. Kids and adults alike can enjoy free old-fashioned games and the Kids & Family Fun Area. There will also be live music featuring favorite local bands, a variety of food booths, a festive photo booth and over 100 artisan booths.
Downtown road closures take place from 9:30 a.m. to noon. Alternative transportation is encouraged and there will be a free bike valet area in Drake Park near the permanent restrooms. Riverside Blvd. will be closed from 6:30 a.m. to 5:30 p.m. If you need to drive, free weekend parking is available in the parking garage on Lava Street or near Harmon Park.
For the parade route and additional information, visit bendparksandrec.org or call Bend Park & Recreation District at (541) 389-7275.
# # #
July 4th Pet Parade – Downtown Bend
Sponsored by Bend Pet Express
A community tradition since the 1930s – now designated as a Oregon Heritage Tradition
All ages welcome.
Come dressed in costume with your pet or stuffed animal on pulled wagons, bikes or trikes.
No registration necessary.
Kids receive a keepsake and popsicle.
Pets must be leashed – be responsible for and clean up after your pet.
No rabbits, cats or aggressive dogs.
If you have large animals, please arrive early.
Cyclists and equestrians, wear your helmets.
Please do not give away animals.
No solicitation, commercial floats, motorized vehicles, motorcycles or distribution of anything to spectators.
Decorating Party & Parade Line Up: 9 a.m., Parade Begins: 10 a.m.
Lineup is on Wall Street in front of the Bend-La Pine Schools Admin Building
ADA spectator areas are located on Wall Street in front of the CC McKenzie store and on Lava and Minnesota. Parking is recommended in the City of Bend Parking Garage.
Downtown streets along the parade route will close at 9:15 a.m. Please arrive early.
July 4th Old Fashioned Festival – Drake Park
Presented by Zolo – Central Oregon's KOHD/ABC & KBNZ/CBS
Pancake Breakfast: 8:00 – 11:00 am
Presented by the Sunrise Lions Club
Live Music & Entertainment – Pavilion Main Stage: 11:00 am – 4:00 pm
Hosted by Zolo and presented by Northwest Community Credit Union
11:00 am National Anthem Bella Acappella
11:10 am Declaration of Independence
11:30 am Five Pint Mary Band
1:00 pm Smokey the Bear & Friends
1:15 pm Pie Eating Contest
2:00 pm Nate Botsford Band
Old Fashioned Games: 11:00 am – 3:00 pm
Sponsored by Bend Kiwanis Club
3-Legged Race, Gunny Sack Race, Parachute Play, Hula Hoop Contest, Ball Relays, Water Balloon Toss, Sponge Relay, Watermelon Eating Contest
Kids & Family Fun Area: 11:00 am – 4:00 pm
Sponsored by The Law Offices of Warren John West, P.C.
The Fish Fling – presented by Hydro Flask
Flush-a-Duck – presented by Brown & Brown Northwest Insurance
Helicopter Landing at 11:30 am in Harmon Park – presented by AirLink
And fun and games with The Bend Fire Department, Deschutes National Forest, Central Oregon Prospectors Association, Christian Family Adoption, Tula Movement Arts, The Humane Society of Central Oregon, Wildheart Nature School  & more!