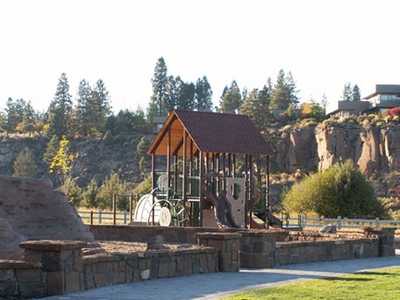 Farewell Bend is located along the Deschutes River near the base of the Bill Healy Memorial Bridge. The park features a boat launch and natural marsh areas. It has become a popular launching location for float trips on the river.
The Deschutes River Trail runs the length of the park and connects the park to the Old Mill District to the northeast, to Riverbend Park across the river and to the South Canyon Bridge to the south.
In the center of the park, a playground featuring a "lumber mill" theme is popular for children and families.
There are two viewing shelters, a boardwalk along the river, interpretive signage and a playground which Kiwanis assisted in building. A large picnic shelter with a capacity of 36 is available in addition to two small shelters which accommodate 4 each.