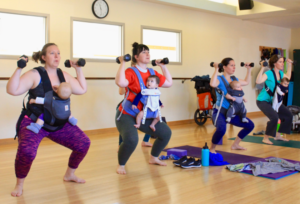 If you are expecting or have been cleared for exercise by your physician or midwife after having a baby, you are welcome to join any drop-in fitness class at BPRD's recreation centers. Classes are ongoing and you can start any time.
In addition, there are water– and land-based classes that incorporate specifically designed gentle-paced cardio with strength and stretching exercises that follow the American Congress of Obstetrics and Gynecology guidelines.
For more information or a personal consultation, call our fitness staff at (541) 706-6188.