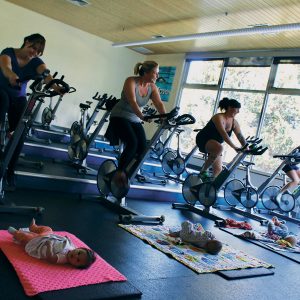 If you are expecting, you are welcome to join in any fitness class. Classes are ongoing and you can start any time after you receive a doctor's or midwife's approval.
In addition, there are classes that incorporate specifically designed, gentle-paced cardio with strength and stretching exercises that follow the American Congress of Obstetrics and Gynecology guidelines.
For more information or a personal consultation, call our fitness staff at (541) 706-6188.
Locations: Juniper Swim & Fitness Center
Fees & Passes: Use your Drop-In or Full-Access Fitness Pass. No registration required. Get unlimited classes with a Full-Access Pass for just $10 more a month than the Basic Pass. Fitness passes through health plans? Ask us how.
Looking for a personal trainer? Learn more about Private Classes or Personal Training.
Looking for Childcare? Learn more about Childcare at Juniper Swim & Fitness Center at Kid's Corner.
Note: During inclement weather, be sure to check schedules regularly for possible cancellations or changes.