The District features fishing ponds at Pine Nursery and Shevlin Parks that are stocked by Oregon Department of Fish & Wildlife.
Shevlin Park pond features rainbow trout and is open to youth, 17 years and under.
At Pine Nursery Park, the pond is open to all ages and stocked with rainbow trout, blue gills and bass.
Current regulations at both ponds allow for a limit of two fish per day, eight inch minimum length. For Deschutes River fishing, access is available at several parks including Drake, Farewell Bend, First Street Rapids, Miller's Landing, Pacific, Pioneer, Riverbend and Sawyer Parks. All state angling licenses and regulations apply at all locations.  Whether bait and/or fly fishing is allowed depends on location. Please check ODFW's website for more information as regulations may change. For a park addresses and information, visit our 
Parks Listing
 or 
Parks Map
. Additional information on fishing and stocking in the region is available at ODFW's website at 
http://www.dfw.state.or.us/rr/central/
.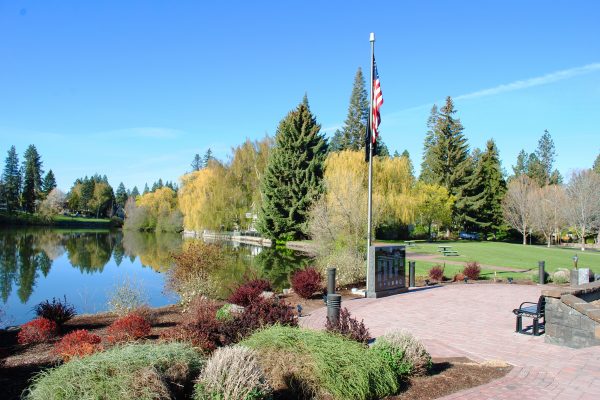 Featuring the Bend Heroes Memorial, this riverfront park is the gateway to one ... Read More