Marketing Widget

Discover the Outdoors:
Connecting Youth with the Outdoors
While many Bend residents enjoy easy outdoor recreation access, there are unseen barriers to the outdoors for some people in our community. Learn how BPRD is reducing barriers and developing appreciation of the outdoors for more residents by utilizing recreation scholarships, bilingual staff and grant help from the Children's Forest of Central Oregon and the U.S. Forest Service.  Learn more.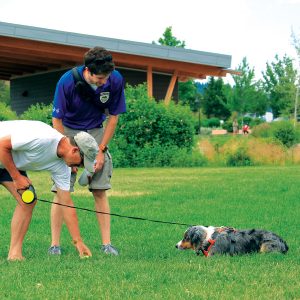 The Park Stewardship program provides park visitors with information and resources and fosters appropriate park rules making parks and trails safer for all to enjoy. As part of this mission, they also manage community events in our parks. Whether working with park visitors one-on-one or at a large festival, stewards are always trying to build positive relationships with citizens and enhance connectivity with the District.
The small team of park stewards addresses issues such as unleashed dogs, pet waste, river safety, alcohol and drug use, smoking, vandalism and other matters in the parks. The stewards work in parks and trails seven days a week with support from Bend Patrol Services.
To contact the BPRD Park Stewards, call (541) 388-5435 or email  parksteward@bendparksandrec.org