Ride on!
Now open, Bend's new bike park is at Big Sky Park on Bend's east side. The bike park was designed in collaboration with community partners and has elements for riders of all skill levels from beginner to professional.
It is open daily from dawn to dusk as weather and trail conditions allow.
For information about BMX (also at Big Sky Park), visit the Bend BMX Facebook page.
The first phase of Big Sky Bike Park amenities is open as of spring 2023. Bike park features include a pump track, learning area, trials area, skills course and singletrack trails.
Additional bike features will be built in the second phase in the future. Plans include a slopestyle terrain park with start tower and a sessions zone.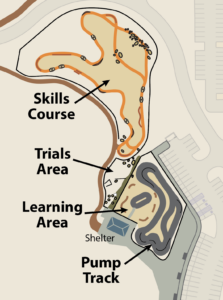 Initially, all bike features were planned to be built in the second phase of construction. In an effort to bring some of the bike park features to the community sooner, BPRD applied for and was awarded a grant through the Bend Sustainability Fund. The Bend Sustainability Fund invests in projects that protect, steward and create sustainable recreational resources and outdoor experiences in Bend's backyard.