Registration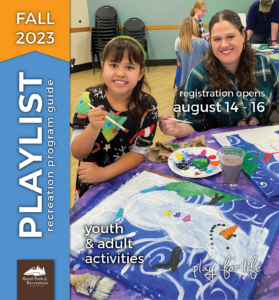 Fall 2023 registration
now open.
View the
Fall 2023 Playlist
Work for BPRD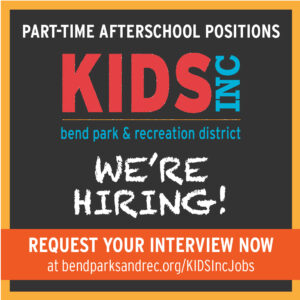 Enjoy working with kids?
Join the fun-loving Kids Inc.
afterschool childcare team.
 Learn more.
How do I know if Bend Park and Recreation District is accepting applications?
BPRD accepts applications only for open positions.  The open positions are posted on the website as soon as they are available.  If an application is submitted in which there is no job opening posted, the application will not be processed or retained on file.  If you have submitted an application for a position that is not open, you will be notified with an email.
Can I submit a resume in lieu of an application?
Resumes are accepted for open positions.  However, if an applicant becomes a finalist, an application will be required.
When will I be notified?
In most cases, applicants are notified within two weeks from the close date of the recruitment either by telephone or in writing.
How long is my application kept on file?
Applications are active for six months for that position only.
Do I need to re-submit an application if another position opens up with the same title?
A supervisor may choose to recruit from an active file or re-open to the public.  If the supervisor chooses to re-open, the active list will not be used and you will need to reapply if you are interested in the position.
Once I submit my application, will I be notified of my status?
Candidates who best meet the requirements of the position are telephoned and invited to participate in the selection process.  Those not selected for further consideration will be notified by mail.
Will I receive an interview?
Applications are reviewed and competitively evaluated according to the requirements listed on the job description. Only those applicants who demonstrate the most closely related work experience, education and training will receive further consideration for employment.
For Recruitment and Application Questions:
Our District Office hours are 8:00 am to 5:00 pm, Monday through Friday, closed on holidays.
Bend Park and Recreation District is an Equal Opportunity Employer
The District is committed to equal opportunity for all persons.  It is the District's policy to employ, retain, promote, terminate and otherwise treat all employees and job applicants on the basis of merit, qualifications, and competence.  This policy shall be applied without regard to any individual's gender, gender identity (individual's actual gender identity, appearance, expression or behavior differs from that traditionally associated with the individual's sex at birth, or is transitioning gender), sexual orientation, race, color, religion, veteran status, national origin, age, marital status, political affiliation, or physical or mental disability or which, with reasonable accommodation, does not prevent the employee from adequately performing the essential functions of the position, or any other status protected by the law unless based on a bona fide occupational qualification.