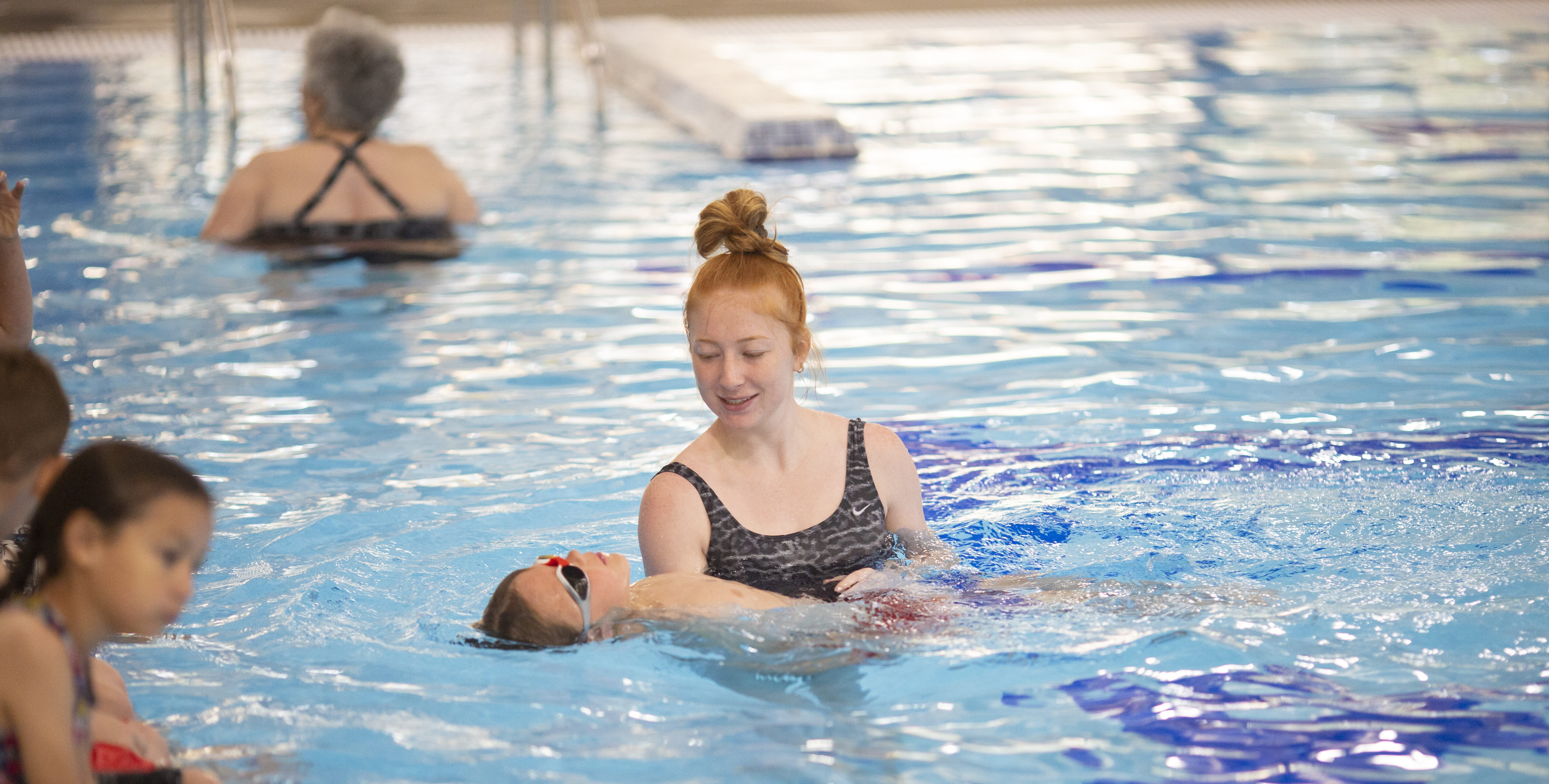 Combine a love of swimming with interest in teaching
Varied schedules can work around individual school, family or other commitments.
Want a job with rewarding results?
Our swim instructors find their work highly rewarding and thrive on knowing that they are making a positive impact on the individuals that they teach every day.
They love seeing the progress that their students make in the water.
Everyone starts somewhere with a new skill and a swim instructor plays a big role for new swimmers of all ages.
What does it take to become a swim instructor?
To be a swim instructor, you:
Must be 15 years or older.
Must be currently attending high school or have a high school diploma or equivalent.
Must pass a preliminary swim test.
Must be able to obtain Red Cross Basic Swim Instructor certification – Free Paid Training 
Not exactly sure what this takes? Talk to a recruiter or read the drop-down information below.
What does a swim instructor do?
Our swim instructors make a difference in lifelong safety by teaching community members to swim. And they get a chance to be physically active while also growing skills in others.
You'll learn to:
Plan and instruct basic swim and water safety programs
Provide for the progress, safety, comfort and enjoyment of class participants
Communicate with lesson participants and parents
See the full job description for more information.
What's the training like?
The paid swim instructor training includes classroom work and shadow teaching before you're ready to teach on your own.
In-person classroom instruction is approximately 24 hours in length.
6 hours of shadow teaching with support and guidance from an experienced swim instructor.
What's the hiring process like?
Great question! First, you'll email or call us to tell us you're interested.
Next, we'll set up an interview to discuss the role, conduct a preliminary swim test and review the training commitment. Training is paid.
The preliminary swim test consists of:
50-meter swim freestyle
50-meter swim backstroke
50-meter swim breaststroke (this style is not mandatory to know).
Interested? Let's talk about the opportunities.
Questions? We're here to help!
For Recruitment and Application Questions:
Our District Office hours are 8:00 am to 5:00 pm, Monday through Friday, closed on holidays.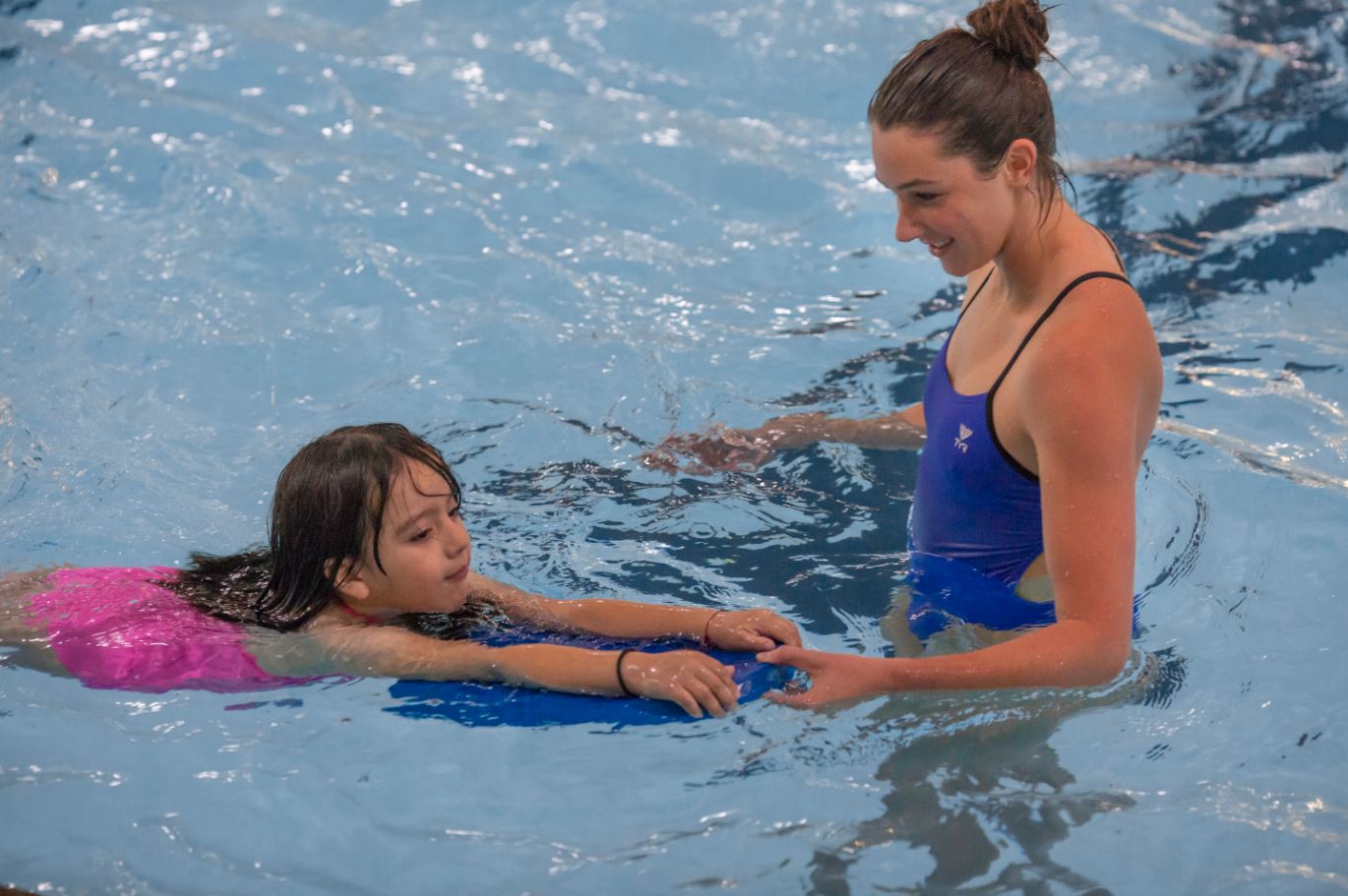 Bend Park and Recreation District is an Equal Opportunity Employer
The District is committed to equal opportunity for all persons.  It is the District's policy to employ, retain, promote, terminate and otherwise treat all employees and job applicants on the basis of merit, qualifications, and competence.  This policy shall be applied without regard to any individual's gender, gender identity (individual's actual gender identity, appearance, expression or behavior differs from that traditionally associated with the individual's sex at birth, or is transitioning gender), sexual orientation, race, color, religion, veteran status, national origin, age, marital status, political affiliation, or physical or mental disability or which, with reasonable accommodation, does not prevent the employee from adequately performing the essential functions of the position, or any other status protected by the law unless based on a bona fide occupational qualification.