Public Health Advisory
Bend Park and Recreation District has modified operations due to COVID-19.
Parks and trails remain open with temporary use & social distancing rules.
Playgrounds, sport courts & skateparks closed.
All facilities closed:
including Juniper Swim & Fitness Center, Bend Senior Center, The Pavilion, Art Station, District Office and Park Services.
Spring & summer recreation programs adjusted.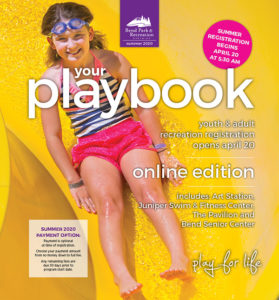 Summer registration opens
Monday, April 20 at 5:30 am.
Preview the Summer 2020 Playbook
or programs online.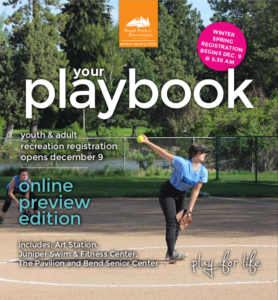 Winter-Spring registration is open.
View the Winter-Spring 2020 Playbook
or programs online.
Pickleball
Pickleball courts are available at:
Pickleball Classes & Clinics:
Check BPRD's current offerings in Pickleball.
Pine Nursery Park Pickleball Complex
At Pine Nursery Park 16-Court Complex, open play is available Monday – Saturday, 12:30 pm – dusk and Sunday, all day.
Reserved organized play through the Bend Pickleball Club is Monday – Saturday, 7:00 am – 12:30 pm.  The public and club members may register for organized play at bendpickleballclub.com. There is a fee.
Be sure to check the pickleball court availability on the calendar below: