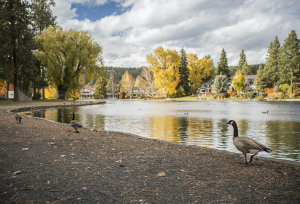 Bend Park & Recreation District, in partnership with USDA Wildlife Services and Oregon Department of Fish and Wildlife, developed a Canada Goose Management Plan to address conflicts associated with Canada geese within the parks.
While Canada geese add to wildlife diversity, at times the geese can have negative impacts on the parks.  The geese erode river banks, damage turf and leave copious amounts of droppings that impact user experience in the parks.
The goal of the District's Canada Goose Management Plan is to reduce the damage in the parks.  Resident Canada geese spend considerable time in the parks year round and are most associated with park damage.
The Canada Goose Management Plan includes:
Public education to discourage feeding geese.
Habitat modification to make parks less desirable to geese. Riverbank riparian areas such as those at Millers Landing, Farewell Bend, Riverbend and McKay parks include a riparian buffer that discourages geese from making it home.
Egg oiling to slow the reproduction rate. District employees, contractors, volunteers and park patrons search for goose nests during nesting season (March-June).  We then use a Humane Society of the United States and USDA Wildlife Services approved technique to coat the eggs in corn oil to prevent them from hatching.
Hazing or harassment, simply means chasing geese out of the parks. We have a volunteer program that utilizes volunteers and their trained dogs to haze geese.
Captures are conducted once in early summer to relocate independent juveniles to a wildlife area during a time when they are flightless. Adult geese are not relocated and are tagged with unique identification numbers.
How you can help Canada Geese in our parks and community:
Please don't feed the geese and ducks. Feeding waterfowl encourages birds to stay in the parks. Human food is unhealthy for the birds and creates more droppings in our parks.
Keep an eye out for goose nests. If you think you know where a nest is, even if it's not in a park, let us know! We can work with the property owner to get the eggs oiled.
Contact us if you are interested in joining our dog volunteer team. District and USDA Wildlife Services employees, along with dedicated volunteers, use their trained dogs to haze geese in river parks and on the Deschutes River. If you see a dog off leash in a river park or swimming in the river with a special yellow bandanna around its neck it is helping us haze geese.
For more information on Canada Goose Management, please contact: