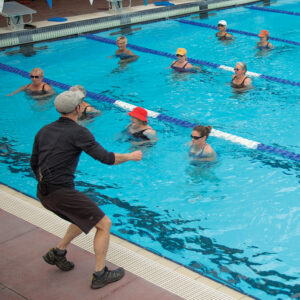 Benefits: Cross train with the three dimensions and characteristics of water – buoyancy, support and resistance! With little to no impact on your joints, water exercise improves your cardio fitness while strengthening and toning muscles. Using water's resistance, work out at your own intensity level and increase as you go. No swimming skills are needed and classes held in the deep water use floatation devices. Water shoes are recommended.
Locations: Juniper Swim & Fitness Center
Fees & Passes: Use your Drop-In or Full-Access Fitness Pass. No registration required. Get unlimited classes with a Full-Access Pass for just $10 more a month than the Basic Pass. Fitness passes through health plans? Ask us how.
Looking for a personal trainer? Learn more about Private Classes or Personal Training.
Looking for Childcare? Learn more about Childcare at Juniper Swim & Fitness Center at Kid's Corner.
Note: During inclement weather, be sure to check schedules regularly for possible cancellations or changes.