Fitness Center, Fit Studio, Fitness Classes and Personal Training

Fitness Center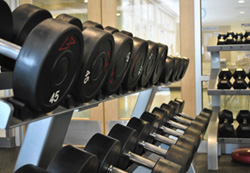 The weight room/ fitness center features strength, cardio and free weight equipment including:
Strength equipment featuring Freemotion functional trainers and Epic selectorized machines.
Precor and other state-of-the-art cardio machines to chose from including: treadmills, elliptical trainers, AMT, rowing machine, hand bike, stepmills, upright and recumbent bikes.
Free weights, racks and benches including power cage, Smith machine, preacher curl, ab and back benches and stretching area with balls and mats.
Airy, bright room with panoramic views of the park.
100% fresh air ventilation system that monitors CO2 levels.
Wireless connection and Precor machines are internet capable.
Weight Room Orientations: Designed to give you the basic skills to use the equipment safely. We strongly recommend attending an orientation.
Age Restrictions: Teens must have a signed parental waiver on file and complete a teen fitness center orientation. Pre-registration is required and there is a $12 fee. After completing the orientation, individuals ages 16 -17 may use the fitness center at any time. Teens ages 12 -15 may use the fitness center only during our supervised teen time or with parental supervision. Youth under the age of 12 years old are not allowed in the fitness center.
Risks and Restrictions: The fitness center is supervised some but not all hours of operation. Individuals must assume personal responsibility for risks associated with using the fitness center/weight room.
Fit Studio
This 800 square foot space is located across from child care and is a great space dedicated to functional training. It is a quiet space to do floor work, yoga, stretching and stabilization. The room is outfitted with mats, balls, bands, mirrors, balance bar and TRX suspension training system. Generally opened for workout on your own but sometimes the room will be closed for special classes or programs.
Group Fitness Classes
If you have a fitness pass you can drop in on any of over 200+ group fitness classes per week in both land and in the water. Yoga, pilates, indoor cycling, water aerobics, zumba and more! See schedules for details and times.  In Group Exercise, like all social settings, common courtesy calls for sensitivity to others. Please follow this etiquette when participating in group exercise classes.
Class Etiquette:
Please enter on time or early. The warm up is a key component of class and we don't want you to miss out on it.
Please avoid heavy scents and perfumes.
Please shower and launder clothing before class.
Please no chewing gum and place cell phones and beepers in the off position.
Please avoid smoking cigarettes or drinking alcohol before class.
Please keep class conversation to a minimum – your fellow classmates want to hear the instructor's direction and flow through the workout.
Be courteous to your fellow classmates. Be ready to adjust your space for others. Please assure your attire is appropriate for your workout.
All classes are first come, first serve basis. Please check with your physician before beginning any exercise program. If you have any medical considerations (recent surgeries, knee, neck or back problems, etc.), be sure to inform your teacher beforehand. Please note that instructors may use both physical assists as well as verbal cues to help students attain proper form, alignment and position. Please notify the instructor before class begins if you do not want to be touched. You are encouraged to bring and drink water throughout your workout.  Thank you for attending, enjoy your workout.
Personal Training
Are you looking for personalized training or ready to take your performance to the next level? We offere advanced yoga or pilates practice, receive personal instruction in weight training or Zumba dance or prepare for an upcoming fitness race or event. The personal training team at Juniper Swim & Fitness Center has diverse set of coaching skills and can customize a program just for you. A variety of sessions with options and packages. Learn more about our personal trainers.