The district provides recreation for people of all abilities. We provide a wide variety of program options that offer opportunities for our participants to engage in activities that promote socialization, skill development, and physical activity.
For more information on this program area, contact:
 Youth and Teen Programs:
Parent's Night Out: Ages: 3-14
This program is a once a month recreation program for youth with disabilities and their siblings. Kids enjoy games, crafts, and other seasonal activities. A snack is provided. You must pre-register for this program.
GRO (Growth Through Opportunities): Ages 6 – 12
This is a 4-week summer program for kids with disabilities. The program meets twice a week and kids will enjoy visiting various places around Central Oregon. Activities may include swimming in local lakes and parks, rafting, games, and crafts.
EXCEL:  Ages 13 – 18
Pack your sunscreen, swimsuit, and hiking shoes and prepare for an afternoon of swimming, boating, hiking, and visiting the sites of Central Oregon. This is a 4-week summer program for teens with disabilities.
Teen Skill Development Programs
Ages: 14 & up
These programs are taught varying times throughout the year and are offered through the therapeutic recreation department.
Physical Activity: Get Fit, Sports Spectacular, Zumba, Water Sports
Arts & Crafts: Creative Fridays, Play with Clay, Weird & Wacky Science, Fleece Making Workshop
Social: Games Galore, Theatrical Thrills, Saturday Club
Cooking: Holiday Baking, Down Home Cooking
Visit our Register page or download the Recreation Guide at the link above for days, times, fees and locations.
Adult Programs
Ages: 18 & up
These programs are taught varying times throughout the year.
WINTER-SPRING 2018 ADULT TR REGISTRATION : In an effort to make the registration process accessible to everyone, BPRD-TR is using this survey (click here) to increase the likelihood that many of you will be selected to enroll in several of your top choices for summer programs. The survey will be open until April 15th. You will be notified by May 1st of your classes and arrangements for payment must be received by May 15th or your spot will be forfeited. After May 15th, any unfilled classes will be open for anyone to register either online or at a BPRD facility. If at any time you have questions, please don't hesitate to contact Cheryl Kelley at 541-706-6121 or cheryl@bendparksandrec.org.
Skill Development Programs
Physical Activity: Weight Room Workouts, Zumba, Lap Swimming, Circuit Training, Pedal-On, Fitness Games, Yoga 101, Aqua Zumba
Arts & Crafts: Let's Paint, Glass Art, Drawing Animals, Working with Wood
Cooking: Cozy Casseroles, Delightful Desserts, Cooking Across the USA, Chef's Choice
Social Skills Development Programs: Ice Skating Night, Young Women's Social Club, Bowling Night, Valentine's Day Dance, WinterFest, Night at the Pool, Spring Fiesta Dance, Dinner & A Movie
Trips: U of O Basketball Game, Wildlife Safari, Portland Zoo
Visit our Register page or download the Playbook for days, times, fees and locations.
Adapted Sports Programs
BPRD strives to provide life-enhancing recreation opportunities for people with physical disabilities and their families. The adapted sports and recreation program offers adapted equipment for rent, clinics focusing on skill development, and sports programs that promote physical activity and group camaraderie.
Adaptive Equipment Rental:
1 Adult Hand-cycle
2 Youth Hand-cycles
Adapted Golf Cart
Sports Wheelchairs
Sports Programs:
Adapted Sports Night
Wheelchair Tennis
Adapted Snow-skiing
Visit our Register page or download the Playbook for days, times, fees and locations.
Accessible Places for Play
Discover a few of our staff and patrons' favorite opportunities for accessible play. BPRD strives to make parks, trail and facility amenities safe and accessible for everyone.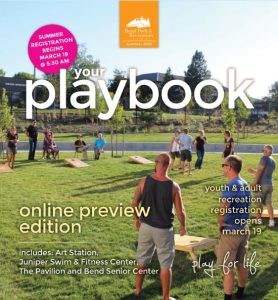 Preview Summer 2018!

View the
Summer 2018 Playbook
(Note: 7 MB pdf file)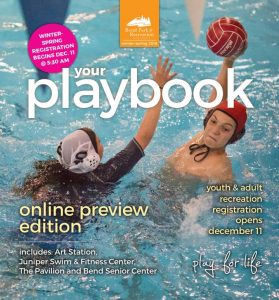 Winter-Spring 2018
is now open!

View the
Winter-Spring 2018 Playbook
(Note: 5 MB pdf file)
Review all programs
and register online.