Waves of Honor
Three of the four featured waves are named after people from Bend who were admired for their passion, skill and enthusiasm for whitewater recreation in our community.
Feature #1 – Jason's Wave.
This wave is named after Jason Mitchell who loved nature, photography, snowboarding, traveling, guiding on the river and, most of all, family and friends. Jason was playful and enjoyed sharing his love and appreciation of the river with others.  Together, he and his wife/best friend, Rene' Bristow Mitchell brought Adeline and Ruby Grace, their two wonderful daughters into the world. Jason would be proud that a wave named in his honor welcomes new people into the river culture and teaches youth the ways of the river and respect for its inhabitants. Jason Mitchell: 1974 – 2010.
Feature #3 – The Green Wave
This wave is named for an ideal condition for those experienced on surfboards, SUPs, and surf style kayaks. It's a wave that is rolling with a fast, glassy, green face, minimal whitewater pile and low retentiveness.
Feature #2 – Kricket's Wave
This wave is named after Kricket Serota, an avid outdoor and river enthusiast who loved riding horses, cross country skiing, walking with her dog, mountain biking, snowboarding, windsurfing and kayaking. She did everything to the fullest and with a beautiful smile. Kricket immersed herself in Bend's growing river recreation culture, teaching others (especially women) to love the sport. Friends and family know that she would be proud to see people fulfilling their dreams on a wave named in her honor. Kricket Serota 1966 – 2012
Feature #4 – Eddy's Wave
Eddy's Wave is the largest of four wave features and rightly named after Eddy Miller who was bigger than life in many ways and exuded happiness and kindness. Eddy was curious; he wondered at the metaphysical and natural world and prided himself on knowing the names and nature of plants, animals and insects along the waterways. Up for most any adventure, he was a fearless athlete and outdoorsman and an excellent skier and inland waterman. Eddy left his wife Ann Miller and a large extended family. Eddy Miller: 1952-2009.
Wave Update: September 21st, 2017 @ 2 pm

1. Jason's: Mellow beginner surf wave with pile. Good for SUP's!
2. Kricket's: Low energy freestyle pocket, green center.
3. Green Wave: Green roller, shortboard special!
4. Eddy's: Powerful wave hole with wide center pocket.
5. Ankle biter: Mellow crumbler.
-- Approximate flow and water temperature at BWP: 963 cfs, 52.3 degrees F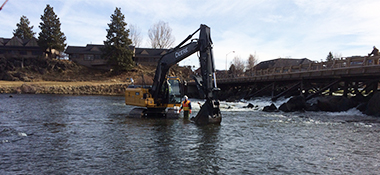 Park History
Bend Whitewater Park is owned and operated by the Bend Park and Recreation District (BPRD). This river recreation park was conceived of through a partnership between Bend Park and Recreation District and the Bend Paddle Trail Alliance in 2007.
Prior to the redevelopment of the riverbed in 2014-15, floaters and paddlers had to exit the river before the Colorado Avenue dam to avoid entanglement in dangerous dam under-structure.
The concept was two-fold: to provide a safe way for river floaters to pass through the dam and to enhance the river recreation experience for locals and tourists alike. Tenacious dedication, community support through a 2012 bond measure, general fund tax revenues, grants and private contributions have resulted in this legacy project.
Total funding: $9,681,985 paid through the bond measure and general tax revenues, including 1.13 million dollars in community fundraising by the Bend Paddle Trail Alliance.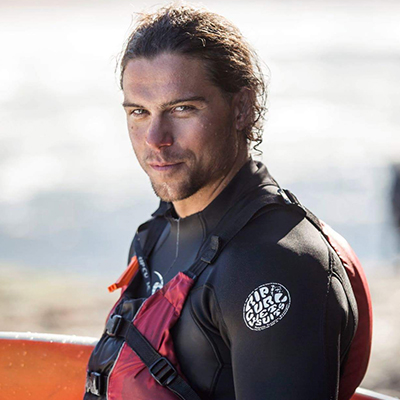 Meet the Wave Shaper
Ryan Richard is the Bend Whitewater Park's lead wave shaper. Ryan grew up in a small town in northern Idaho. Surrounded by beautiful mountain lakes and swift rivers, his future love of water was inevitable and he began water skiing, kayaking, whitewater rafting and free diving at a young age.
Ryan is a nationally-certified paramedic with special certifications regarding the acute care of critically ill children and adults. Ryan joined the Bend Park and Recreation District after spending two and a half years as the lead wave shaper at the Boise River Park in Boise, Idaho.
Like the Bend Whitewater Park Facebook for regular wave condition reports by Ryan.
Park Use Rules
Rules help ensure public safety and enjoyment by all. Thank you for abiding by them. Floating and whitewater-specific rules are posted at parks.
City of Bend does not allow alcohol on the Deschutes River within the City limits.
Alcohol is not allowed on BPRD property without a permit. One-time use permits are available at the District office, 799 SW Columbia, Bend, 97702 (located in the Old Mill District at Riverbend Park).
Use of tobacco products is forbidden in public parks.
Businesses may not operate in parks without a permit. Permits are not issued for concessionaires, sales of goods or services except in affiliation with a public event or for private parties. Permits are limited for in-river business operations.
State law requires life jackets and whistles for each person on a boat. A boat includes paddleboards, inflatable rafts/floats tied together, canoes and kayaks. All river users are encouraged to wear a life jacket. Children 12 years old and under are required to wear a life jacket.
Unsafe or illegal behavior may result in exclusion and/or citation.
City of Bend Police may site violations, Bend Park and Recreation District may issue exclusions, and the Deschutes County Sheriff is the enforcing authority for the Oregon Marine Board rules and regulations for behavior on the river.
For a full copy of Bend Park and Recreation District rules and regulations, click here.
For a full copy of the Oregon Marine Board rules and regulations, click here.
Contact Information
Bend Park and Recreation District
Park Services Division
541-388-5435