Kids' Corner – On-site Childcare
Kids' Corner is a safe, fun, nurturing child care environment for young children ages 6 weeks to 6 years while parents and guardians enjoy all that Juniper Swim and Fitness has to offer. Our trained staff provides enrichment opportunities such as arts & crafts, creative play, cooperative games, story time and more. Parents are to remain at the facility or in Juniper Park, and must be reachable by cell phone. Stay is limited to 2 hours per visit.
Kids' Corner Hours:
Mon – Fri           8:00 am – 1:15 pm
Mon – Wed       4:10 pm – 7:00 pm
Thursday          4:10 pm – 7:00 pm
Saturday           8:00 am – 11:00 am
Drop-in fee per hour, per child:        $3.50 ID        $4.50 OD
10-hour punch card:                            $30 ID            $36 OD
For reservations, cancellations or for more information, call us directly at 541-706-6191

Please review the following policies and procedures:
Allergies: Kids' Corner is a peanut free zone. Please do not bring any peanuts or products containing peanuts into the classroom. Thank you for helping us to keep children safe.
Reservations: Reservations are highly recommended for children under two years of age and can be made for up to two weeks at a time with a current punch card on file.
Maximum stay limit: Two hours per visit.
Cancellations: We require a five-hour advanced notification to avoid being charged a fee.
Sick and Contagious Children: For the health and safety of children, families, staff members and our community, we will not accept children that have a heavy cough, runny nose, fever or are contagious. Children must be fever-free for at least 24 hours prior to attending Kids' Corner.
What to Bring: Bring any items your child may need while in our care, including snacks and drinks,diapers and wipes, bottles, blankets, pacifiers and/or a change of clothes. Please make sure to label items brought into Kids' Corner with your child's name including snacks, drinks and sippy cups.
Punch Cards: Punch cards may be purchased at the reception desks and must be given to the Kids' Corner staff to be kept on file. The staff will keep track of the hours that are used and will inform you when you need a new card.
Summer Buddies
Program # 205600
Join Summer Buddies for the best summer ever! Children ages 3-5 will enjoy swimming daily, outdoor games, picnics in the park, arts and crafts, making new friends and more! Summer Buddies is a great boost before Preschool or Kindergarten! This class is divided into two groups and taught in a small group setting. Note: No prior swimming experience necessary. Children must be potty trained to attend this program.
Classes are offered M/W or Tu/Th, from 1:30-3:45 pm
Fees per session: $ 76 ID $ 90 OD
Session Dates: 6/26-7/13,  7/17-8/3,  8/7-8/24
Busy Buddies Preschool – Includes weekly swim lessons and yoga!
Busy Buddies Preschool program for 3 – 5 year olds is designed to encourage the development of social skill and a positive self –esteem through a variety of fun, creative and healthy activities. In a small group setting, children will enjoy arts and crafts, dramatic play, show and tell, circle time and more. Basic educational concepts are introduced such as a numbers, letters, phonics and more. Note: Swimming experience is not required. Children must be potty-trained.
Registration begins May 22nd. A $20 non-refundable registration fee is due at the time of enrollment
Classes are offered Mondays/Wednesdays OR Tuesdays/Thursdays from 1:15 – 4:00 pm.
Monthly Fee: $158 ID $189 OD per child
Program Dates: September 11th – June 14th
Fit Kids –  Yoga, Zumba Kids & Creative Movement
Ages 4-11
Calling all Kids! Fit Kids is fun, playful activities that promote a healthy lifestyle. Each class incorporates movements to build self esteem, develop body awareness and learn new skills. Indoor activities with fitness play and yoga. Parents, come try one of the adult fitness classes and make it family fitness time! Kids will be active, safe, and frustration-free with this dance based children's fitness class. Fee: Current youth or family fitness pass.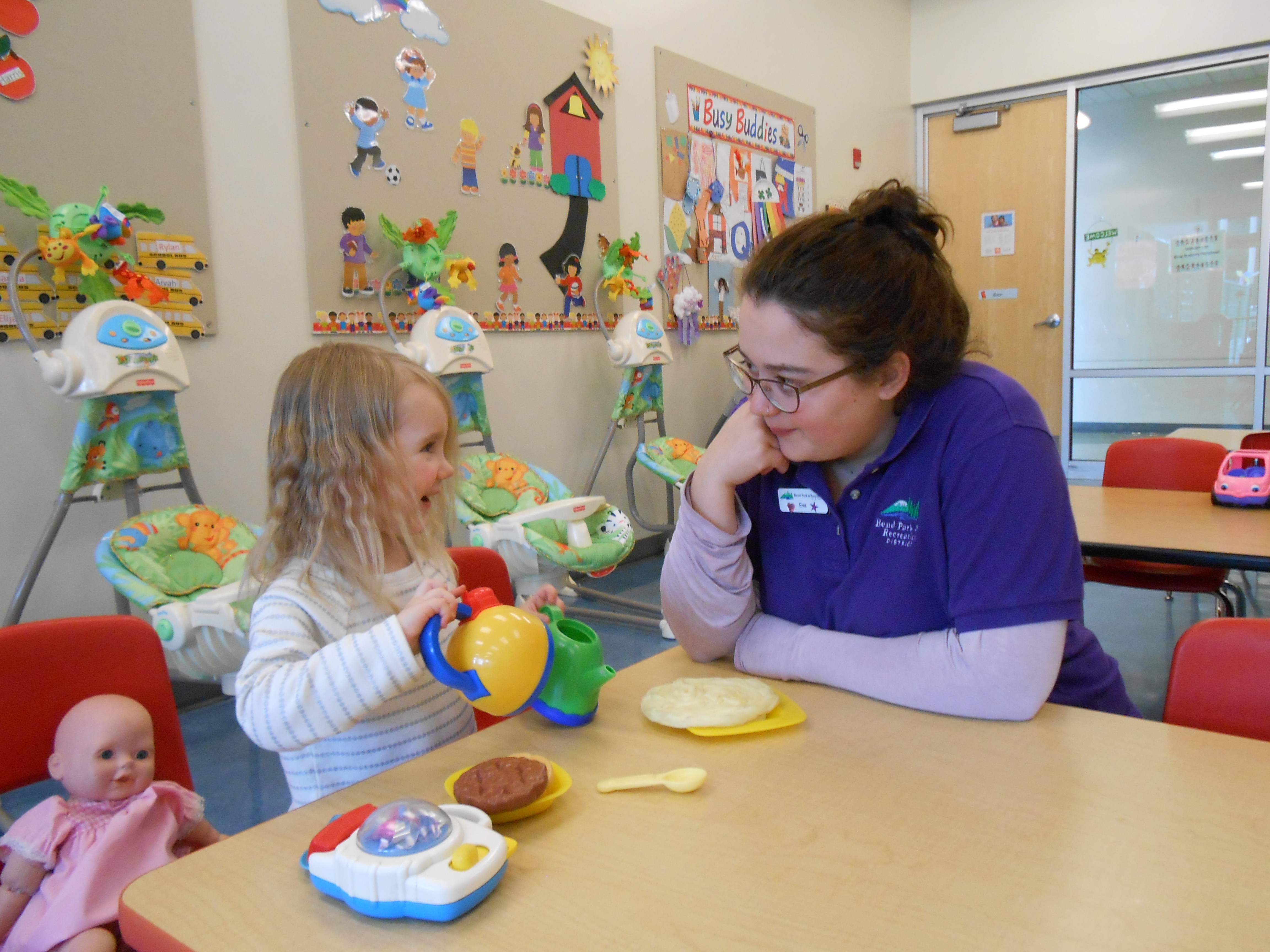 For reservations, cancellations
or more information
contact us directly at 541-706-6191