Float the Deschutes River
The Deschutes River is one of the most spectacular rivers in the region. A great way to enjoy it is from a canoe, kayak, paddleboard or float, such as a tube.
To keep your float enjoyable, it's important to know where to go as well as some safety tips and regulations. A popular route to float the Deschutes River in Bend is from Farewell Bend Park to Drake Park. Please refer to the following map and directions:
Access the river at Farewell or Riverbend Park. (Note: McKay Park is closed due to construction.)
The Floaters Channel, a passageway that allows floaters to pass under the Colorado Ave. bridge. The passageway consists of a series of minor drops in elevation resulting in some river turbulence.
After the Galveston Bridge, exit the river to the right and end your float at Drake Park.
Make a loop with a shuttle service, June 13th  through Labor Day.

Ride the River Shuttle: Cascade East Transit's floater shuttle service is available, June 13 through Labor Day.

Cost is $3.00 for all day.

For schedules, fares and other details, visit Cascade East Transit's website.
The shuttle stops at Riverbend Park and Drake Park.
Note: If you have an electric air pump, there are power outlets to plug into by the Riverbend Park beach. Just look for the otter sculpture and you'll find them.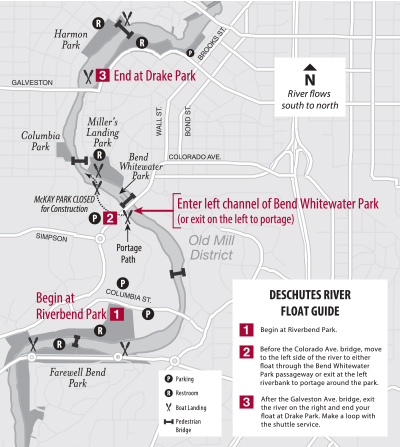 River Floating Safety Tips:
Be aware and plan. The Deschutes River has calm waters suitable for floating, but it also has points of danger. (See danger spots and portage paths on map).
State law requires that each vessel carry one Coast Guard approved life jacket for each person on board, and children age 12 and under are required to wear life jackets.
For more information on proper lifejacket use, visit the Oregon State Marine Board.

Bend City ordinance prohibits possession or consumption of alcoholic beverages on or in the Deschutes River.
Protect native plant and wildlife! Put in and take out of the river at designated boat landings and portage paths (see map).
Help keep our river clean. Secure your gear to avoid disposal of garbage in the river.
Enjoy yourself!
Download Map & Safety Tips (PDF)
Life Jacket Rentals: Free for Kids 12 & under! May 23rdDay through Labor Day

Available through Sun Country Tours at Riverbend Park, Memorial Day through Labor Day.
Kids 12 & Under: Free life jacket rental. Can simply rent for the day, return by closing. No additional rental needed so kids can safely play in the river, float and swim.
Kids & Adults Over 13: Life jackets included with float, paddleboard or boat rental.
Available at Riverbend Park: 10:00 am – 6:30 pm, May 23rd through Labor Day.

If poor weather conditions, the trailer may be closed. If inclement weather, please call (541) 382-6277 to verify if the trailer is open.
More information on rentals at: http://www.suncountrytours.com/River_tubing/
"Float the River" Rentals: May 23rd through Labor Day

Sun Country Tours operates a float tube and standup paddleboard rental service at Riverbend Park from Memorial Day through Labor Day.
Float tubes are professional-grade tubes meeting today's safety standards, not the old-fashioned truck tire tubes or lightweight dime-store blow-ups. Comfortable for a relaxing float, tubes feature mesh bottoms and handles.
Two different types of standup paddleboard are available – entry and performance level. Standup paddleboard lessons are also available.
Look for the stainless "Float the River" trailer between the beach and parking lot.
Hours are 10:00 am to 6:30 pm daily, seven days a week.
If poor weather conditions, the trailer may be closed. If inclement weather, please call (541) 382-6277 to verify if the trailer is open.
For rates and more information, visit http://suncountrytours.com/ or call (541) 382-6277