This river trail allows nearly uninterrupted access to the beautiful waterway that is the heart of the community. The Bend Park & Recreation District is at work building a fully connected river trail between Tumalo State Park and Meadow Camp. Once complete, the trail system will encompass nineteen miles of trails. The current trail system is divided into five "reaches", defined by landscape characteristics.
Urban Trail Map (download pdf)
Deschutes River Trail Map (download pdf)
Awbrey Reach
Visitors can access the River Trail at its northernmost point at Kirkaldy Court off of Putnam Rd. Along the middle stretch of this reach, the river drops into a deep canyon but the trail stays high on the canyon wall. A steep climb up the Archie Briggs Canyon Trail connects to Mt. Washington Dr.
River Run Reach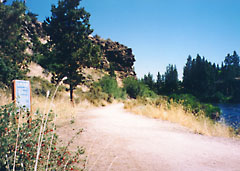 This section, favored by many locals, is wide and relatively flat. The trail passes through River's Edge golf course and adjacent neighborhoods. There are several wetlands in this reach, inhabited by songbirds, swans, otter and beaver.
Pioneer Reach
This part of the trail goes through the downtown area and isn't always right on the river. It passes through beautiful Drake Park on Mirror Pond and ends in McKay Park. There are several footbridges along the way offering opportunities to cross the river.
Old Mill Reach
This reach is a mix of river parks, the Shops at the Old Mill, and areas yet to be developed. Three footbridges connect trail legs on either side of the river, providing convenient walking loops. On the east side, the trails are hard surface from the Old Mill District to the Bill Healy bridge. Farewell Bend Park provides two developed boat landings for paddlers using the Deschutes River water trail.
South Canyon Reach
This reach has trail legs on both sides of the river, connected by a new footbridge 1.5 miles upstream from Farewell Bend Park bridge. West side: This side is known as the Mt. Bachelor Village Trail. It is open to pedestrians, but cyclists are not allowed. An alternative cycling route connects from the Bill Healy Bridge to the Haul Road Trail along Century Drive.
East side: This side is narrow and rocky in places. The southern end is a gravel road which runs above the river next to the Central Oregon Irrigation District pipe. There are connections on the trail to nearby neighborhoods along the way.