Owned and operated by Bend Park & Recreation District, Juniper Swim & Fitness Center is a state of the art facility with a variety of quality fitness and aquatic programs. Juniper is a community health, fitness and recreation facility open to people of all ages and abilities.
Hours:
Monday – Friday            5:15 am – 9:00 pm
Saturday                         7:00 am – 6:00 pm
Sunday                            9:00 am – 6:00 pm
Holidays:
Feb. 19, Presidents' Day, Regular Hours
Apr. 1, Easter, Noon – 5:00 pm
May 28, Memorial Day, Noon – 5:00 pm
Swim Meets & Special Events:
Feb. 9 – 10, High Desert District Meet
Feb. 11, Last Chance Meet
Apr. 14 – 15, Bend Waves Water Polo Tournament
May 5 – 6, May Invite Swim Meet
Inclement Weather: During inclement weather, be sure to check schedules regularly for any possible cancellations or changes. During major weather events, it is best to call (541) 389-7665 to check if the facility is open or your specific program offered.
We want to hear from you!
Let us know what you think! Adult Drop-in Fitness Survey
800 NE 6th Street, Bend, OR 97701
Located in beautiful Juniper Park
(541) 389-7665 (POOL)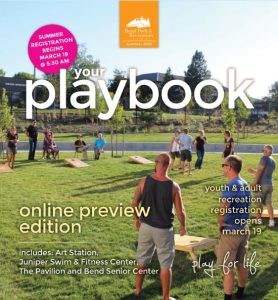 Preview Summer 2018!

View the
Summer 2018 Playbook
(Note: 7 MB pdf file)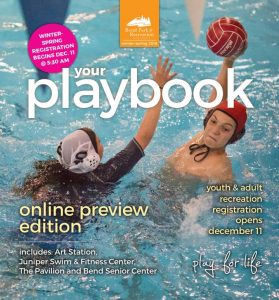 Winter-Spring 2018
is now open!

View the
Winter-Spring 2018 Playbook
(Note: 5 MB pdf file)
Review all programs
and register online.