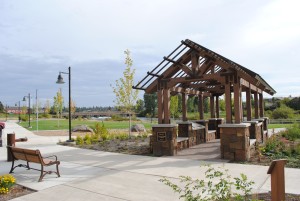 Situated across the Deschutes River from McKay Park, Miller's Landing Park is Bend's newest riverfront park. Miller's Landing is a great park for picnicking, viewing the river and Old Mill District activities or perhaps a game of Frisbee. Accessible via streets and trails, the park features a section of the Deschutes River Trail, connecting the Riverside neighborhood to the Old Mill.
River access is available for water play, floating, paddleboarding, surfing and kayaking. The park offers access to water recreation opportunities in the Bend Whitewater Park.
The park and is richly rooted in our town's history. In 1877, Stephen Staats (as in Staats St.) filed claim for the land which is now home to the park. The parkland was at one time ranched, home to a hotel and the site of one of Bend's early post offices. In 1924, Harry Miller, owner of Miller Lumber Company, bought the land. Its location just downriver from the Shevlin-Hixon and Brooks Scanlon mills was an ideal site for a lumber holding area, staging area for delivery wagons and stable for horses. Many years later when horses were replaced with gas engine vehicles, the company no longer actively used the property. In time, the land's primary use was by locals to access the river.
In 2010, The Trust for Public Land (TPL) led an effort to raise community funds to contribute to the purchase of the land from current property owners, the Miller family and Brooks Resources Corporation, with the goal of preserving the land as a community park for all to enjoy forever. Greg Cushman, TPL board member and local community advocate, led a campaign to raise $700,000 to help the Bend Park & Recreation District purchase the land for what is now Miller's Landing Park. Over 500 people contributed to see this park come to be.
For picnicking and hosting private events, there is a picnic pavilion available. Reservations may be made at (541) 389-7275.