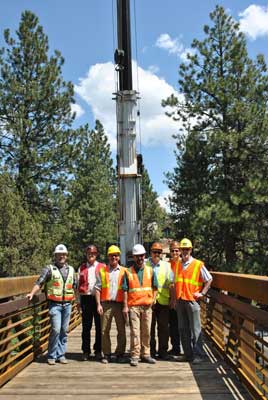 While serving a growing community, the Bend Park & Recreation District must constantly plan for development and improvement. We provide public parks, trails and recreation facilities such as neighborhood parks, community parks, regional parks and sports fields. Some of our more well-known facilities include the Juniper Swim & Fitness Center, Bend Senior Center, Aspen Hall at Shevlin Park, Hollinshead Barn and the Skyline, Pine Nursery and Big Sky Park sports complexes.
With the November 2012 bond measure projects as well as regularly scheduled additions and improvements, there are more than a dozen major park and trail projects in the works. Staff from Planning and Design and Park Services are working together to plan, design and
BPRD utilizes public works contracts are frequently used to complete project work. You can view plans for BPRD's current projects out for competitive bid at:  http://onlineplanservice.com/PublicWorks/OnlinePublicWorksEntities.aspx
If you have questions about current projects, please contact the listed project manager or Michelle Healy, Director of Strategic Planning & Parks, at (541)706-6113 or email to michelleh@bendparksandrec.org.