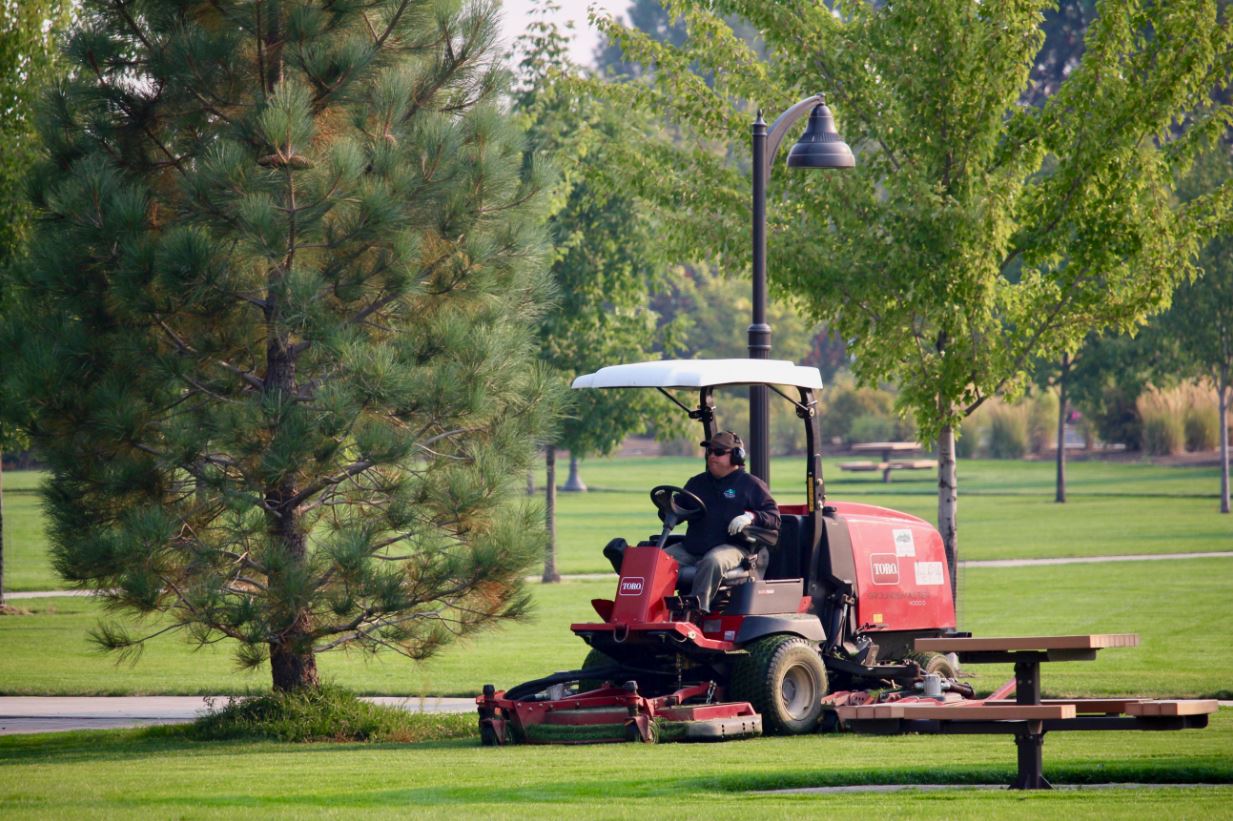 As the Bend community grows, it's important that Bend Park and Recreation has the proper staffing to continue serving the community with exceptional park and recreation services. To achieve this goal, we recruit throughout the year for certain key positions.
These key positions help ensure we're providing safe, accessible and well-maintained spaces for our patrons to recreate, gather, explore the outdoors and have fun.
In return, our employees improve their professional skillset, make connections with our community and gain valuable knowledge to use both in professional and personal life.
A successful day starts with preparation and a well-functioning space has a big impact.
Serving as a custodian means setting up colleagues for success and helping to prepare for patrons and staff to enter clean and welcoming spaces.
To be a custodian, you:
Must have a high school diploma or equivalent.
Previous janitorial or custodial work experience preferred (but not required if willing to learn)
If you like to work on your own or with a small group of colleagues with minimal distractions, consider being a night custodian. You get a behind-the-scenes view of recreation facilities and office spaces that few experience, and you set the bar for high-quality cleanliness and safety standards.
You'll learn to:
Perform cleaning, janitorial and sanitation duties
Arrange classroom and meeting room furniture
Sweep and/or power wash pool decks and indoor floors
See the Custodian position webpage for more information.
Do you like to work outdoors? Feel satisfied by seeing the physical results of your efforts?
Calling all those with desire to keep our parks beautiful.
We are seeking motivated, friendly individuals who take pride in their work.
Why be a seasonal park maintenance worker? This position makes a big impact on the many residents and visitors who comment about how amazing Bend parks are compared to other communities.
You'll be all in for six months in this full-time 40 hour per week position! Work hard and play hard is the motto for the person who thrives in this job.
You'll learn to:
Maintain, repair and construct park facilities and outdoor areas.
Assist with landscaping projects.
Maintain and repair landscaped areas, including turf, trees, shrubs and irrigation.
Operate mowers and other mid-sized motorized equipment.
Prepare and maintains the district's sport fields for practice and game play.
Assists with noxious weed management.
See the Landscaping and Facility Maintenance webpage for more information.
Want a job with rewarding results?
Our swim instructors find their work highly rewarding and thrive on knowing that they are making a positive impact on the individuals that they teach every day.
They love seeing the progress that their students make in the water.
Everyone starts somewhere with a new skill and a swim instructor plays a big role for new swimmers of all ages.
Our swim instructors make a difference in lifelong safety by teaching community members to swim. And they get a chance to be physically active while also growing skills in others.
You'll learn to:
Plan and instruct basic swim and water safety programs
Provide for the progress, safety, comfort and enjoyment of class participants
Communicate with lesson participants and parents
See the Swim Instructor webpage for more information.
Calling all aquatic lovers and swimming fanatics! Join BPRD as a lifeguard to gain valuable risk management skills, help provide a safe facility for water patrons, and give back to the community! No experience is needed – just basic water swimming skills and a passion to learn. And, you'll be paid to attend free training and certification.
Why Lifeguarding? Lifeguards have relevant, real-world experience to use towards professional pathways:
Facility Manager on Duty (MODs) – Most of our MODs start as lifeguards
Emergency Medical Technicians (EMT), Paramedics and emergency medicine
Law Enforcement, Firefighters and other first responder roles
Childcare, college and professional lifeguarding
Our lifeguards have a lot of fun, but when they're on the pool deck – it's serious business. You'll learn aquatic safety, first aid and basic life support, and we'll train you to feel confident in your role. You'll leave work knowing that what you do matters and makes the community more safe.
You'll learn to:
Effectively communicate with patrons, staff and volunteers
Establish and maintain positive, respectful and cooperative relationships with all contacts
Feel confident handling stressful working conditions and emergencies
See the Lifeguard position webpage for more information.
Bend Park and Recreation District is the largest childcare provider of school-age kids in Central Oregon. Each summer, our team creates fun camp programs that turn into lifetime memories. From September to June, our Kids Inc. program serves families with high-quality afterschool and no school day care. Why youth recreation? Our jobs have relevant, real-world experience to use towards professional pathways:
Build experience in childcare and education
Gain team leader experience
Lead and plan STEM, art and sports activities for fun
After a full day of school, kids need some down time to be care-free and our youth recreation leaders lead activities while creating a safe and enriching environment. The Youth Recreation Leader is responsible for instructing classes and leading activities. You will interact with youth through developmentally appropriate crafts, games, and/or other planned activities.
You'll learn to :
Create daily plans for classes and activities
Adapt activities as needed to meet the abilities and needs of individuals
Communicate effectively with the public, including parents and guardians
See the Youth Recreation Leader webpage for more information.
In the summer:
In the summer, we have even more fun with full- and partial-day camp programs. We offer themes and activities to engage children and spark curiosity. Programs may be offered indoors or outdoors with field trips too. For many families, summers in our camps is an annual tradition.
See the Youth Recreation Leader webpage for more information.
For Recruitment and Application Questions:
Our District Office hours are 8:00 am to 5:00 pm, Monday through Friday, closed on holidays.
Bend Park and Recreation District is an Equal Opportunity Employer
The District is committed to equal opportunity for all persons.  It is the District's policy to employ, retain, promote, terminate and otherwise treat all employees and job applicants on the basis of merit, qualifications, and competence.
This policy shall be applied without regard to any individual's gender, gender identity (individual's actual gender identity, appearance, expression or behavior differs from that traditionally associated with the individual's sex at birth, or is transitioning gender), sexual orientation, race, color, religion, veteran status, national origin, age, marital status, political affiliation, or physical or mental disability or which, with reasonable accommodation, does not prevent the employee from adequately performing the essential functions of the position, or any other status protected by the law unless based on a bona fide occupational qualification.