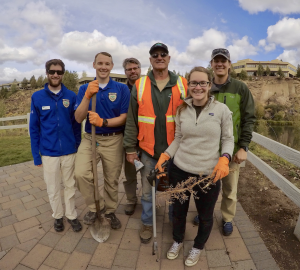 Giving back to our community is important to us. Since the mid 1970s when the District was established, we've played a role in how members of the community are served by us and others.
The Bend Park and Recreation Foundation purchased and restored the historic Bend Amateur Athletic Club (Old Bend Gym). This facility was given to the Bend Park & Recreation District and is currently rented to The Boys and Girls Clubs of Bend for $1 a year.
BPRD supports passion for the arts too. When the District Office relocated to its current home at Riverbend Park, the former offices at Pacific Park became available to Cascade School of Music.
We also work closely with many organizations in the community to provide opportunities such as Children's Forest of Central Oregon on Discover Nature program and events.
In addition, we like to get our hands dirty with clean-up efforts including the Upper Deschutes Watershed Council organized Deschutes River Clean-up and the Let's Pull Together noxious weed eradication events each summer.
Our employees also participate in activities, such as blood drives, food drives and donation collections throughout the year.
If you are looking to donate to recreation scholarships, please visit our Bend Park & Recreation Foundation page.