BPRD showcases family swim lessons with documentary short film
September 21, 2023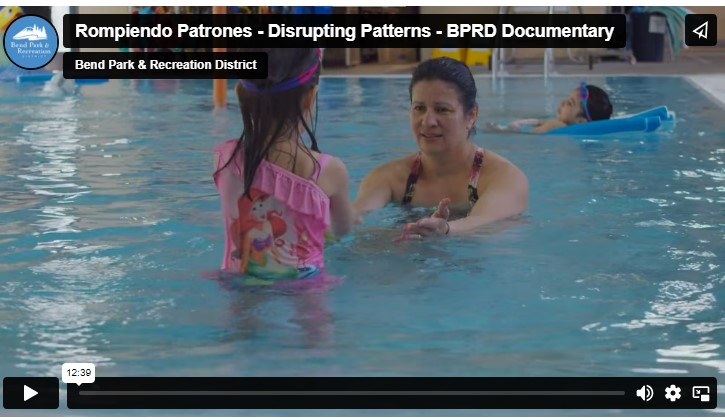 The Bend Park and Recreation District has a new short film documentary about its Family Swim Lessons in Spanish program that coincides with Hispanic Heritage Month. "Rompiendo Patrones / Disrupting Patterns" is a 12-minute short film that debuted at the Vámonos al Cine Latinos Film Fest on Saturday, Sept. 16, as part of Welcoming Week.
The documentary follows Latino families who have participated in the Family Swim Lessons in Spanish. The family swim program was created in 2018 as a collaboration between the BPRD Aquatics team and the Outreach team who focus on reaching historically underserved community members to build trust and awareness of BPRD programs and opportunities. The team includes a Latino outreach specialist, Kathya Avila Choquez, who appears in the film.
The film includes interviews with mothers who share how cultural differences and generational transferring of fear of the water contributed to their own feelings about water and swimming. With BPRD staff support and the unique program's approach to teaching parents and children to swim simultaneously, families have gained life-saving swim skills and quality time.
"I have learned so much with these swim lessons: how some families feel coming into our facilities, why mom only watched their kids from the pool deck wishing one day they could swim, and how much excitement teaching the lesson brought to our swim instructors who were willing to overcome language barriers," said Avila Choquez.
"We appreciate that families trust our organization to initiate their learning process experience in the water, and that BPRD recognizes the importance of offering cultural relevant swim lessons for Latino families, creating a program that feels safer and welcoming space during family swim lessons," she added.
To date, there have been 31 family swim in Spanish sessions with 105 families as participants. The team would like to continue and expand the program when possible. Bilingual swim instructors and lifeguard positions are available now and potential employees are encouraged to apply.
Outreach efforts
BPRD prioritizes outreach to historically underrepresented community members by developing community connections, building trust, fostering awareness of opportunities available to the community and providing translation and interpretation services. The team also removes barriers to participation with a robust scholarship program and transportation service when possible.
"Our team is committed to showing up for the families in this community on a consistent basis. Seeing families enrolled in programs, thriving and watching those families grow together is the ultimate reward," said Jenny McGee, BPRD outreach supervisor. "Their stories can resonate across many differences and that's an immense motivator to our work."
BPRD's outreach team will present the film and information about the family swim program at the National Recreation and Parks Association conference in October and at the Oregon Recreation and Parks Association conference in November. The session topic was selected in competitive processes, representing its quality in the profession and opportunity to inform other communities to start similar programs.
"We regularly survey the community to ensure our priorities are aligned with where the community wants us to focus time and resources, and it's rewarding to see the progress of Outreach's efforts to serve the community," said Matt Mercer, recreation services director. "Seeing the trust built captured in film is wonderful and I hope it inspires others to try a program like our family swim lessons."
###
BPRD presenta el cortometraje sobre clases de natación de familias en español
Rompiendo Patrones (Disrupting Patterns) es un cortometraje bilingüe sobre las clases de natación.
Bend, Oregón, 21 de septiembre, 2023. Bend Park and Recreation District presenta un nuevo cortometraje sobre su programa de clases de natación de familias en español que coincide con el Mes de la Herencia Hispana. "Rompiendo Patrones (Disrupting Patterns)" es un cortometraje de 12 minutos que se estrenó en el Festival de Cine Latino, Vámonos al Cine, el sábado 16 de septiembre, como parte de la Semana de la Bienvenida.
El documental muestra la evolución de las familias que han participado en clases de natación para familias en español. El programa de natación familiar se creó en 2018 gracias a la colaboración del departamento de actividades acuáticas de BPRD y el departamento de servicios de extensión de la comunidad que se encarga de conectar con los miembros de la comunidad históricamente desatendidos, recuperar su confianza y compartir los programas y oportunidades de BPRD. El departamento incluye a la Especialista de Servicios de Actividades de Extensión en Recreación de la Comunidad Latina, Kathya Avila Choquez, quien aparece en el video.
El video incluye entrevistas a las mamás quienes compartieron cómo algunas experiencias culturales y generacionales pueden transferir el miedo e influir en cómo se sienten con respecto al agua. Las familias han adquirido habilidades de natación que podrían salvar sus vidas y calidad de tiempo compartido con el apoyo del personal de BPRD y el enfoque único del programa de enseñar a nadar a padres e hijos de manera simultánea.
"Hemos aprendido mucho con estas clases de natación en familia, entre ellos: cómo se sienten algunas familias al ingresar a nuestros centros de recreación, el por qué los padres de familia o apoderados solo miraban a sus hijos desde las bancas deseando algún día también poder nadar como ellos, y cuánto entusiasmo trajo a nuestros instructores de natación, que no hablaban español, y superaron esas barreras de lenguaje," comentó Kathya Avila Choquez.
"Valoramos que las familias confíen en nuestra organización para iniciar su experiencia de aprendizaje en el water y BPRD reconoce la importancia de las clases de natación culturalmente relevantes para las familias latinas, creando un programa donde las familias se sientan más seguras y acogidas durante las clases de natación", agregó.
Hasta la fecha, han habido 31 familias en las clases de natación de familias en español con un total de 105 participantes.  A nuestro equipo le gustaría seguir expandiendo el programa en tanto nos sea posible.  Los puestos de salvavidas e instructores de natación bilingües están disponibles, los alentamos a solicitar este puesto de trabajo aquí.
Esfuerzos de los servicios de extensión de recreación
BPRD prioriza los servicios de extension de actividades de recreacion a los miembros de la comunidad historicamente desatendida al crear conexiones con la comunidad, ganando su confianza, fomentando oportunidades disponibles para la comunidad y proporcionando servicios de interpretacion e interpretacion. El equipo incrementa la participación gracias a un programa de becas y servicio de transporte cuando sea posible.
"Nuestro equipo está comprometido a apoyar a las familias en esta comunidad de manera consistente.  Ver a las familias participando, prosperando y crecer juntas en nuestros programas, es la máxima recompensa," dijo Jenny McGee, supervisora de Servicios de Extensión de Actividades de Recreación de la Comunidad de BPRD. "Sus historias pueden conectarse con muchos por encima de sus diferencias y ese es un inmenso motivador de nuestro trabajo."
El equipo de servicios de extensión de actividades de recreación presentará este cortometraje e información sobre el programa de clases de natación para familias en español en la Conferencia de Oregon Recreation & Parks Association, en octubre.  El tema fue seleccionado mediante un proceso competitivo, representando la calidad del programa y la oportunidad para informar a otras comunidades de iniciar programas similares.
"Periódicamente, realizamos encuestas a la comunidad para asegurarnos de que nuestras prioridades coincidan con las prioridades de la comunidad, y es gratificante ver el progreso de los esfuerzos del equipo de servicios de extensión de actividades de recreación para servir a la comunidad," dijo Matt Mercer, Director de Servicios Recreativos. "Este video maravilloso nos deja ver la confianza generada en las familias y espero que inspire a otras personas a probar un programa con nosotros como las clases de natación en familia."
###