Registration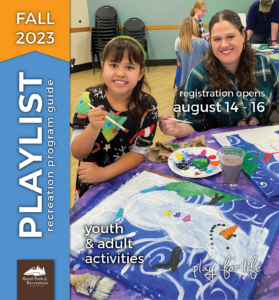 Fall 2023 registration
now open.
View the
Fall 2023 Playlist
Playbook, Playlist & Program Registration Dates
About Playlists and Playbooks
The Playlist
The recreation program guide is produced seasonally to support registration for recreation programs. With this focused format comes a fresh name: The Playlist. This online resource is an efficient, sustainable and up-to-date shopping guide offering recreation opportunities for our growing community.
Your Playbook
A community favorite since 2014, Your Playbook will continue as a magazine-style book offering news and information about BPRD's projects, programs, places, people and activities. Playbooks are published twice a year – fall/winter and spring/summer – to feature timely updates and stories. The Playbook is sent to every household within the District boundary and online versions can be found below.
Your Playbook and The Playlist offer you the tools you need to be part of all that BPRD offers for our community.
Registration Dates - Fall 2023 Now Open
Registration for seasonal programs is as follows. You can register online or in-person.
The Playlist recreation program guide is available on or by the Friday prior to each opening.
Questions? Call (541) 389-7275.
Summer 2023 registration for mid-June - August programs and summer/fall sports leagues is open. Sports leagues include adult cornhole, adult fall softball, adult golf, adult kickball, adult roller hockey, youth flag football, kindergarten soccer, youth soccer and middle school tennis leagues.
Fall 2023 registration for September - December programs and fall/winter sports leagues is open. Sports leagues include Bitty Basketball, youth/middle school/high school basketball, adult curling, adult hockey, youth indoor soccer, youth Ultimate and youth volleyball leagues.
Winter 2024 registration for January - March programs and winter/spring sports leagues will open December 4 - 6 at 6:00 a.m. daily. Recreation, enrichment and sports programs open Monday, December 4. Swim lessons and aquatics programs open Tuesday, December 5. Sports leagues open Wednesday, December 6 and include adult curling, youth hockey, youth indoor soccer, youth lacrosse and youth softball leagues.
Spring 2024 registration for April - mid-June programs and spring/summer sports leagues will open in February. Please check back for updates.
Click for helpful Tips on Registering on Opening Days and instructions on How to Register.
Playlists/Recreation Program Guides
Spring-Summer 2023
Playbook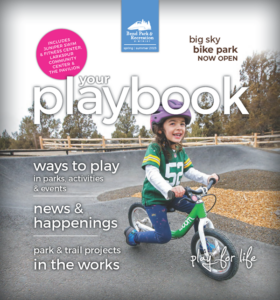 Spring-Summer 2023 Playbook:
Click link above.
Best viewed with Acrobat.