Heavy Website Traffic: Dec. 5 – 7
During peak times, a Virtual Waiting Room will be in place on the registration website.
Please be patient and wait for your turn.
For program registration, please read:
"Tips for Registering on Opening Days"
Winter Registration
Winter 2023 Registration
Registration opens for January-March programs and winter/spring sports leagues:
Monday, Dec. 5 at 6:00 a.m.
Recreation/enrichment programs
Tuesday, Dec. 6 at 6:00 a.m.
Swim lessons/programs
Wednesday, Dec. 7 at 6:00 a.m.
Sports, ice sports and winter/spring sports leagues including adult curling, adult/youth hockey, youth indoor soccer, youth lacrosse and youth softball leagues
Registration

Winter 2023 registration opens Dec. 5 - 7
View the online Playbook
Drive-thru Holiday Food Drive at Bend Senior Center
Saturday, December 19 12:00PM - 3:00PM
venue: Bend Senior Center 1600 SE Reed Market Road Bend Oregon 97701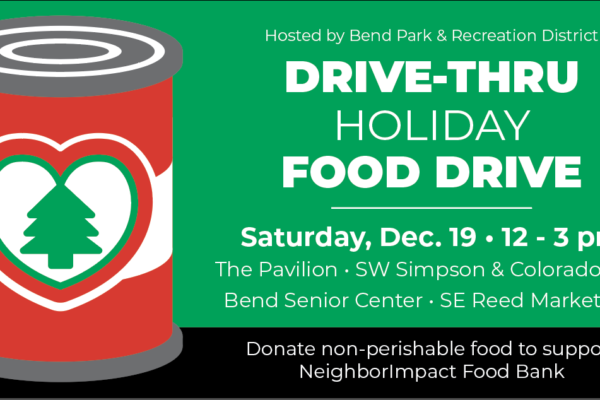 Donate non-perishable food items to support the NeighborImpact Food Bank with an easy drive-thru event at Bend Senior Center and The Pavilion.
Open your cupboards and help fill the shelves for the Food Bank. Support is much needed! NeighborImpact reports the community's need for food has increased by 50% this season.
Date and time:
— Saturday, December 19
— 12:00 pm – 3:00 pm
Drive-thru donation locations:
— Bend Senior Center (1600 SE Reed Market Rd.)
— At Pavilion's overflow parking lot across the street (1001 SW Bradbury Dr.)
Non-perishable items needed most:
— Canned proteins (chicken, tuna, etc.)
— Soups and stews
— Canned vegetables and fruit
— Dried beans (black beans, pinto beans, lentils)
— No glass packaging, please.
It's safe and easy! It's outdoors, contact-free and for the safety of donors and staff, face coverings and distancing are required.
A NeighborImpact donation bin will also be available at The Pavilion through mid-January, and registered ice skating, hockey and curling visitors are encouraged to bring food items to donate when they visit.