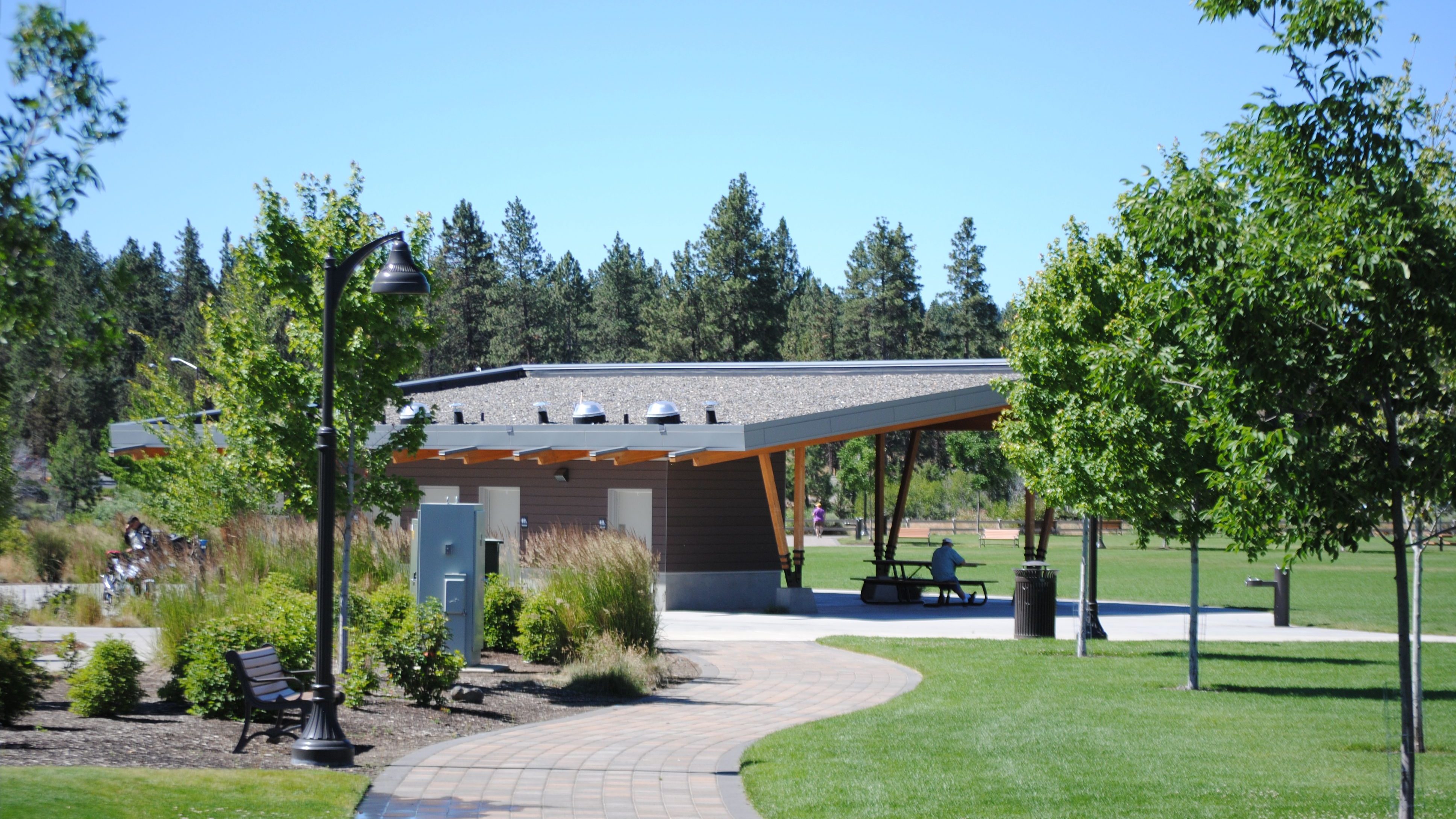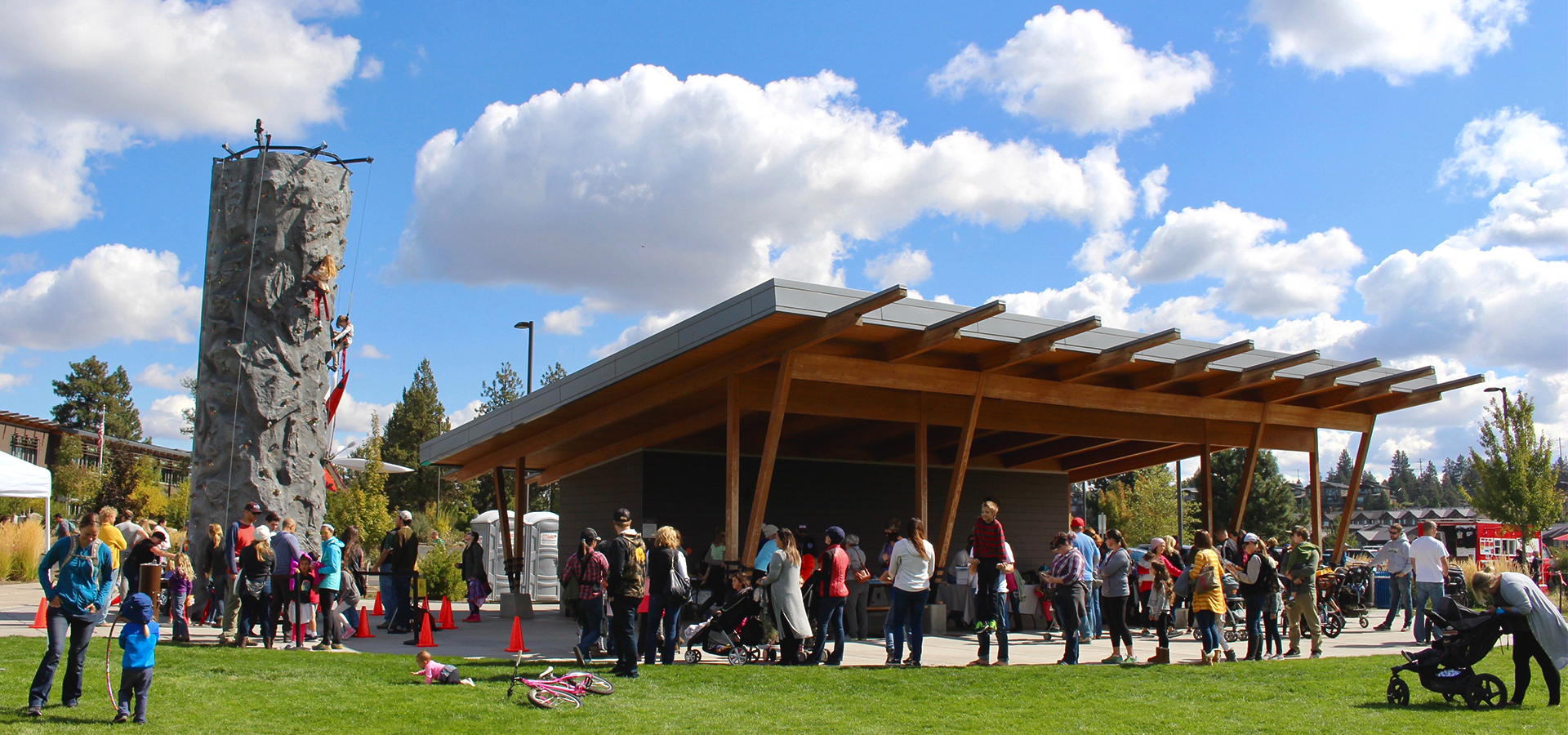 {"autoplay":"true","autoplay_speed":"3000","speed":"300","arrows":"true","dots":"true","rtl":"false"}
Located in Riverbend Park, this location is ideal for active groups planning to utilize the Deschutes River and trails. It is located adjacent to the Kayak roundabout and the Bend Park and Recreation District Office.
Please note: this can only be reserved 3 months in advance. Not available during events and concerts at Les Schwab Amphitheater. 
4 movable rectangle picnic tables. (Seating capacity – 25 people, total capacity 150 people)
Adjacent to Deschutes River Trail, beach – river access and boat launch area
Restrooms and drinking fountain
Open lawn areas and trails
High-use area during late spring and summer months, no guaranteed parking.
This rental is available between October 15 and April 15.
Park hours are 5:00 am – 10:00 pm. The park entrance gate is locked and unlocked on this schedule too.
Capacity is dependent on event features, layout, activities and traffic flow.
This park has 2.75 acres of turf area/pods available for special events.
In-District Fees
| | | | | |
| --- | --- | --- | --- | --- |
| Type of Rental |   Groups of 0 - 30   |   Groups of 31 - 74   |   Groups of 75 - 124   |   Groups over 125   |
| Non-Profit | $60.00 | $75.00 | $100.00 | $150.00 |
| Private | $80.00 | $120.00 | $160.00 | $200.00 |
| Commercial | $100.00 | $150.00 | $200.00 | $250.00 |
Out-of-District Fees:
Non-residents will be charged a 20% out-of-district fee in addition to the in-district fee (above) to rent facilities. The following rentals are exempt from out-of-district fees.
Governmental agencies or non-profit organizations serving district residents
Exceptions as granted by the Executive Director
799 SW Columbia St, Bend, OR, United States (Directions)
Riverbend Park has 120 parking spaces. Parking is shared by trail, river, building and public park users.
All street parking near the site (Columbia and Shevlin Hixon) is on private property owned by the Old Mill District. Permission to extend parking beyond the park's capacity must be approved by the Old Mill District.
There are no available downloads for this project
How to reserve a Facility, Picnic Shelter or uncovered Picnic Area.
Perfect for your private celebration or gathering.
Are you a business renting a park? Learn about businesses in parks guidelines.
The reservation window for each rental is as follows:
Picnic Shelters and Picnic Areas: up to 12 months in advance. Riverbend Park picnic shelter is 3 months in advance.
Aspen Hall: up to 18 months in advance.
Hollinshead Barn: up to 18 months in advance.
Marcoulier Event Room: up to 12 months in advance.
Riverbend Community Room: up to 3 months in advance.
The Pavilion: up to 12 months in advance.
PLEASE NOTE: Requests are NOT confirmed reservations.You will be contacted after making your request. Reservations are ONLY considered confirmed when a deposit or fee is paid.
Browse the facility rentals map and rate comparisons to find the ideal location for your event. These links will provide you with many answers to questions you may have regarding fees, location, capacity and amenities.
Check availability by clicking on the Availability Calendar for the site you select. Select your date on the calendar and sign in or create BPRD account to fill out a request form.
Submit a Request online. Be sure to provide as much information as possible.  Requests are NOT confirmed reservations. 
You will be contacted within 48 hours of submitting your request. Our customer service staff will confirm availability and gather more information regarding your event.
A deposit of $250 will hold and confirm your reservation for a facility or shelter rentals with 41 or more attendees. The remaining rental balance is due 30 days prior to event. When booking a picnic shelter or picnic area a full payment is required. If the reservation is made less than 30 days prior to event, the entire balance is due at the time of reservation."
All events held in facilities must provide a certificate showing $2 million general liability insurance per occurrence. Individuals and groups may request an alcohol permit in accordance with Park Rules that allow for exceptions to the prohibited activity. If alcohol is to be consumed in a BPRD park or trail, a permit is required. If alcohol is being served or present an additional rider on the insurance certificate is required and shelter renter must obtain an alcohol permit (issued by BPRD on behalf of the City of Bend Police) prior to the event. You can obtain an alcohol permit in person in any Bend Park & Recreation District facility.
Refund Policy:
A full refund will be readily granted if notified a week or more in advance. If notified six days or less before reservation date, BPRD will keep $25 of the reservation fee and the remainder will be refunded.
For frequently asked questions about our private event rentals, please visit our Shelter Rentals page.
If you have further questions, please call the customer service staff:
Customer Service
Customer Service Team
Parking for Floaters:
Closed for 2019 season
  Park & Float, Simpson Ave. and Bradbury Way, across from The Pavilion at 1000 SW Bradbury Way, is now closed for the 2019 season.
Ride the River Shuttle
 stopped service on Sept. 2, 2019. More info at 
cascadeseasttransit.com/ride/ride-the-river/
.
Bend Whitewater Park Parking Options:
Park & Float
 at Simpson Ave. and Bradbury Way, across from The Pavilion at 1000 SW Bradbury Way. One block south of the whitewater park. (
Directions
)
McKay Park
, 166 SW Shevlin Hixon Dr. (westside) (
Directions
)
Miller's Landing Park
, 80 NW Riverside Blvd. (eastside) (
Directions
)
Park & Float
Park & Float, located next to The Pavilion on Simpson Ave. and Bradbury Way, is closed for the 2019 season. Each summer it offers parking, snacks, lawn activities and more.
Tumalo Creek Kayak & Canoe
offers rental of durable river tubes and complimentary life jackets for children and adults. You can also rent a paddleboard, surfboard or kayak.
For Bend Whitewater Park rapids and fun, Park & Float is only a block away.
Park & Float services are available mid-June to Labor Day and are weather-dependent. If poor weather, call 
(541) 317-9407
to see if the rental trailer is open.