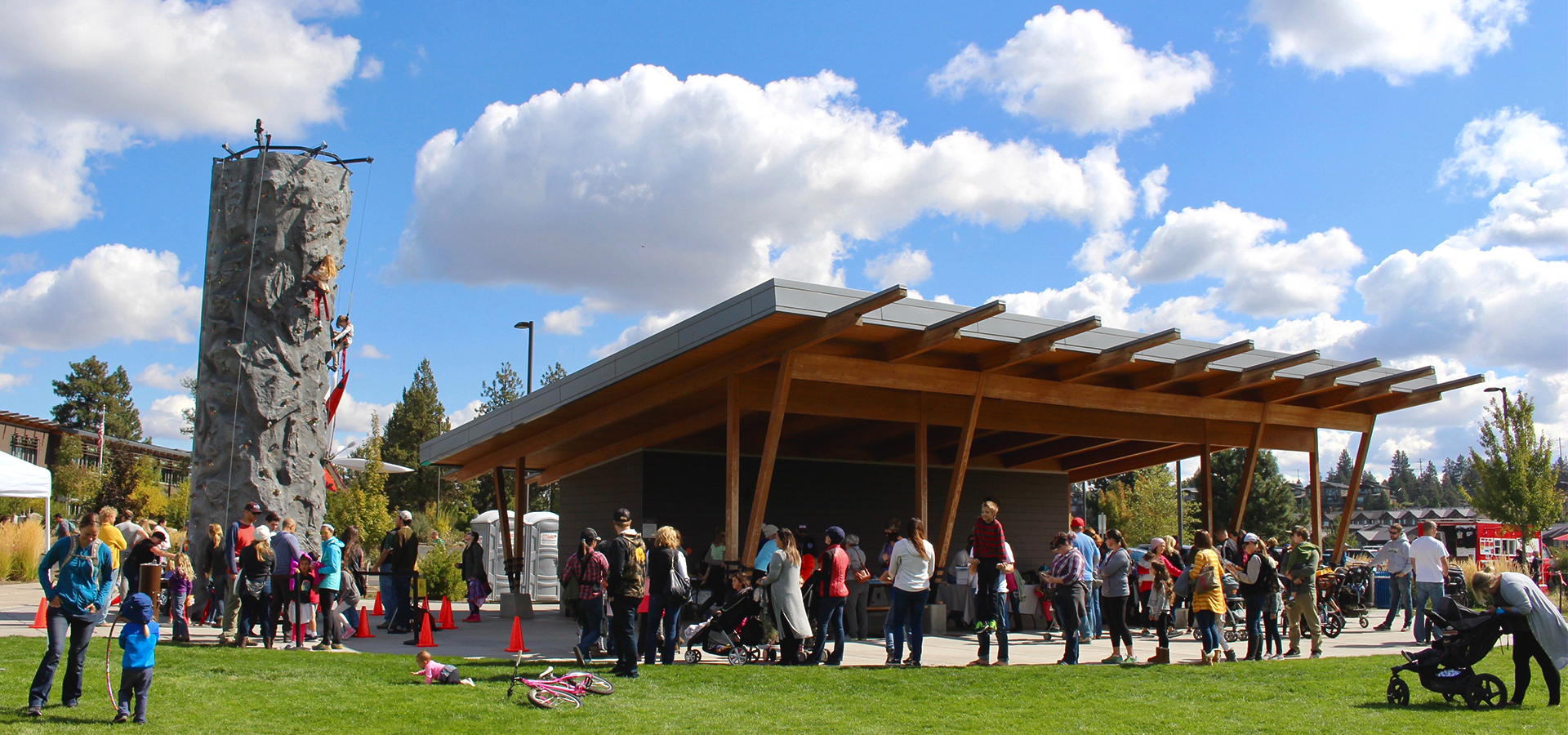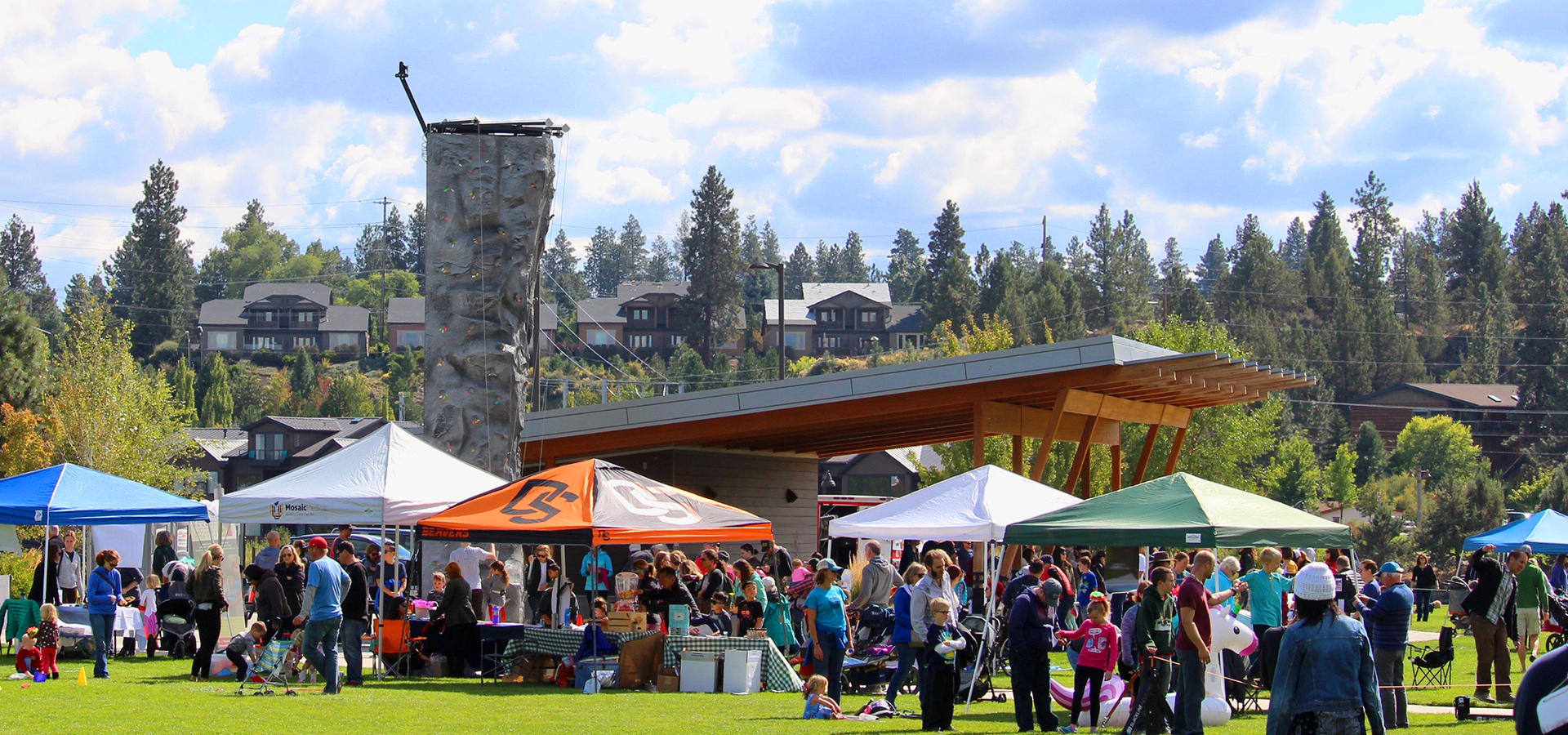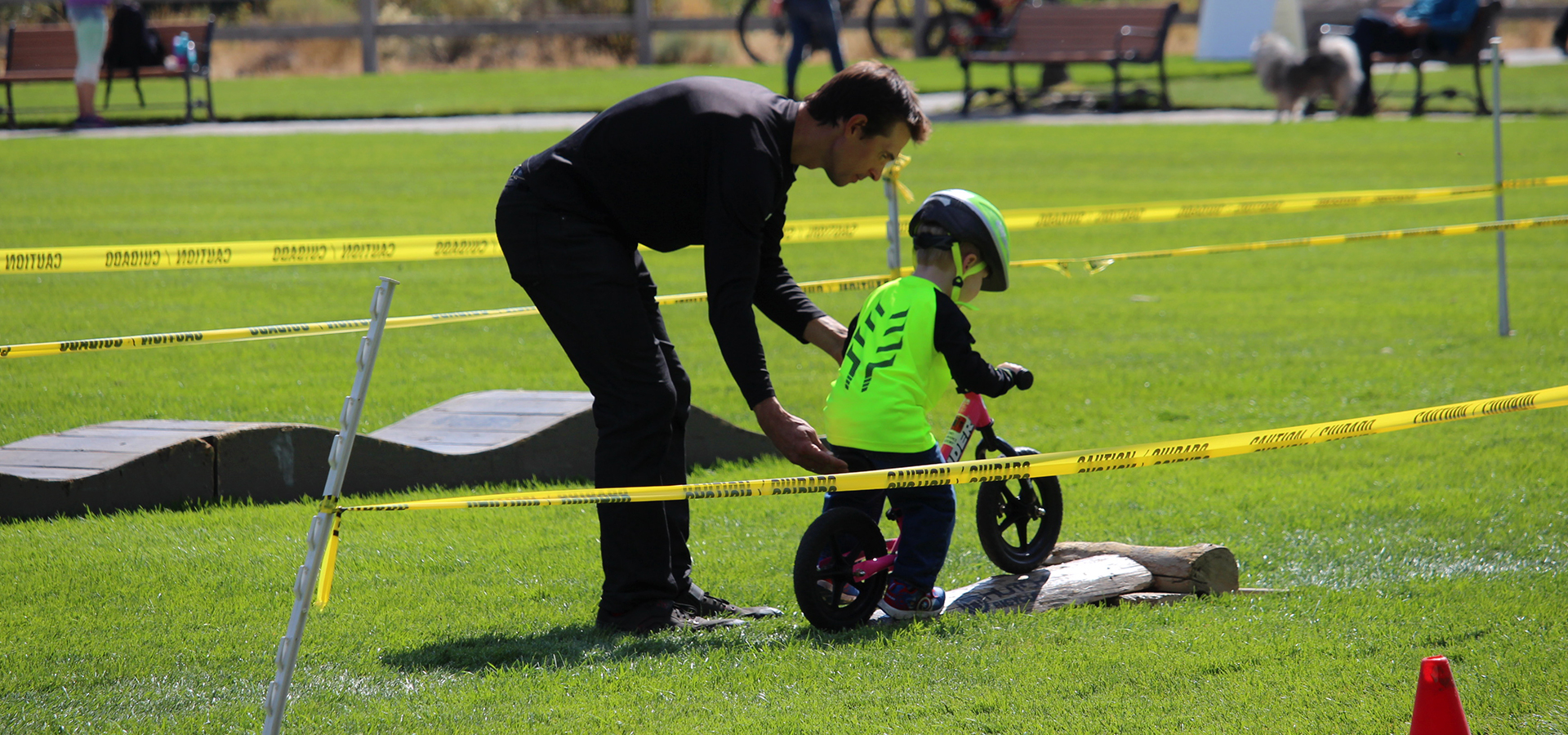 {"autoplay":"true","autoplay_speed":"3000","speed":"300","arrows":"true","dots":"true","rtl":"false"}
Riverbend Community Park is located within the Old Mill District. All events in the park are scheduled in cooperation with the Old Mill District and will require approval of both entities.
Riverbend event organizers should be aware that concerts at the Les Schwab Amphitheater may be scheduled as late as 30 days prior to an event. Pre-scheduled events at Riverbend Park do not prevent concert scheduling at the amphitheater.
12 ft. and 8 ft. wide hard surface pathways around two large lawn areas give vendors easy access to deliveries.
Vendor tents set up along the turf adjacent to pathways allow for ADA accessibility.
50 amp electricity is available at five locations around the parameter of the two lawn areas.
Potable water is available at the shelter.
A 1900 sq. ft. shelter has tables for 50 people; tables may be removed for other shelter uses.
Large delivery drop off is available on the parking side of the shelter.
Permanent restrooms are located at the shelter.
The event season is April 15 – October 15.
Park hours are 5:00 am – 10:00 pm. The park entrance gate is locked and unlocked on this schedule too.
Riverbend Park is suitable for acoustic music only – not electrically enhanced or modified. Sound levels shall not exceed 65 decibels at the edge of the approved event area. Electric guitars, drums, large amplifiers and sound boards are prohibited.
Event organizers must adhere to City of Bend noise ordinances (Bend Code 5.50). Sound may not begin prior to 7:00 am and must end no later than 10:00 pm. This includes sound test and set up.  Applications must be submitted to the City of Bend 45 days prior to the event date to allow sufficient time for notice and review.
Capacity is dependent on event features, layout, activities and traffic flow.
This park has 2.75 acres of turf area/pods available for special events.
799 SW Columbia St, Bend, OR, United States (Directions)
Riverbend Park has 120 parking spaces. Parking is shared by trail, river, building and public park users.
All street parking near the site (Columbia and Shevlin Hixon) is on private property owned by the Old Mill District. Permission to extend parking beyond the park's capacity must be approved by the Old Mill District.
Vendors and event attendees need to be informed as to allowable parking.
Organizers will be asked to develop a parking plan as a component of their event logistics plan.
Vehicles will not be allowed on the turf without access permits from the District.
Vehicles are allowed on the hard surface/walkway in the designated event pods for loading and unloading purposes.
Contact Information
For more information, please contact
Rentals and Reservations
Tel: (541) 706-6149
There are no available downloads for this project
FAQ's
Are dogs allowed at events?

Dogs must be leashed in all District parks and facilities except in designated off-leash areas.

Event managers may prohibit individuals from bringing animals into an area where a special event is being held. This prohibition does not apply to service animals.

Any variance from these park use conditions must be pre-approved by the Bend Park & Recreation District.

Is alcohol permitted?

If alcohol is being sold and served in Riverbend Park, the District requires the area be hard fenced and located close to the shelter away from the beach area. This is a public safety precaution for the families and kids using the beach and tubing area.

What ADA guidelines are required?

The Americans with Disability Act (ADA) is a federal civil rights law that prohibits discrimination against people with disabilities and opens doors for full participation in all aspects of everyday life. BPRD will provide guidelines that are intended to help event organizers design events to accommodate people of all abilities. This information is not intended to be an all-inclusive guide to ADA compliance. It is the responsibility of the event organizer to understand and comply with all federal regulations that pertain to the Americans with Disabilities Act.

Contact the City of Bend to determine regulations and strategies for making event accessible if your event extends beyond the park District property. (I.e. foot races)

Do you allow multiple year reservations?

Our processes are required on an annual basis. We enjoy working with repeat events as well as new events, so please refer to our step-by-step reservation information for deadlines.
Reserving a Facility, Picnic Shelter or uncovered Picnic Area.
Picnic shelters are the ideal space for small outdoor gatherings like family or company picnics. These rentals are for private, exclusive use of the shelter. While the surrounding park and amenities are available to use, you must share these spaces with the general public. Shelter rentals are for invited guests only. If you're interested in an event for the public to attend, see the Public Events page.
Picnic shelters reservations are available year-round, seven days a week. Summer reservations fill up fast, so book as soon as you can! Reservations can be made up to 12 months in advance. Shelters are offered as-is, rain-or-shine. See the map above to see where each rentable shelter is located. Small groups under 30 people may use any park on a first-come, first-served basis. If you'd like a guaranteed spot, you must reserve a shelter through the district. Planned events with more than 30 people must reserve a picnic shelter.
The district does not provide clean up or preparation for shelter rentals and requires renters to leave the facility in good condition or pay the cost of cleaning and repairs.
Are you a business renting a park? Learn about businesses in parks guidelines.
The reservation window for each rental is as follows:
Picnic Shelters and Picnic Areas: up to 12 months in advance. Riverbend Park picnic shelter is no more than 3 months in advance.
Aspen Hall: up to 18 months in advance.
Hollinshead Barn: up to 18 months in advance.
Marcoulier Event Room: up to 12 months in advance.
Riverbend Community Room: up to 3 months in advance.
The Pavilion: up to 12 months in advance.
Insurance
Insurance will be required if the rental meets any of the following criteria:
Commercial/business in nature
Over 60 people attending
Alcohol is served or sold (Alcohol Permit is also required)
Has a food truck or bounce house
Bend Park and Recreation District deems it necessary
When required, a certificate of insurance is due no less than 30 days prior to the reservation or event. Please see the insurance packet for more information.
Deposit
A damage/cleaning deposit must be paid for a shelter rental with 31 or more attendees. The deposit amount depends on the group size. Both deposit and rental fee must be paid to reserve the shelter. The deposit will be returned after the rental if left in good condition. Any garbage must be emptied in garbage cans or removed from the premises. All decorations must be removed and discarded by the end of the reservation time.
Refunds/Cancellations
A full refund will be given if notified 15 days or more in advance. If notified 14 days or less before the reservation date, the district will keep 50% of the reservation fee and the remainder will be refunded. There will be no refund given for cancellations within 24 hours of the rental. Exceptions may be made in cases of inclement weather or emergencies. Rain is not considered inclement weather.
How to Reserve
PLEASE NOTE: Requests are NOT confirmed reservations. You will be contacted after making your request. Reservations are ONLY considered confirmed when a deposit or fee is paid.
Check availability by clicking on the Availability Calendar for the site you select. Select your date on the calendar and sign in or create a BPRD account to fill out a request form. Be sure to provide as much information as possible. Requests are NOT confirmed reservations.
If you don't know exactly which park or date you'd like, contact Facility Rentals staff below to get started.
Questions? Contact:
For more information, please contact
Rentals and Reservations
Tel: (541) 706-6149