Spring recreation program registration opens Feb. 6-8
February 2, 2023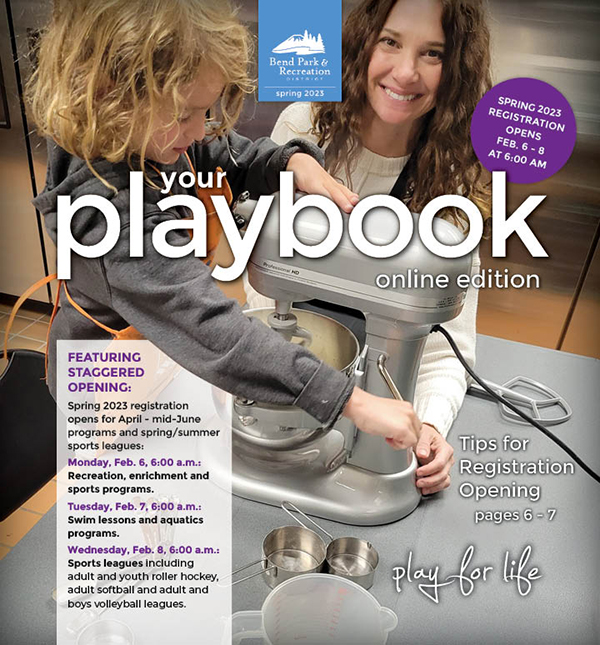 Bend Park and Recreation District is looking ahead to longer days and thawing temperatures for its spring recreation programs.
BPRD is opening registration for spring recreation and programs and spring/summer sports leagues on Feb. 6, Feb. 7 and Feb. 8. Available activities include programs held in April through mid-June and sports leagues with registration deadlines during this time.
An online Spring 2023 Online Playbook is available for easy viewing and download.
Staggered registration dates were introduced in winter and continue this season. After high demand in past seasons that overwhelmed the online registration system, BPRD is grouping program offerings and will have three days of registration openings.
Monday, Feb. 6, 6:00 a.m.: Recreation, Enrichment & Sports Activities
Tuesday, Feb. 7, 6:00 a.m.: Swim Lessons & Aquatics Programs
Wednesday, Feb. 8, 6:00 a.m.: Sports Leagues including adult and youth roller hockey, adult softball, and adult and boys volleyball leagues.
Patrons are encouraged to register online or in person at any of these locations:
District Office: 799 SW Columbia St. – open at 8:00 a.m.
Juniper Swim & Fitness Center: 800 NE 6th St. – open at 5:30 a.m.
Larkspur Community Center: 1600 SE Reed Market Rd. – open at 6:00 a.m.
If experiencing difficulty registering online, contact the BPRD Customer Service by phone at (541) 389-7275.