Riverbend Park river project completed; trail section reopens
April 17, 2023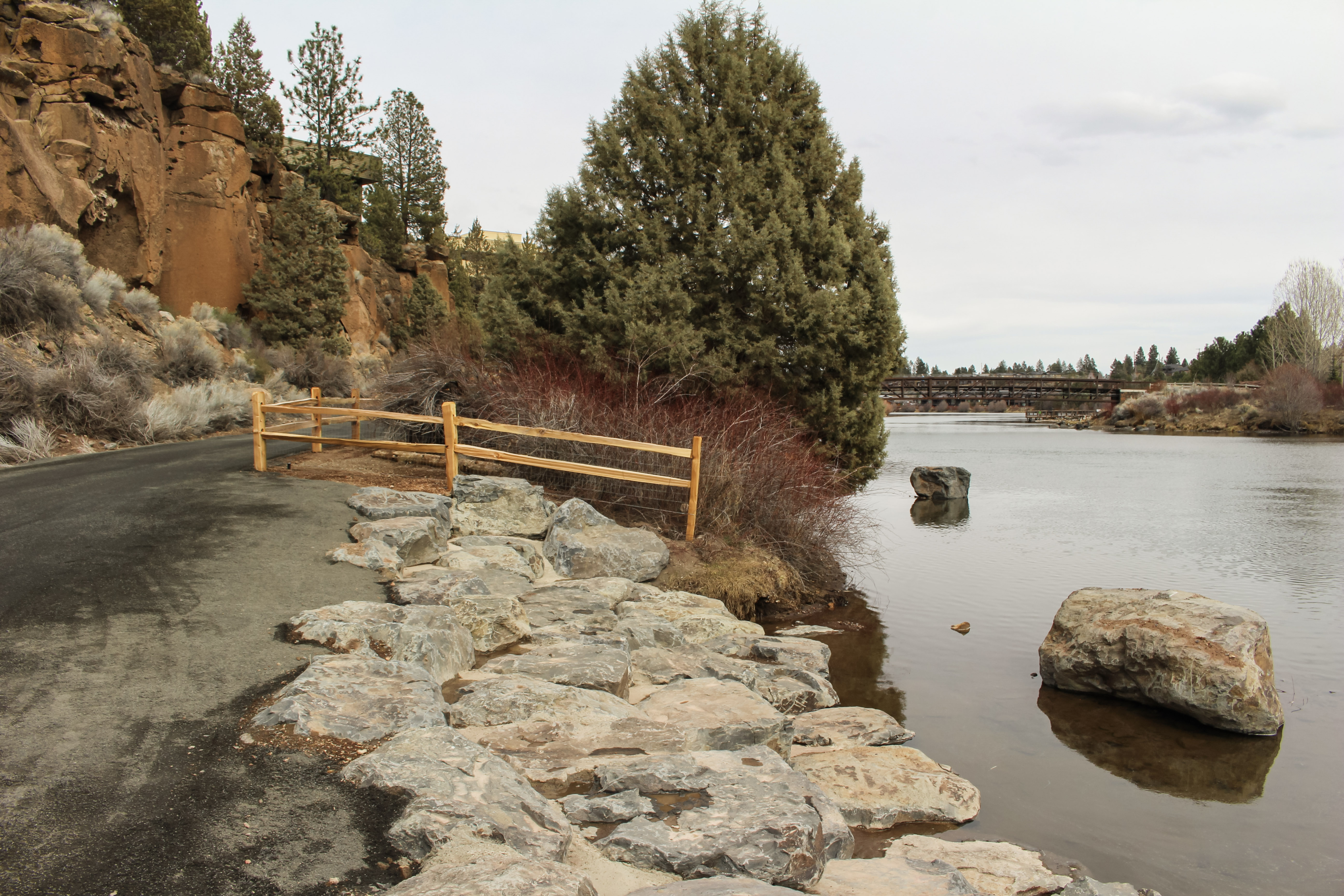 Bend Park and Recreation District (BPRD) and Upper Deschutes Watershed Council (UDWC) are celebrating the completion of a project at Riverbend Park that balances recreational access and habitat protection and improvement.
The Riverbend South Access & Restoration project improves river accessibility with grouted boulder terracing and stone entry steps into the Deschutes River at three designated locations. The design allows for all users, especially those with mobility limitations and children, to more easily access the river. The design of these access points was developed with feedback from Oregon Adaptive Sports and Central Oregon Coalition on Access.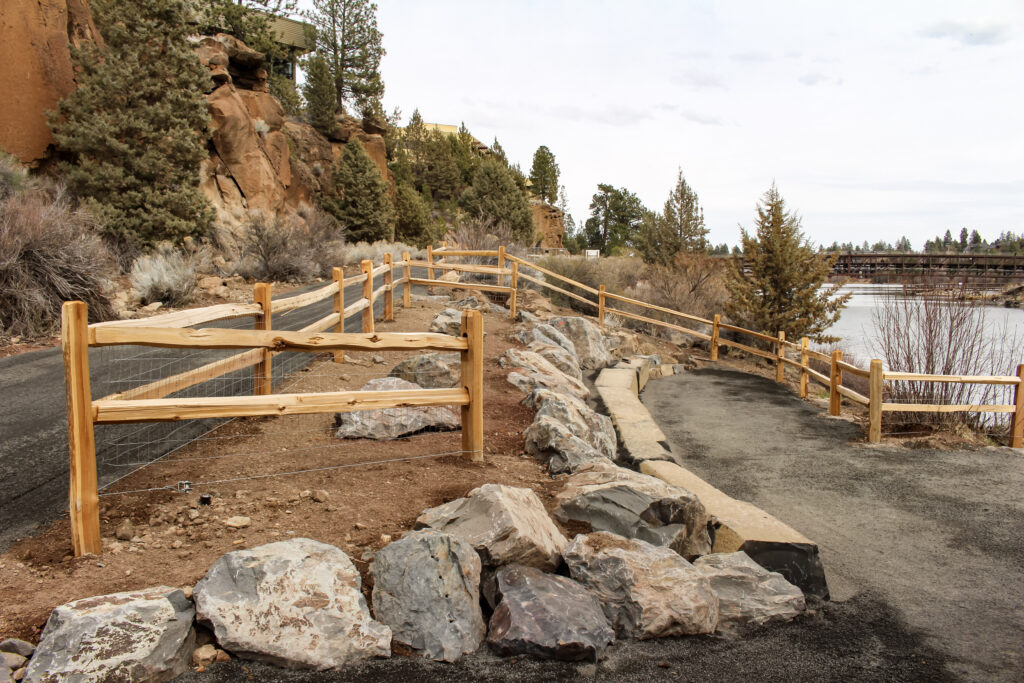 The locations of these access points were formally eroding banks along the Deschutes River. Other former access points and areas along the river have been fenced off and rehabilitated, so that the riparian areas can function as a healthy river corridor.
Restoration included constructing a one-quarter acre wetland connected to the river, which is part of an area designated as critical habitat for the Oregon spotted frog. In addition, approximately 2,500 riparian and wetland plants and 10 in-stream logs are included in newly restored areas, along with 2,000 feet of split rail fencing to protect and limit access to restored areas. All riparian and wetland plants are being planted by community volunteers and local students in April and May.
"The Deschutes River is the heart of the community and the Riverbend South project will enhance the river experience for multiple generations of Central Oregonians of all abilities by its thoughtful plans for enabling access and providing restorative support to the riverbanks," said Deb Schoen, BPRD board chair.
"This project is an excellent example of serving the public interest through collaboration: BPRD working together with UDWC, both organizations lending their respective expertise to its successful completion," added Nathan Hovekamp, BPRD board vice-chair. "It also strikes a careful balance between providing what I'm confident will immediately become a very popular low-key recreational amenity, while at the same time enhancing protections for the precious, beautiful and wildlife-rich riparian corridor of the Deschutes River as it enters the south end of town."
New interpretive signs will be installed in the weeks to come that will educate users and visitors about past and present use of the river in this area and the importance of conserving natural resources.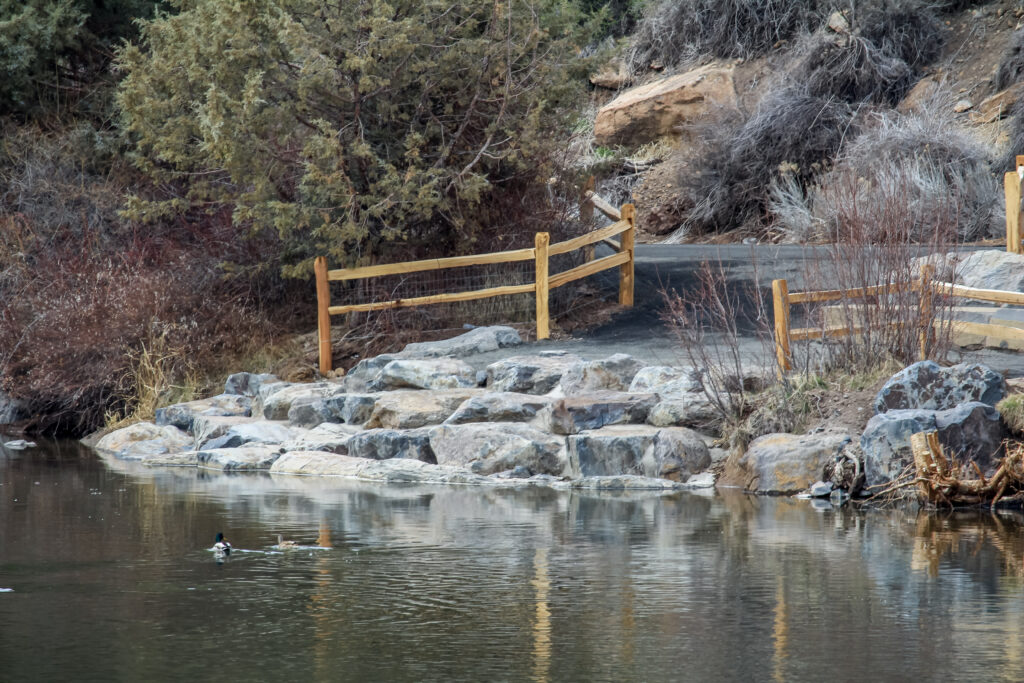 "This project serves as a model for how we can balance recreation access where some of our rivers are seeing overuse and as a result the health of our rivers are being impacted by that use. We don't want to prevent people from getting out and enjoying our rivers that we all love, but we can get better at managing and creating access that can help keep our rivers healthy," said Kris Knight, executive director of Upper Deschutes Watershed Council. "We are grateful to those that constructed this project and to our funders that allowed this project to become a reality."
"This project showcases that, when done well, recreational access and river stewardship do not have to be mutually exclusive, and are in fact a crucial part of BPRD's mission to better serve the community as it continues to grow," said Ian Isaacson, BPRD landscape architect and project manager.
Trail reopens
The project closed the trail section along river-left from Bill Healy Bridge to the Farewell Bend footbridge. It is now reopened with new gravel surface material.
The community's cooperation with the trail closure was appreciated by the project team. It's also requested to allow the plantings to establish with the help of the temporary irrigation in place.
"The opening of the popular trail stretch is welcomed after an active winter weather season," said Jason Powell, BPRD's construction manager. "We look forward to trail users getting to see the results up close as the busy season begin, and we ask for help to stay out of the habitat restoration areas."
The project was funded by multiple sources. Implementation of the project was managed jointly by UDWC and BPRD and was funded by BPRD and grants to the UDWC from the Oregon Watershed Enhancement Board, the Sunderland Foundation, Tumalo Creek Kayak and Canoe, and the Bend Sustainability Fund, a project of Visit Bend. A local contractor, Cascade Civil Corp, constructed the project that began in October 2022.